Zanele Muholi, Tate Modern review - photography as protest |

reviews, news & interviews
Zanele Muholi, Tate Modern review - photography as protest
Zanele Muholi, Tate Modern review - photography as protest
Pictures so confrontational they knock you sideways
Wednesday, 02 December 2020
ID Crisis, 2003 by Zanele Muholi
Hail the Dark Lioness (Somnyama Ngonyama in Zulu) is a powerful celebration of black identity. These dramatic assertions of selfhood are more than just striking self portraits, though.
South African
artist Zanele Muholi uses the pronouns they and them and refers to themself as a visual activist, since the
photographs
are a form of protest against the prejudices faced by the queer community of which they are a part.
In this series begun in 2012, Muholi ratchets up the contrast, so their skin becomes ebony black, and decks themself in mundane materials such as raffia, rope, electric cables, safety pins and pencils. They are adept at turning cheap stuff into regal accoutrements that evoke a queen, a saint, shaman, elder or priestess and address not only the complexities of black identity, but the ways black people have been portrayed by white photographers.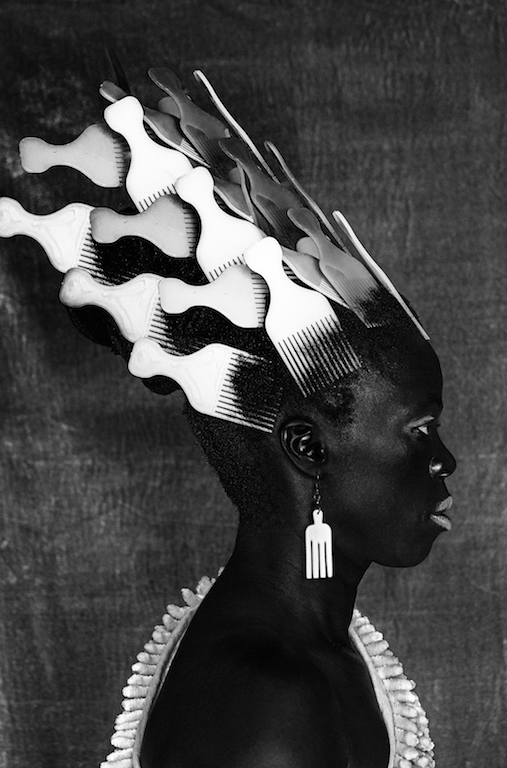 Pan scourers become a turban or a halo (pictured below: Ntozakhe !!, Parktown 2016), a crumpled old bag an exotic hat, African combs a pharaonic crown (pictured right: Qiniso, The Sails Durban 2019) and a wooden stool a tribal headdress. The props are not chosen just for decorative effect; some reflect the lowly jobs available to black women and pay especial tribute to their mother who, after her husband died, laboured long hours as a cleaner to feed her eight children. In Phila 1, Parktown (Be Well) 2016 dozens of inflated rubber gloves, redolent of hard domestic work, paw at their skin. Perversely, the image reminds me of a madonna and child with angels, except the many hands surrounding this mother are grasping rather than supportive; the demands on her are legion.
Other props have historical significance. The pencils sticking from their hair like porcupine needles refer to the method used under apartheid by South African officials to determine race. If the pencil thrust into your hair stayed put, you were classified as black; if it fell out you were deemed to be white. Elsewhere, the tyres draped round their neck recall the necklaces of burning tyres used during apartheid to kill informers. A striped shawl reminiscent of a prison blanket is, says Muholi "to remember the black people who suffered and perished in prison cells during apartheid as well as those who struggle in the present. Black LGBTQIA+ individuals are raped, dismembered, bent and brutally murdered daily in South Africa."
The first photographs I saw by Muholi were portraits of victims of sexual violence. Drawn up in 1996, the new constitution of South Africa was the first in the world to outlaw discrimination on the basis of sexual orientation, yet the assault of queer and trans people is still widespread. Faces and Phases is an ongoing series of portraits of members of the LGBTQIA+ community that, in honouring their individuality, provides an archive celebrating the living and mourning those who have been murdered.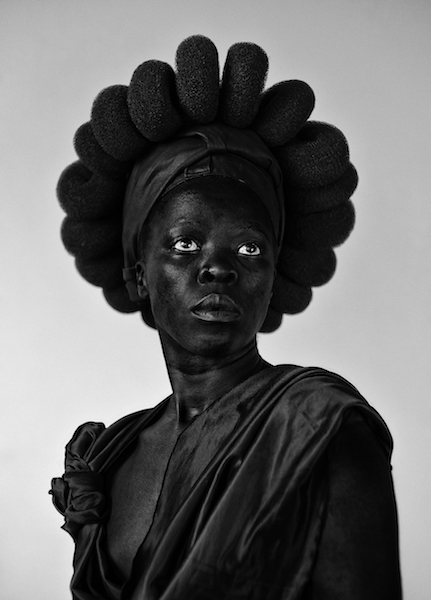 Early work includes loving photographs of gay couples and intimate shots of their private lives. Dada, 2003 shows a lesbian strapping on a dildo; the paleness of the plastic against her dark skin makes the prosthesis appear strikingly alien. ID Crisis, 2003 (main picture) is a beautifully atmospheric shot of a woman binding her breasts before donning a shirt, suit and tie to venture out in a potentially hostile world.
The emotional range of Mugholi's work is exceptional. If these images are remarkable in their tenderness, Hail the Dark Lioness includes pictures so confrontational they knock you sideways. Somehow, though, this installation dilutes their power. To my mind, the self-portraits work best when printed very large and hung on a white wall. Here, many are too modest in scale to have full impact and the walls are painted black, which flattens the drama. They should be the climax of the show – a glorious declaration of pride and defiance – but are reduced to something more like a growl of displeasure than a full blown celebration of identity.
Pan scourers become a turban or halo, African combs a pharaonic crown and a wooden stool a tribal headdress
rating
Explore topics
Share this article