Collective review - waging war on corruption |

reviews, news & interviews
Collective review - waging war on corruption
Collective review - waging war on corruption
Scarifying documentary about murderous bribery in Romania's health system
Wednesday, 02 December 2020
Dogged in pursuit: investigative journalists Mirela Neag and Cătălin Tolontan in 'Collective'
It was around the time of the 14th century Black Death that the word "corruption" – from the Latin corruptus, the past participle of corrumpere, "to mar, bribe, destroy" – was first associated with putrefaction.
Moral corruption becomes inextricably entwined with fleshly decay in a cellphone video image of a dying hospital patient taken by a whistleblower that Alexander Nanau incorporated in his
documentary
Collective
, which reveals the extent to which
Romania's
state
health system
had become riddled with bribery by the mid 2010s.
The male patient was attending the metalcore band Goodbye to Gravity's free show at Bucharest's Colectiv nightclub on 30 October 2015 when fireworks ignited the poisonous soundproofing foam attached to the pillars and ceiling. Twenty-six people were killed during the ensuing fire. Collective includes other cellphone shots, crucial to the train of events but unavoidably ghoulish, of the fire's outbreak and the subsequent stampede to the exits. "Fuck all your wicked corruption/ It's been there since our inception," the group's singer Andrei Găluț bawls moments before he notices the fire. Găluț survived his extensive burns; his girlfriend died, along with his four bandmates.
Five days later and following a 20,000-strong protest in Bucharest against government indifference to the fire, the Prime Minister Victor Ponta (already under indictment for forgery, money laundering, and tax evasion) resigned and his Social Democratic government fell, to be replaced by politically unaffilated technocrats under the new PM Dacian Cioloș. (Pictured below: Colectiv fire survivor Tedy Ursuleanu.)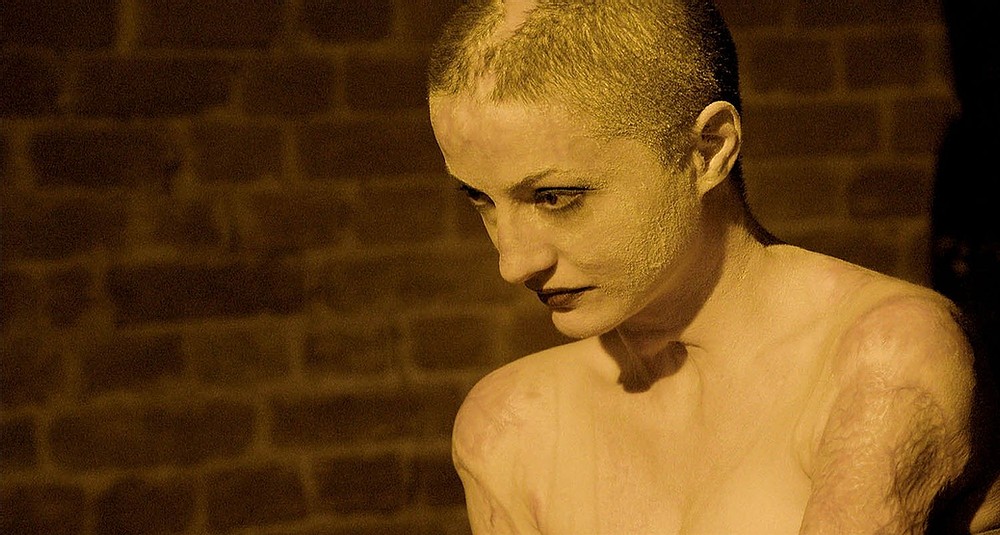 In the weeks following the fire, bacterial infections killed another 38 burn victims. The whistleblower says they had been kept in a "known septic environment and exposed to some of the most resistant hospital bacteria in Europe". The cause was the hospitals' use of the sanitiser Suprasept, which had been so duluted it contained 1.17 per cent of the active disinfecting ingredient in the concentrate instead of the required 12 per cent.
It had been provided by a company caused Hexi Pharma, which according to the film signed 796 supply contracts in nine years and compromised the safety of 2,000 operating rooms in 350 hospitals. Minister of Health Nicolae Bănicioiu appears before reporters claiming that the disinfectant is 95 per cent effective,
Collective is purely observational, requiring neither a narrator nor talking heads. At times, it recalls in its methodical reportage Granada Television's campaigning investigative documentary series World in Action (1963–98). In uncovering murderous malfeasance and venality, it offers hope for Romania by placing tenaciously truth-seeking journalists front and center, namely Cătălin Tolontan and his colleagues Mirela Neag and Răzvan Luţac at Gazeta Sporturilor (Sports Gazette), the popular football-driven daily tabloid.
In his taciturn way, Tolontan – short, army-jumpered, bullet-headed – expresses outrage at the "instititutionalised lie at state level that was propagated through all communication channels", leading to so many preventable deaths; no less the film's conscience is his rangy, angular lieutenant Neag, who quietly seethes with suspicion and scorn. She barely speaks until late on when she tells Tolontan that she's been threatened.

Matter-of-fact – with a few dramatic peaks – until its concluding graveside scene, the film initially follows Tolontan as the investigation turns from exposing the government's false claims, dutifully mouthed by Bănicioiu, about the ability of Romania's ICUs to handle an influx of burn victims to a more granular account of how Dan Condrea, Hexi Pharma's Porsche-driving owner, exploited the willingness of healthcare workers, surgeons included, to accept dirty money. Surveillance footage of workers surreptitiously carrying sanitiser containers out of a Hexi facility presages a report of the May 2016 car crash in which Condrea, who was facing preventive arrest, was killed. His wife didn't agree with the official suicide verdict because "he wasn't the type to kill himself, more the type to kill someone".
Collective's second half focuses on Vlad Voiculescu (pictured left), a trained economist who was a boyish 32 when he became the Health Minister in May 2016. Like Tolontan, he gave Nanau extraordinary access to his meetings and days in the office that left him frustrated by bureaucratic impediments to his reforms.
This "dry" section of the film is leavened by scenes featuring Tedy Ursuleanu, a young architect whose head and body were badly burned in the fire and who woke from a coma to find her fingers had been amputated in an operation; watching her flex the fingers of her new prosthetic hand is a welcome palliative. Ursuleanu's post-fire photo sessions have made her a symbol of resilience and a catalyst for change.
The new appointee in Voiculescu is mildly reproachful when telling Camelia Roiu, the heroic whistleblowing anaesthetist at Bucharest Burn Hospital who took the cellphone video of the doomed patient's maggot-infested wounds, that giving the footage to journalists was "not the normal thing to do"; as a former patients' rights activist who had allegedly smuggled elusive cancer drugs for children into Romania, he must have admired her. She tells him that the hospital manager told her that "complaints should be addressed to my direct boss", which would have meant, of course, their burial.
Voiculescu lost his ministry after six months when the Social Democrats were restored to power in the December 2016 parliamentary election, a reversal lamented by Tolontan and his team, as Nanau shows before the cemetery coda. With many doctors and nurses emigrating and continuing infrastructural decay, healthcare in Romania, the EU's worst according to the Euro Health Consumer Index, remains catastrophic, and it's little wonder COVID-19 cases rose precipitously in October and November. More agitational films as powerful as Collective – and more fearless collectives like Gazeta Sporturilor's – are needed to help erode the systemic corruption at the core of the crisis.
Watching burns victim Tedy Ursuleanu flex the fingers of her new prosthetic hand is a welcome palliative
rating
Explore topics
Share this article