The Band Plays On, Sheffield Theatres online review – to Sheffield with love
The Band Plays On, Sheffield Theatres online review – to Sheffield with love
Latest show from Chris Bush is a celebration of local stoicism and wry humour
In fine voice: Sandra Marvin in 'The Band Plays On'.
All theatre is local — if you can't get to where a show is playing you can't see it. That is, until a pandemic closes all theatres and forces their shows to go online.
The latest offering from
Sheffield
Theatres, now streaming to your home, is local in another way: Chris Bush's
The Band Plays On
is an entertainment that has place at its very heart — it is a
musical
and historical love letter to the city of Sheffield. Over about 100 minutes, we get a mixture of female monologues and some spirited covers of mostly well-known songs by local heroes, from Dave Berry to Jarvis Cocker.
This is a show that has a formula: there's a song followed by a monologue followed by a song followed by a monologue… The five monologues tell an informal story about individuals and the city. The first is 'Bunker Baby', in which the character Shelley starts off by saying, "Welcome to Sheffield — birthplace of the apocalypse", and goes on to talk about her relationship to her father in an extended anecdote that begins in her adolescent 1984, and takes in the fear of nuclear war, the Battle of Orgreave and the BBC dystopian television programme Threads. It's tender, painful and melancholic.
In the next piece, 'We're Alright', Bush takes us to the next decade, and Neil Kinnock's election defeat in 1992, which followed with nemesis-like brutality the Labour Party's Sheffield rally in which he famously, and overconfidently, exclaimed, 'We're all right'. Young Izzy is the daughter of socialists, and the story spans the years between local door-to-door leafleting for Labour to more recent campaigning in the Brexit Referendum. What's refreshing is the way that issues of class, race and sexuality are presented in a complex way — no clichés here.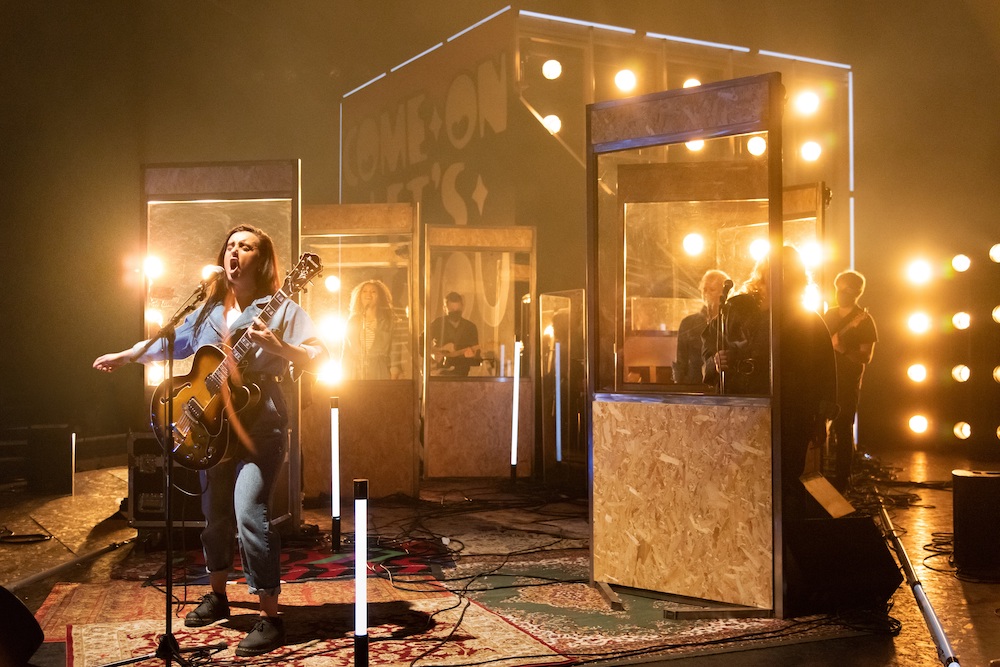 The next two episodes look at football, 'Sheffield Rules', and disasters, 'Flood Gates', and mix historical facts — did you know that Sheffield is the spiritual home of the beautiful game? — with contemporary stories about Jess and Diane, who cleverly draw parallels between the past and the present. Once again, the balance between trauma and humour is carefully crafted. Other Yorkshire heroes, such as Jessica Ennis-Hill, make an appearance; tragedies such as Hillsborough are not ignored. But just as you start to wonder what all these tales have in common, Bush presents 'Sanctuary', a monologue that brings all the characters together during the COVID 19 pandemic. It's a deft and moving moment that delivers a touch of real inspiration in our dark times.
The musical interludes include classics such as 'The Crying Game', 'I Bet You Look Good on the Dancefloor' and Cocker's 'Don't Let Him Waste Your Time', all sung in turn by the various cast members, with an exciting rock band and belting solos which are often sweetened by arranger Will Stewart's use of female backing vocals. Bands include Def Leppard, Moloko and Slow Club. Ranging from vigorous pride to sultry soul, these songs bring the empty Crucible venue to life. Sort of. If, at some moments, the lack of a live audience might be detected in the slightly too perfect performances (this is more of cool studio album than a rough piece of gig theatre), there are plenty of moments of pure pleasure.
In general, the format of this show makes it quite hard to watch from beginning to end, and might work better if sampled in episodes, and I think that there are times when Bush's writing doesn't sufficiently distinguish between the different characters, most of whom seem to have been written from the outside in. That said, it is impossible to fault the co-directors, Robert Hastie and Anthony Lau, or designer Ben Stones's rock-concert set. As brilliantly filmed by The Umbrella Rooms, the performances are excellent — great work from Jocasta Almgill, Anna-Jane Casey, Sandra Marvin, Maimuna Memon (pictured above with guitar), and Jodie Prenger. This is a tuneful celebration of stoicism, resilience and humour.