White Noise, Bridge Theatre review - provocative if not always plausible |

reviews, news & interviews
White Noise, Bridge Theatre review - provocative if not always plausible
White Noise, Bridge Theatre review - provocative if not always plausible
Suzan-Lori Parks has tweaked her Off Broadway play to mixed results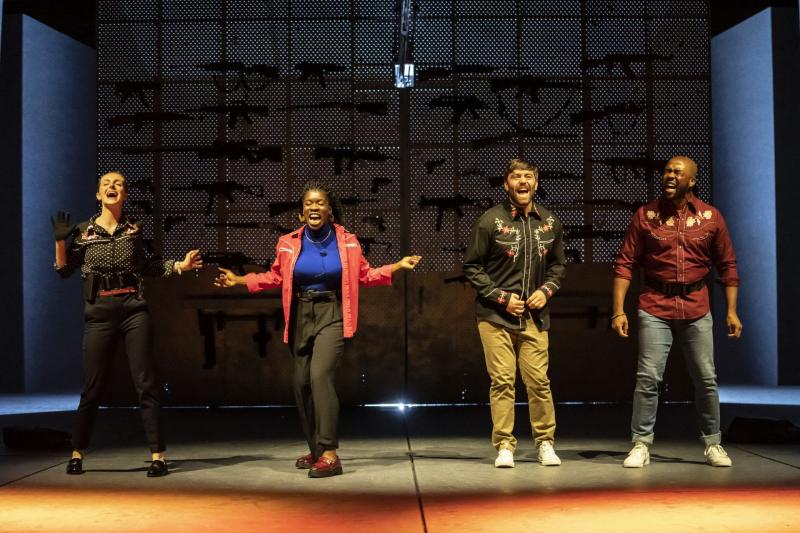 Fraught foursome: the cast of 'White Noise'
"I can't sleep": So goes the fateful opening line of White Noise, the Suzan-Lori Parks play disturbing enough to spark many a restless night in playgoers who are prepared to take its numerous provocations on board.
To do so requires various suspensions of disbelief, one quite substantial, on the way to a finish that, in Polly Findlay's
Bridge Theatre
UK premiere, comes at least 20 minutes earlier than I recall from this play's Off Broadway debut in spring 2019.
Comparative speed (the play still feels overwritten) isn't all that's changed in the trans-Atlantic crossing of this portrait of two couples, the four all longtime friends who have shifted alliances and partners over the years and proceed to do so on the way toward the emotional Armageddon with which the play concludes. A Pulitzer winner for Topdog/Underdog, White Noise has nothing to do with the Don DeLillo novel of the same name.
Instead, as Parks's cunning title suggests, the play refracts race, and racism, through the dynamics of the quartet on view - each of which consists of a white and a black partner - so as to examine a virus that simply won't go away: a pandemic lacking a vaccine. Indeed, the play's central event is even more shocking now, in the wake of Black Lives Matter and the George Floyd murder, than it was at the time of its American debut. And seen in conjunction with Aleshea Harris's explosive Is God Is, at the Royal Court, the play further illustrates the ongoing dynamism of black American writing, which would have been further proven had Jeremy O Harris's "Daddy" A Melodrama not had its Almeida debut scuppered by the pandemic. (Nor can one forget the Young Vic premiere of Fairview late in 2019.)
Parks has taken the societal ructions (to put it mildly) that have occurred between airings of her play to update it: a key location that was once a bowling alley is now a shooting range belonging to the moneyed if angry Ralph (James Corrigan), a university professor who has been passed over at work by someone black (Sri Lankan actually, we are told) and who accedes to the supposition on which the play depends: that Ralph, who is white, will agree to "buy" his good mate Leo (Ken Nwosu, pictured above), who is black, so as to keep Leo enslaved for 40 days. The cleaning lady will get that amount of time off (!), and Leo can be "the ignorant slave person" that he feels himself to be, not least in the wake of a police assault that has happened immediately prior to the play beginning.
Leo, in turn, will emerge with the cash necessary to see him through a lean period as an artist, even as both their girlfriends - each woman previously attached to the other man - occupy positions on an implicit spectrum of critical race theory. Dawn (Helena Wilson), Leo's white girlfriend, describes herself as "one of the good guys", the daughter of two psychiatrists whose success as a lawyer is repeatedly juxtaposed with Leo's difficulties finding any sort of soul-restoring place for himself. Misha (the charismatic Faith Omole, pictured below), is gaining traction with a call-in radio program called "Ask A Black" that is itself as much a performative gesture in its own way as the master/slave role-play that Leo persuades Ralph to undertake.
That Ralph warms to the grievous challenge set before him is more or less a given: a scene in which we are briefly shown the "punishment collar" in which Leo is ensnared chills to the bone, as it must. (Ralph, it seems, had to use connections to get it.) But here, as Off Broadway, I can't help but feel that Parks's adventurous thematics get the better of her narrative: it's difficult to accept that this particular premise in the modern day is allowed to proceed as it does, one's doubts not helped by a tendency as the play enters its third hour to report events instead of dramatising them. For a play written in white heat, it's surprising to clock the degree to which White Noise relegates its defining narrative to the sidelines, opting instead for a puzzling sequence of monologues by way of a play like Uncle Vanya that, in context, feel as if Parks is italicising her own characters from the outside. (Lizzie Clachan's shape-shifting design pushes out into the audience so as to pull us towards the rhetoric-heavy writing.)
The shooting range, too, brings up all sorts of troubling associations that are useful on the one hand: the suspense is only amplified by a milieu whose available weaponry is considerably more threatening than a bowling ball or two. At the same time, the liberal-minded Dawn, for one, seems as unlikely to be practicing her skill with pistols than Ralph is to find sudden acceptance and acclaim on the pages of The New Yorker.
The swerves in the writing, not to mention the decisively American milieu for a play boasting no shortage of British applications, pose a challenge for the actors, who, in Nwosu's case at least, benefit from having shone brilliantly in the previous, and not dissimilar, An Octoroon. And if the New York cast (headed by Tony winner Daveed Diggs) was more glamorous, Findlay's ensemble certainly go for the jugular, not least Corrigan as a man used to persuading his own righteousness who discovers within himself what it means to be ruthless. The world, it would appear, swings between both options, but White Noise leaves no doubt as to where Parks feels it will likely come to nervous-making rest.
The play refracts race, and racism, so as to examine a virus that simply won't go away: a pandemic lacking a vaccine
rating
Explore topics
Share this article