The Duke review - a new feelgood classic |

reviews, news & interviews
The Duke review - a new feelgood classic
The Duke review - a new feelgood classic
Jim Broadbent's working-class hero sticks it to the Man
Saturday, 26 February 2022
Idealist and wife: Jim Broadbent and Helen Mirren in 'The Duke'
The Duke, directed by the late Roger Michell (1956-2021), is a delight. At its heart is a towering, defining performance from Jim Broadbent and an unforgettably surprising role for Helen Mirren.
Broadbent plays a real-life character, the Newcastle taxi driver Kempton Bunton (1904-1976), who stole Francisco Goya's "Portrait of the Duke of Wellington" from the National Gallery in 1961. He returned the picture much later and also confessed to the theft.
There is a wonderfully ironic plot-line running through the film. The police pompously, plummily speculate about who might be responsible for the crime: those involved must clearly have been "well-funded... highly professional...international", and the thief himself self-evidently had to be "a trained commando". All of which turns out to be complete baloney. Bunton was an idealist whose main campaigning activity had a very good basis in economic reality. It was blindingly clear to him that the TV licence was an "unfair tax on ordinary people". And since the main people this regressive tax unduly victimised were the elderly poor, he fought to have them exempted from it.
With the benefit of hindsight, of course, we can now see that history has completely validated his campaign. TV licences for the over-75s were made completely free from November 2000, although later removed as a universal benefit. The Office for National Statistics finally re-classified the charge as a tax in 2006.
Bunton is mocked incessantly for his beliefs and spends time in prison for avoiding the fee. He also writes plays that never get performed or produced and, whenever he can, he selflessly defends people he knows (or in some cases just meets in passing) from injustice (pictured below: Jim Broadbent).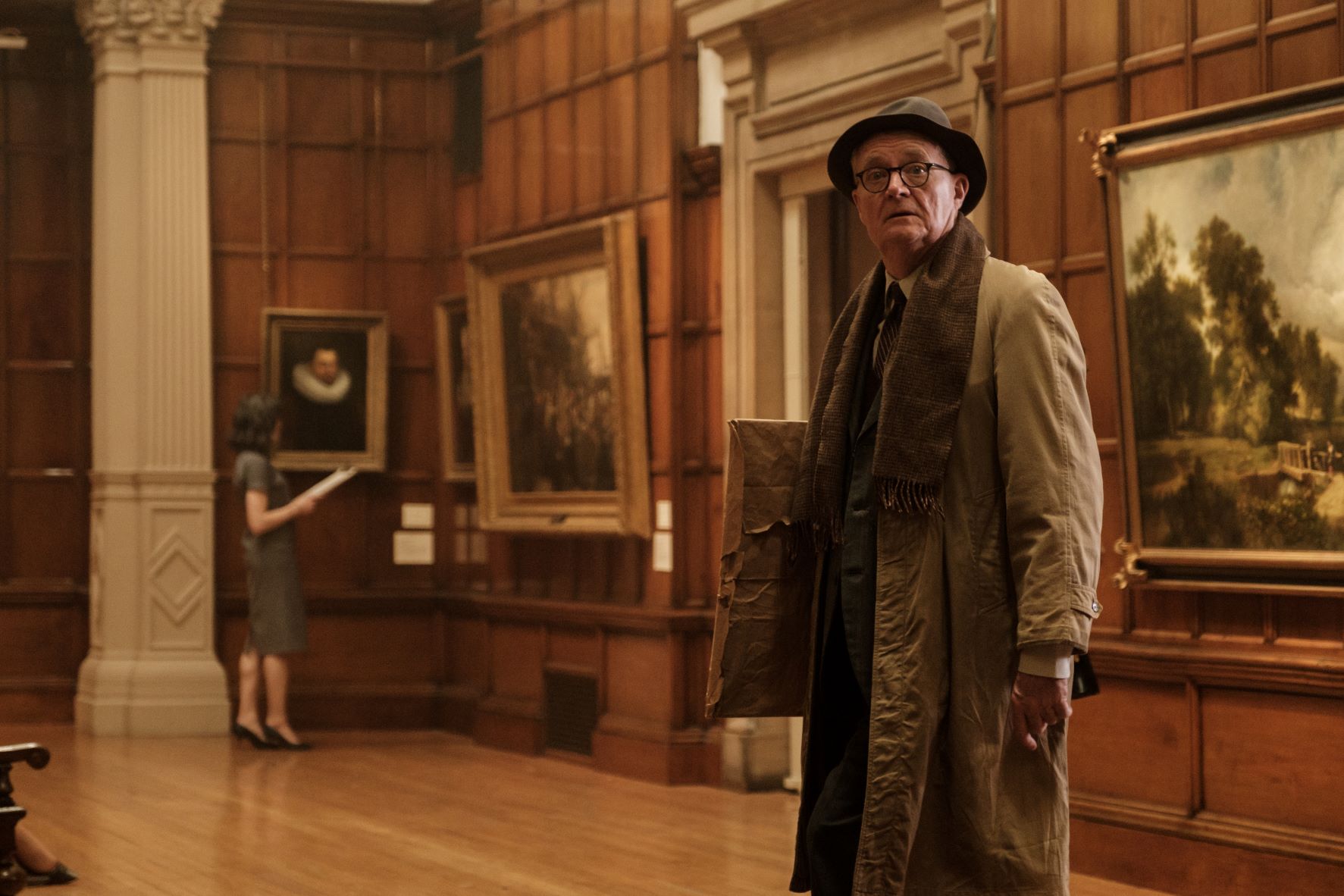 The real-life story has been altered in several ways by screenwriters Richard Bean and Clive Coleman. As they have said, describing their aims, "It's a feelgood film and [we] hope audiences will feel uplifted... . If there were more people like Kempton Bunton, the world would be a happier place".
Part of what makes Bunton such an appealing character is that he is the kind of working-class hero who has educated himself about theatre, art, politics (and racial prejudice), and formed his opinions through a combination of the sheer joy of learning sincerely held beliefs. If he appears ridiculous, a victim, a loser, he is also sharp-witted, and when his moment of glory in the dock at the Old Bailey comes, his humour and charm at their most persuasive are a force to reckon with.
Bunton's long-suffering wife Dorothy, known as Dolly, is played by Mirren. She has a steady income as a cleaner working for the wife of a local councillor, Mrs Gowling (teasingly played by Anna Maxwell Martin). Dolly wants to trust her husband, and we see how through his various quests, he lets her down. When he writes a play about a family tragedy, Dolly assert her clear disapproval with a single terse line: "Grief's private."
The viewer empathises with Dolly's predicament, Mirren's fans may be surprised to see her hunched over and dutifully dusting furniture but will not be disappointed by her deeply felt portrayal. The Buntons' younger son Jackie (Fionn Whitehead) is a pivotal figure in the plot-line. His loyalties are constantly split between his parents, both of whom he wants to be of use to while retaining their affection.
In addition to the fine central performances, Matthew Goode excels as the barrister defending Bunton at the Old Bailey. The music by George Fenton – who told me in an interview (link below) how much he enjoyed collaborating with Michell – cleverly keeps returning us vividly to the early Sixties, with deft "needle drops" into numbers by Adam Faith, Helen Shapiro, and Acker Bilk. There is also an astutely inserted clip of Sean Connery, Ursula Andress, and Joseph Wiseman in Dr No.
Michell died far too young. This is not quite his last work. He subsequently made Elizabeth: A Portrait in Parts, a film culled from royal documentary archives that will be screened in June.
In the meantime, The Duke shows what a fine director he was. The pacing is superb, and there isn't a single wasted frame. Broadbent as Bunton is impossible to dislike and inevitably leaves the viewer with a smile. Surely, in the same way that Brassed Off is now referred to as a classic, the same is going to happen, in time, for The Duke.