Sounds of Estonia, Kings Place review - one of the world's great choirs on spellbinding form |

reviews, news & interviews
Sounds of Estonia, Kings Place review - one of the world's great choirs on spellbinding form
Sounds of Estonia, Kings Place review - one of the world's great choirs on spellbinding form
Singing, jazz piano and string music in two of the festival's four concerts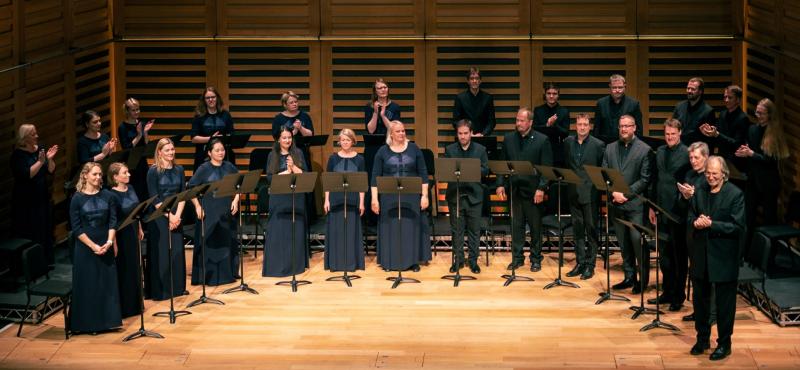 The Estonian Philharmonic Chamber Choir at Kings Place
The history of Estonia has been described as "a story set to song". The Estonian activist Heinz Valk called singing "our nation's most glorious form of self-expression." There are, of course, other nations where singing is seen as an expression of national identity, but probably none more so than the Baltic country.
The fully professional Estonian Philharmonic Chamber Choir, founded in 1981, is one of the great choirs of the world. In Kings Place Hall One, directed by their genial founder Tõnu Kaljuste, they could use the wonderfully lively acoustic to allow their unique European-yet-Slavonic sound and their astonishing tonal and expressive range to be heard to best advantage in this concert, part of Kings Place's year-long "Voices Unwrapped" sequence.
Kaljuste (pictued below by Matthew Johnson) gives minimal gestures, but the effect they have, the way they convey meaning to the choir, is palpable. He opens the left hand as if to release magic dust. He points an index finger as if dotting an "i". Or he just smiles gamely for the briefest of moments at a singer – who then knows exactly what is expected.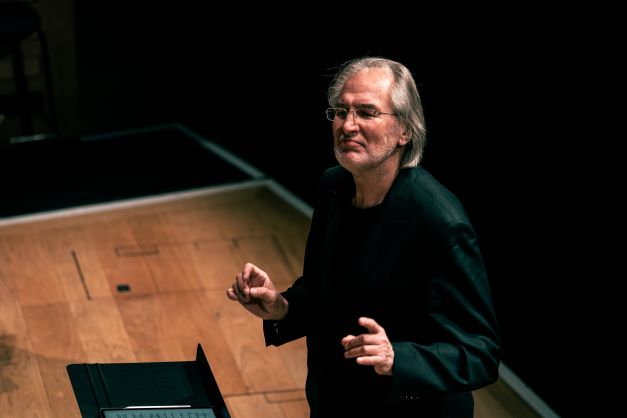 The choir's two-part programme was cleverly contrasted. In the first part they explored the long delicate lines of the devotional music of Arvo Pärt. The purity of clashing minor seconds in the soprano parts was jaw-dropping, and the choir's lead high soprano, Annika Lõhmus, was superb. "The Deer's Cry" has been recorded by many choirs, but the Estonians bring a fragility and a leanness to it that makes the intensity build all the more poignant. And there may be no choir which balances endings as purposefully and poignantly as this one. Perhaps they were at their most affecting in the hushed ending of "Dopo la Vittoria." They closed the first half sequence with "Rejoice, rejoice, rejoice!" It showed that this choir has no technical barriers whatsoever when it turns its hand to angular, angry atonality. Whether that point really needed to be made is another question…
In the second half we witnessed the group's more theatrical and rootsier side with some glorious folk song cycles and scenas by Veijo Tormis. Like other cold nations (Quebec does it too) Estonia celebrates St John's Day, and Tormis's cycle for the midsummer feast is mesmeric. The "Swing Songs" for a swaying women's chorus are completely captivating. The "Curse Upon Iron" with Kaljuste wielding the drum, is a powerful work. The encores Arvo Pärt's "Da pacem" and Britten's "Concord" felt like much-needed prayers for peace.
Friday's concert by the O/Modernt string orchestra (pictured above by Matthew Johnson) with soloists jazz pianist/composer Kristjan Randalu and clarinettist Sacha Rattle was another insight into the sheer quality and breadth of Estonian music. A highlight of the first half was Erkki-Sven Tüür's Action-Passion-Illusion (1993). The musical language is clearly tonal, but Tüür enjoys setting that against clusters of dissonance. The work was written for a symphonic string section, but the chamber forces of O/Modernt made the case that it might sound even more appealing when they play it than in its weightier original guise as, for example, in the recorded version conducted by Anu Tali.
The second half consisted of a seven-part sequence of works in which Kristjan Randalu intersperses folk arrangements around works by Pärt. Randalu is instinctively a virtuosic player, and he has a distinct leaning for jaunty asymmetric meters. And yet this sequence was at its best when the mode of expression was at its simplest, in Pärt's haunting "Darf Ich" and in the final delicate and direct folksong played as an encore.
Sounds of Estonia, a sequence of four concerts and other events at Kings Place, with the support of the Estonian Embassy, was, or rather is, timely. To say the least, the Russian invasion of Ukraine evokes the bitterest of collective memories for Estonians. The programme also included performances by two leading Estonian singers: singer/violinist/electronic artist/composer Maarja Nuut, and Mari Kalkun, a folk singer who celebrates her Southern Estonian Võru heritage and language. There was also a screening of the 2006 film The Singing Revolution.
Insights into the sheer quality and breadth of Estonian music
rating
Explore topics
Share this article