The Outfit review - threadbare tailor-gangster yarn |

reviews, news & interviews
The Outfit review - threadbare tailor-gangster yarn
The Outfit review - threadbare tailor-gangster yarn
Mark Rylance lifts a tale of cross-stitches and double-crosses in Fifties Chicago
Clothes conceal the man: Mabel (Zoey Deutch) and Leonard (Mark Rylance)
"A man walks in," Leonard (Mark Rylance) begins. "What about him can you observe? What does a man like to be?
And who is he underneath?" Leonard is, in common parlance, a
Savile Row
tailor – "a cutter from the Row," he insists – fetched up for murky reasons in 1958 Chicago, where his shop's best customers are sharp-dressed
Mob
clan the Boyles. He affects innocence of their business, till scion Richie (Dylan O'Brien) and rival Francis (Johnny Flynn,
pictured below
) stagger through the door after a bloody shoot-out. A long night of subterfuge and double-cross, poker-faces and slipping masks ensues, in
The Imitation Game
writer Graham Moore's highly theatrical directorial debut.
Moore and Johnathan McClain's script seems built on possibilities for metaphor and double-meaning in Leonard's craft. The Outfit is here both a well-cut suit and the elite gangster syndicate the Boyles wish to join (the latter notion borrowed from the Richard Stark novels filmed as Point Blank [1967] and The Outfit [1973], both more hard-boiled affairs than this). Leonard's workbench becomes an operating table as he sews Richie's bullet-holes with needle and thread, in a grisly, haute couture parody of hospital film cliché. A good suit's concealments and compensations, for its wearer or perfectionist maker, is one question. Trades' mirrored "tools", when a pistol and long, sharp scissors are laid side by side, is another. You keep waiting for one of them to go off.
Mark Rylance's screen career has burgeoned since his soberly understated Soviet agent in Bridge of Spies (2015) won an Oscar, and typed him in the sort of repressed roles Anthony Hopkins once owned. Rather than the exquisite pain Hopkins found beneath those bland surfaces, Rylance tends to discover dignity manifested in halting, humble speech patterns, the connective thread between his diverse roles for Spielberg, Dunkirk, The Phantom of the Open and this. His tempestuous stage power as Jerusalem's Johnny Byron has so far been misplaced. He's anyway joined by fellow theatre great Simon Russell Beale, mixing sentimentality and menace in the unlikely role of gangster patriarch Roy Boyle, alongside Britons Flynn (all coiled, quizzical charisma) and Nikki Amuka-Bird, pictured below, as rival gangster Violet LaFontaine. O'Brien, and Zoey Deutch as Leonard's ambitious secretary Mable, are the US contingent.
This is a one-set film, which Moore has put in a lineage with Hitchcock's Lifeboat and Rope. The ticking hours in Leonard's cutting room don't, though, induce sweaty claustrophobia. Instead, the fact of watching a largely English cast on a well-dressed Wembley soundstage becomes inescapable, the conjuring of mid-century Chicago by Alexandre Desplat's elegant, jazz-inflected score and Sophie O'Neil and Zac Posen's precise costumes evaporating in the effortful accents and prosaic direction.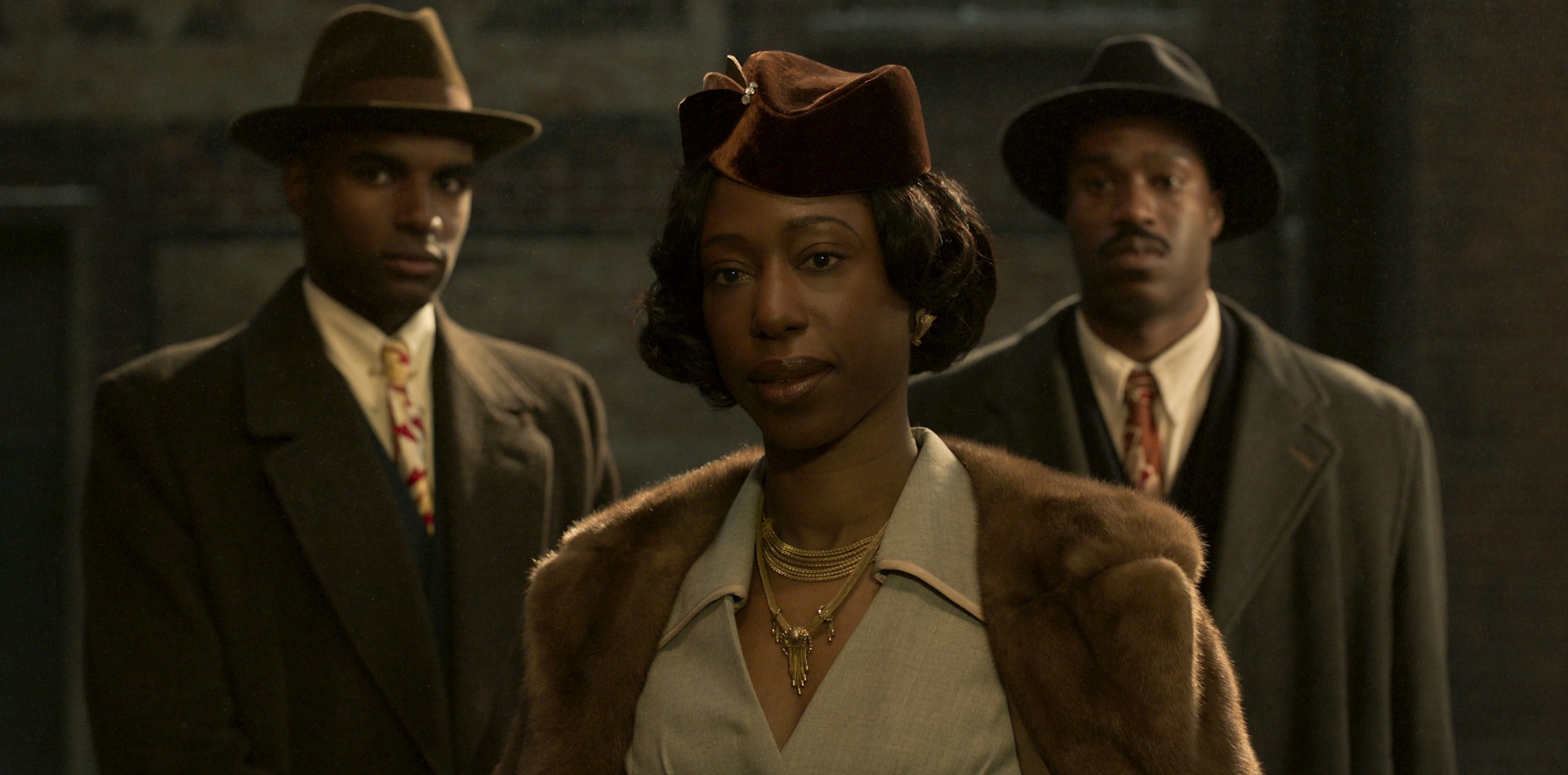 Reservoir Dogs' warehouse showdown is a truer comparison, with its largely offscreen carnage, well-hidden traitor and climactic betrayal, The Outfit's multiple Mexican stand-offs paying homage. Credible mechanics of gangster, and gut-shot, behaviour are, though, fatally lacking, with multiple breezy resurrections of badly wounded gunsels, and Richie's close-up menacing of Francis despite a bloody stomach wound vying with the personal exposure of ageing capo Roy to his rivals for sub-Corleone stupidity. Rylance's immersion in Leonard's work is wasted by the papier-mâché crooks around him.
The Outfit starts to resemble twisty, violent puzzle-plays such as Sleuth, with clockwork greased by a cast used to such stage confections, and final revelations of almost transformative satisfaction. But there is more craft than vision here.