Everything Everywhere All at Once review - brace yourself |

reviews, news & interviews
Everything Everywhere All at Once review - brace yourself
Everything Everywhere All at Once review - brace yourself
Pick 'n' mix assortment of martial arts, sci fi, family drama, and existential angst
Finger-lickin' good: Michelle Yeoh as the beleaguered Evelyn Wang
Everything Everywhere All at Once is one of those films that are guaranteed to make an audience feel their age. Unless you're steeped in the multiverse genre (The Matrix films, the Marvel canon, etc.) and are comfortable with absurdist pop culture memes, it may well leave you reeling.
Brace yourself for two hours and 20 minutes of handbrake-turn jokes and surreal, comic action sequences.
Divided into three parts, Everything focuses on Evelyn Wang (Michelle Yeoh), an immigrant from Hong Kong who runs a laundromat in the San Fernando Valley. She lives above the washeteria in a crowded apartment with her ineffectual but sweet husband Waymond (Ke Huy Quan) and their grumpy student daughter Joy (Stephanie Hsu, pictured below). Evelyn's elderly and very traditional father (James Hong) is coming to stay and she doesn't know how to tell him that his grand-daughter is a lesbian. And if that wasn't tough enough, the inland revenue are not happy with her book-keeping and have called the family in to go through their business receipts.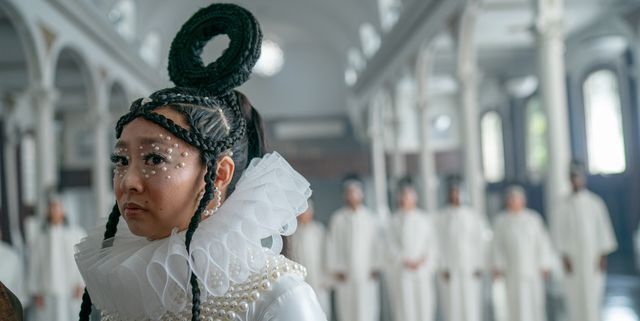 The tax inspector, Deirdre – played by Jamie Lee Curtis in a breathtakingly vanity-free performance – is a middle-aged harridan, exasperated by Evelyn's claims that a karaoke machine is a legitimate expense. In the midst of a humiliating auditing session in a drab office building, a crack in the Alphaverse opens up and Evelyn is transformed into a glamorous kung fu queen in a martial arts movie (shades of Yeoh's performance 22 years ago in Crouching Tiger, Hidden Dragon). In this version of her life, she has to do battle with her own daughter, who has shapeshifted and become the evil Jobu Tupaki.
If all that wasn't bedazzling enough, the next two parts (Everywhere and All at Once) involve the lead characters developing fingers like hot-dog sausages, being transformed into thinking rocks on a far-off planet, and battered piñatas. And if you ever wanted to watch a fight sequence featuring giant butt plugs and strategic pixilation, this is the movie for you.
Daniel Kwan and Daniel Scheinert – who like to be known as Daniels – jointly direct the film. They have a decade of music videos behind them and one cult movie, Swiss Army Man, and with this film have achieved something quite extraordinary considering they were working with a budget equivalent to 10 per cent of a Marvel film. Shot in just eight weeks before Covid closed down the world, Everything Everywhere All at Once suffers a little from the fact that the filmmakers then had the lengthy lockdown to edit and re-edit the film.
They've worked in so many music layers, sight gags, references, and frenetic cuts that the movie needs to be seen several times before one gets all its allusions and jokes. Certainly repeat viewing by its young fans must be helping its box-office success. But less devoted cinemagoers should be aware that while the movie is technically extremely impressive, often very funny and occasionally quite touching, it's also an exhausting and overwhelming experience (and was so especially in the Imax cinema where it was shown to the press).
All the performers are outstanding, but it's a real treat to see the 59-year-old Yeoh – whose last big hit was as the icy matriarch in Crazy Rich Asians – being given the action lead in a film aimed at the 18-30 male demographic. It's also lovely that Daniels tempted Ke Huy Quan out of retirement. Audiences may remember him as the endearing child actor in Indiana Jones and the Temple of Doom and The Goonies. He struggled to get adult parts and became a stunt choreographer in the intervening years but here, playing Evelyn's husband, he's an equally endearing character: the sweet child shines through in his adult self. His support for his wife through a series of kaleidoscopic, near hallucinatory adventures gives the film a grounded charm.
My teenage son loved every minute of Everything Everywhere All at Once (and will doubtless drive me mad by memorising the dialogue after repeat viewing). But while I admire the directors' energy hugely, I do hope that their next film is not quite as feverish.