Marvellous, @sohoplace review - silly, singular and sentimental |

reviews, news & interviews
Marvellous, @sohoplace review - silly, singular and sentimental
Marvellous, @sohoplace review - silly, singular and sentimental
New West End theatre opens with a bio-drama that is joyfully silly - but a bit relentless
Splashing show: Michael Hugo in 'Marvellous'
Opening a theatre should be a celebration, says Nica Burns, the West End power behind this new theatre which is situated next to Tottenham Court Road tube. The co-owner of Nimax Theatre group, she has come up with an elegantly gleaming 600-seat theatre in the round as part of the urban regeneration of the scuzzy top of Charing Cross Road.
Her choice of an opening production is this celebratory bio-drama about Newcastle-under-Lyme's local legend, the irrepressible Neil "Nello" Baldwin, whose amazing career proves that disability can be overcome – a heartwarming message in these turbulent times. Born in 1947, Baldwin was diagnosed with what are now called "learning difficulties" at the age of four, but he managed to create a singular life as, at various times, a circus clown, a kit-man and mascot for Stoke City FC, a decade-long attender of Keele University, and a hitchhiking autograph hunter who numbers prime minister Harold Wilson, football's Kevin Keegan and the new king (when he was but a prince) among his successes, which also include a gong from the Queen. In the past decade, he's been the subject of a book, Marvellous: My Story, and a BAFTA-winning television film starring the ubiquitous Toby Jones.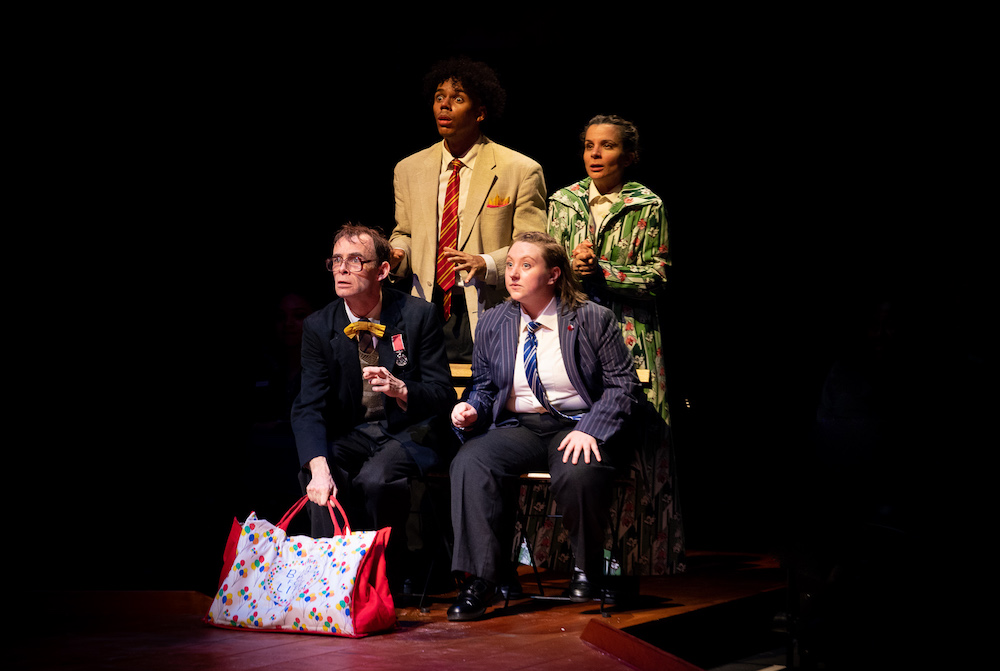 The book was co-written by Baldwin's friend Malcolm Clarke, and this is the source of the script of the play. His life story is told with oodles of meta-theatrical wit, and some very funny sequences, and arrives in the West End from his local theatre, the New Vic in Staffordshire. Some of the details of his life remain pegged to this venue – unless you happen to know the names of past Stoke City players, some of the material will be over your head. But as a celebration of an eccentric character whose struggles have a wider resonance, this works very well. Although the story is not free of stereotypes and foolishness.
More than anything, this is an old-style community play, in which the cast talk us through Baldwin's story, cracking jokes, putting on silly costumes (I loved the chicken and the monkey), explain the fractured chronology and give brief insights into the protagonist's character. Some of the details are genuinely wild: Baldwin attended Keele University for decades without passing any exams or actually being an official student. He just hung around the place. Much play is made of bags for life which magically produce four chairs, slapstick sequences (I really liked the anarchic cooking episode) and rare moments of deeper emotion, as when Baldwin's mother dies.
If the claims on audience participation can get a bit wearying (sadly I missed out on the chocolates that were being passed around), it is also true that you really do need a sunny disposition to love, rather than just admire, this show. Towards the end I felt there was something a bit too relentless about the marvellous theme, which chimes more with the Instagram ethos of perfect lives than with the grim reality of some of the episodes of Baldwin's experience – I just wish there had been more sadder, thoughtful moments. But maybe I'm just a Scrooge.
Director Theresa Heskins (who also created the stage adaptation of this memoir) has put together a neuro-diverse company, most of whom play different versions of Neil – under the thrillingly energetic of lead actor Michael Hugo's "Real Neil" – as well as everyone else in the story. Hugo has an irresistible comic charm, and powerfully charismatic stage presence, and is well supported by Jerone Marsh-Reid, Charlie Bence, and Suzanne Ahmet as Baldwin's mum Mary (all pictured above with Hugo, left). When I saw it, the role of Daniel was played by Joe Sproulle and Perry Moore. If you are craving warm showers of sentimentality and silly larks, this is the show for you.
The comedy chimes more with the Instagram ethos of perfect lives than with the grim reality of Baldwin's life
rating
Explore topics
Share this article