Music Reissues Weekly: Modern Eon - Fiction Tales |

reviews, news & interviews
Music Reissues Weekly: Modern Eon - Fiction Tales
Music Reissues Weekly: Modern Eon - Fiction Tales
Underappreciated Liverpool post-punk outfit is ripe for reappraisal
The brooding and thoughtful Modern Eon
The most commercially and consistently successful band on DinDisc was Orchestral Manoeuvres in the Dark. Martha and the Muffins also made a mark. Label mates The Monochrome Set were cool, distinctive but not so chart friendly. The Revillos were less reserved, as was New Wave of British Heavy Metal outfit Dedringer. The patronage of Heaven 17 brought dance troupe Hot Gossip to the label.
DinDisc was an offshoot of Virgin Records with arty leanings. Extant from autumn 1979 to early 1981 it was in keeping with the Charisma subsidiary Pre, which operated over a similar period. Both paved the way for future major-label-funded imprints like the WEA-sponsored Blanco y Negro Records. Indie credibility was always worth striving for.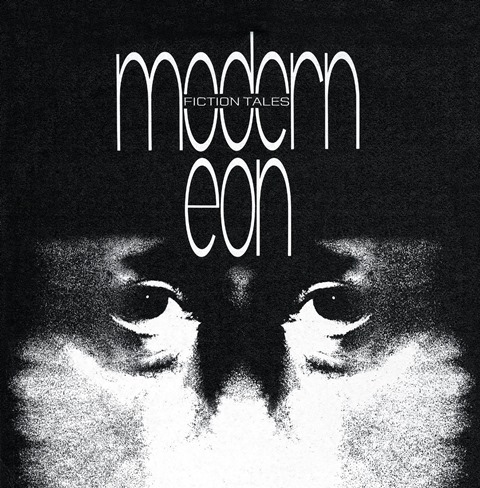 Like OMD, Modern Eon were from Liverpool. They signed with DinDisc after a couple of for-real independent seven-inchers, the second of which was on Inevitable, the hothouse label which also issued early singles by Wah! Heat, Dead or Alive, China Crisis and It's Immaterial. For DinDisc, Modern Eon released three singles and an album, 1981's Fiction Tales.
Considering the context, it's curious Fiction Tales hasn't been legally reissued before. It's integral to Britain's post-punk landscape. Now, it's belatedly reappeared in a 2-CD expanded edition – the album plus tracks from singles and a couple of previously unheard cuts which could have appeared on a second album. Completists should note that their contribution to the Street To Street compilation is absent, as are two of the cuts from their first EP. Their BBC radio sessions are also not included.
The band formed in 1978 as Luglo Slugs and after a brief spell as Tank Time issued a first single on their own Eon label as Modern Eon in 1979. Next, to Inevitable and then DinDisc. At the latter imprint, despite a profile-raising London support slot to The Stranglers, it seems they were lost.
When Fiction Tales came out in June 1981, Smash Hits described them as "brooding," "thoughtful", about "atmosphere and emotion" and having a fondness for "wispy melodies" and "moody landscapes" while conceding it "may take a while to come up with a hit single." Later in the year, the fanzine Bop Eye noted that Fiction Tales "emerged quietly" and that it "failed to make any kind of splash whatsoever…in both sales and publicity." In that piece, frontman Alex Johnson (then using the name Alix Plain) said "our music comes first and our personality later. We're not just one of those bands whose name you hear on TV, radio, in the press. I don't know what happened to our album…I just don't know why the album didn't do better. Our new album is going to be even better." There was no second album, and Modern Eon called it a day in summer 1982.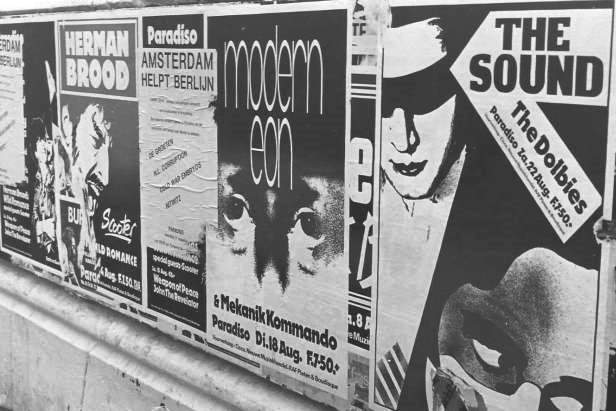 Fiction Tales is a glacial gem, loosely similar to the direction taken by contemporary bands Comsat Angels and The Sound. Johnson's vocal are distant. The spare arrangements are punctuated by flurries of rattling drums like those of Joy Division's "Atmosphere" and snappy bass along the lines of the Banshees' Steve Severin. There's a propulsion to these slices of atmosphere without the grand architecture of fellow Liverpudlians Echo & the Bunnymen or the swagger of Wah! Heat. There is a restraint. (pictured left, Modern Eon play Amsterdam, August 1981)
Individually, songs like "Choreography," "Playwrite" and the vaguely Jon Anderson-ish "Child's Play" (a resemblance noted in the music press at the time which still stands) sound as if they ought to have easily found an audience. But Modern Eon found themselves confined to the lower reaches of the Top 40 and did not click. The collection's two hitherto unheard post-album tracks suggest they had not moved forward after Fiction Tales.
With DinDisc's final release hitting shops in February 1982, Modern Eon were in a difficult position – their imprint was no more and unlike Orchestral Manoeuvres in the Dark they were not transferred over to parent label Virgin. Left stranded, they had a limited lifespan. All of which is a pity as what's here makes the case that they could have broken through. Indeed, they laid the ground for a band which charted for the first time in 1982. Listening to this confirms Modern Eon set the sonic template for the early Tears For Fears.
Next week: Dave Brubeck Quartet - Debut In The Netherlands 1958. Document of the first European tour

'Fiction Tales' is a glacial gem, similar to contemporary bands Comsat Angels and The Sound
Explore topics
Share this article