I'm Fine (Thanks for Asking) review - quietly impressive debut film |

reviews, news & interviews
I'm Fine (Thanks for Asking) review - quietly impressive debut film
I'm Fine (Thanks for Asking) review - quietly impressive debut film
Life on the margins in a well-crafted American indie
DIY: writer and co-director Kelley Kali plays Danny, seen here with her daughter Wes (Wesley Moss)
I'm Fine (Thanks for Asking) is an object lesson in how it was possible to make a feature on a tiny budget despite the restrictions of the pandemic lockdown. The film-makers stuck to the classical unities (time, place, action), cast themselves and members of the crew, called in favours from performer friends, and shot the movie over 10 days, mainly outdoors.
It follows one day in the life of Danny (Kelley Kali, who co-wrote and co-directed the film) on the streets of Van Nuys. Recently widowed Danny is homeless and struggling to scrape the cash together for the down payment on a place to live for herself and her eight-year-old-daughter, Wes (Wesley Moss).
We first meet them waking up in a tent, pitched on scrubland with the winding roads and mountains of California in the background. Danny tries to convince Wes that camping is fun, but the little girl is hot and just wants to be home with a roof and a fan. Dropping off Wes at a child-minder who wants paying, Danny puts on her roller skates and tries to earn enough money by braiding clients' hair on their porches and delivering fast-food to folk locked down by Covid. It's the degrading gig economy and the suspended animation of the pandemic in 2020 made manifest.
The movie's title references Danny's pride. She won't tell her friends about her predicament and appears to have no family to help out her and Wes. Instead she has a series of encounters with friends and strangers, mostly amicable but some threatening.
It's all shot on the move in the golden Californian light. Cinematographer Becky Baihui Chen deserves credit for her lyrical, flowing camerawork. She follows Danny as she swoops around the housing projects – the kids there dance under hosepipes – before moving on to drop off fast food at the shuttered gates of suburban homes.
This is Kali's first feature proper and she proves herself not just a decent filmmaker and actor, but an impressive skater. Her co-director Angelique Molina (who wrote the script with Kali and Roma Kong) takes a smaller role as a client exasperated when Danny fails to turn up on time to braid her hair. There's more screentime for Danny's friend Brooklynne (BK Marie), who runs a laundromat but dreams of being whisked away by a rich boyfriend. Brooklynne gives Danny a blunt laced with something extra, triggering a watery nightmare sequence, but mostly the film sticks to observational realism.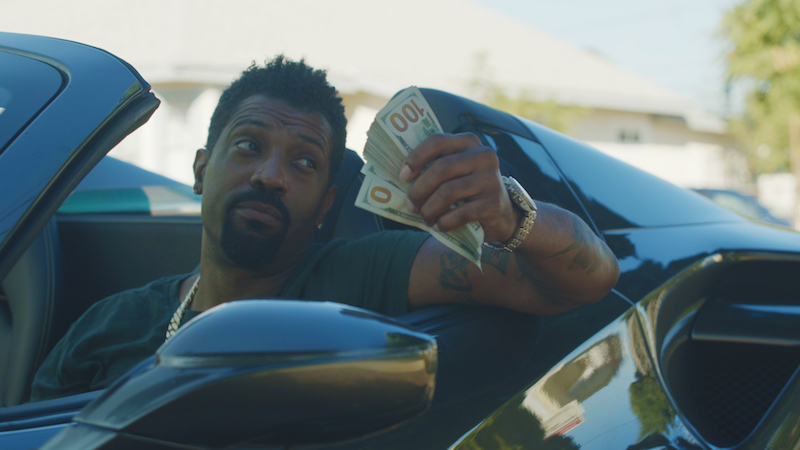 Kali's background as an anthropologist serves rich portraits of the characters Danny meets, including a hustler in a Ferrari, chillingly played by standup comedian Deon Cole (above), familiar from Black-ish; Cole also has producer and executive producer credits. The precariousness of single women trying to survive in a man's world is dealt with matter of factly. A mural of the radical civil rights campaigner Assata Shakur provides a recurring backdrop, but racism and sexism are handled subtly.
One scene doesn't quite work. A man who steals from Danny's tent wasn't cast convincingly, and the fight choreography is clumsy. But in the main I'm Fine (Thanks for Asking) is a reminder of how American independent filmmakers often portray life on the margins with verve and ingenuity. Kali and Molina don't go in for obvious attempts to tug the audience's heartstrings, and they deploy both an original score and well-chosen tracks to keep the energy high. They've won praise on the film festival circuit with their debut and it'll be interesting to see what they come up with next.