Only an Octave Apart, Wilton's Music Hall review - instant charm, infinite variety |

reviews, news & interviews
Only an Octave Apart, Wilton's Music Hall review - instant charm, infinite variety
Only an Octave Apart, Wilton's Music Hall review - instant charm, infinite variety
Justin Vivian Bond and Anthony Roth Costanzo in an absolutely fabulous double act
Justin Vivian Bond and Anthony Roth Costanzo on the town
You know you're in good company the minute these two appear on stage: they are so splendidly what they are, comfortable in their own skins and perfect in role-play. Justin Vivian Bond, consummate trans cabaret artist, meets Anthony Roth Constanzo, one of the world's top countertenors, and nothing is out of bounds.
Hot from Brooklyn, the partnership seems both unlikely and utterly natural, subversive from the start. The glamorous, sassy Bond can hit the bass register if necessary; Costanzo adapts what, at least with miking, sounds like the most powerful of falsettos to torchsongs and disco as well as "straight" classics. In a brilliant slice of roleplay, our cabaret diva gets to sing a bit of Carmen's "Habanera" with the loan of fruity mezzoid tones behind the curtain, before giving their stage partner Neil Diamond rasp for "I am I said" (pictured below).
Costanzo even gives us a virtuoso turn as both baritone Count Almaviva and soprano Susanna in the Act 3 duet from Mozart's The Marriage of Figaro. There's depth, too: a gorgeous sharing, in French and English, of Jacques Prévert's "Autumn Leaves (melody derived from Massenet); teary beauty in Liszt's setting of Goethe's last lyric, "Über Allen Gipfeln ist Ruh", and Dido's lament. Who would have thought, after Barokksolistene's consummate Purcell show last week, that we'd be hearing more of the master in an even more innovative context? The sublime and the ridiculous meet as Costanzo descending to Hades as Gluck's Orfeo (stunning) meets the sour "no!" of Bond, playing all the Furies. Somehow that works too.
Everyone in the audience is catered for: if I'm a bit resistant to the sentiment of numbers like "Rainbow Sleeves" and "Don't Give Up" it's obvious that the delivery remains consummate. And who could resist the disco beat of "Stars", immortalised by the great Sylvester, or the official finale, "Under Pressure", courtesy of David Bowie and Queen? You know how some American cabaret comes with over-slick shtick between the numbers? Well, the repartee between these two feels spontaneous; you don't know what's ad-libbed and what's scripted. Costanzo feeds Bond some of the funniest lines, as when they tell us of how wonderful it is to go see the countertenor at the Met, "and when you wake up, you're at the opera!".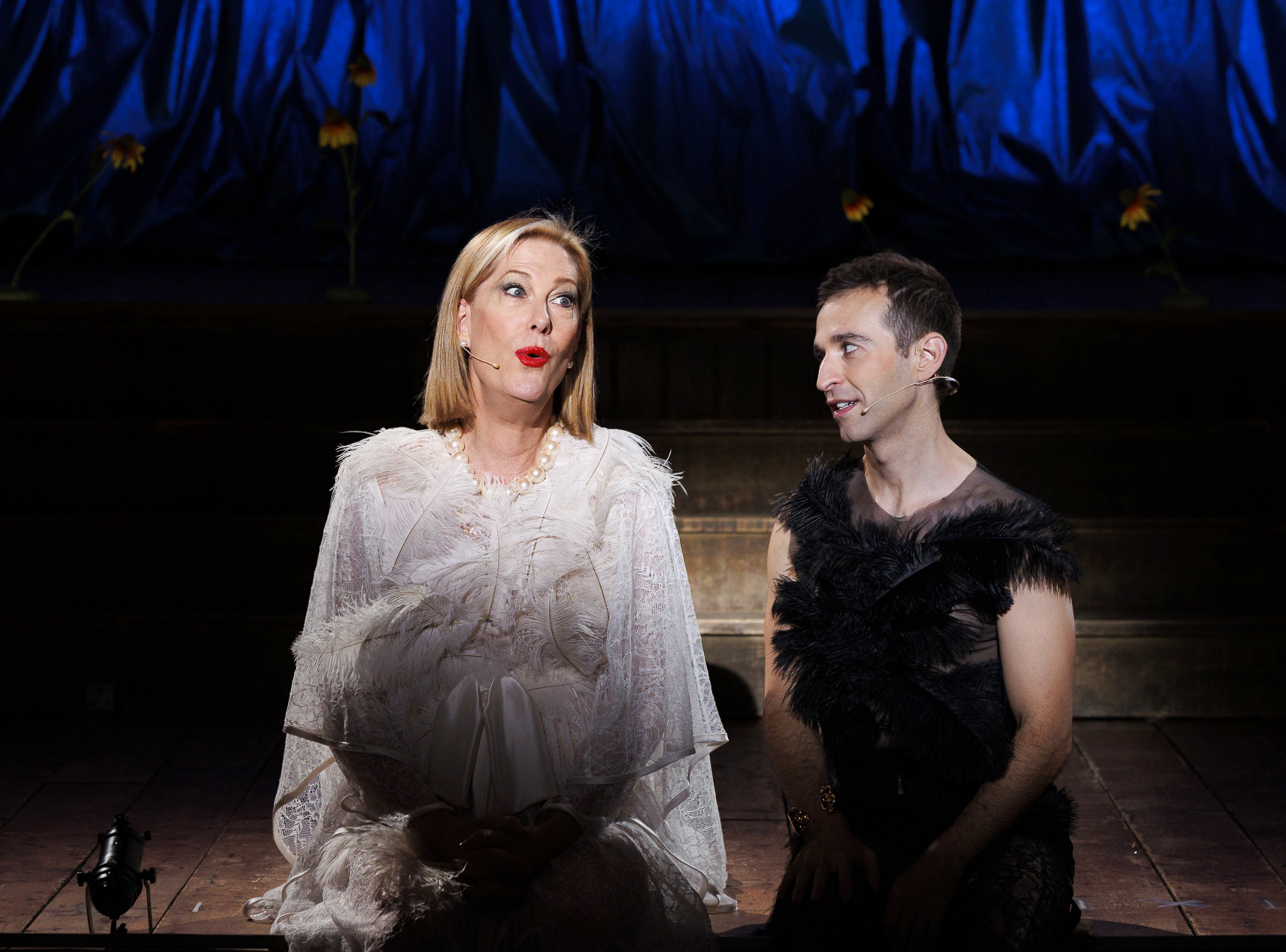 Co-creator Zack Winokur 's production certainly has operatic style in Carlos Soto's multi-curtained set, with canny props, Jonathan Anderson's glorious costumes and John Torres' chameleonic lighting. Everything is done at the highest level, including a nine-piece band led at the piano by music director Daniel Schlosberg. Those arrangements sound wonderful; turns out they're by Nico Muhly, no less. I thought I might be able to escape anything by Muhly's minimalist master Philip Glass; not so, but Costanzo's keynote performance as Akhnaten gets wittily stitched in to "Walk Like an Egyptian". That's part of a mega-encore, but it's a given that there will be standing ovations every night. There's so much more for these two to mine; I expect another show in a year or so. Meanwhile, snap up remaining tickets now.