Dead Man Walking, Barbican review - timely and devastating meditation on human violence and forgiveness |

reviews, news & interviews
Dead Man Walking, Barbican review - timely and devastating meditation on human violence and forgiveness
Dead Man Walking, Barbican review - timely and devastating meditation on human violence and forgiveness
Jake Heggie's outstanding first opera finally receives its UK premiere
Wednesday, 21 February 2018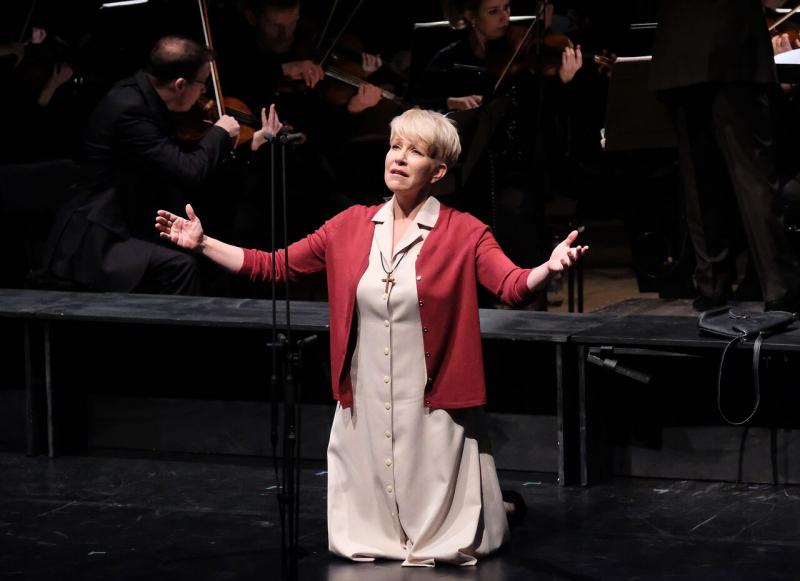 Joyce DiDonato's Sister Helen Prejean has been well over a decade in the making
You have to wonder why it has taken this long. Jake Heggie's Dead Man Walking premiered in San Francisco back in 2000 and has since been performed over 300 times across the world, staged everywhere from Cape Town to Copenhagen.
Only now, 18 years on, has this
contemporary classic
finally received its UK premiere at the
Barbican
in a one-night-only, semi-staged, concert-hall version of Leonard Foglia's production originally created for Chicago, and most recently seen in full force in Madrid. Eighteen years.
In the time it has taken Dead Man Walking to almost reach us in London, we've had two elaborate, fully staged productions of Nico Muhly oratorios masquerading as operas (and at least one by John Adams), several indifferent, profoundly undramatic late operas by Philip Glass, and more minor works mistaking motoric ostinati for dramatic scaffolding than I can count.
So, when presented with a tried-and-tested piece of music-drama with a real-life story made famous by a Hollywood blockbuster, it begs the question of whether snobbery or cynicism has prevented UK opera companies from committing to a run, even without the box-office guarantee that this performance offered in the form of Joyce DiDonato's Sister Helen Prejean.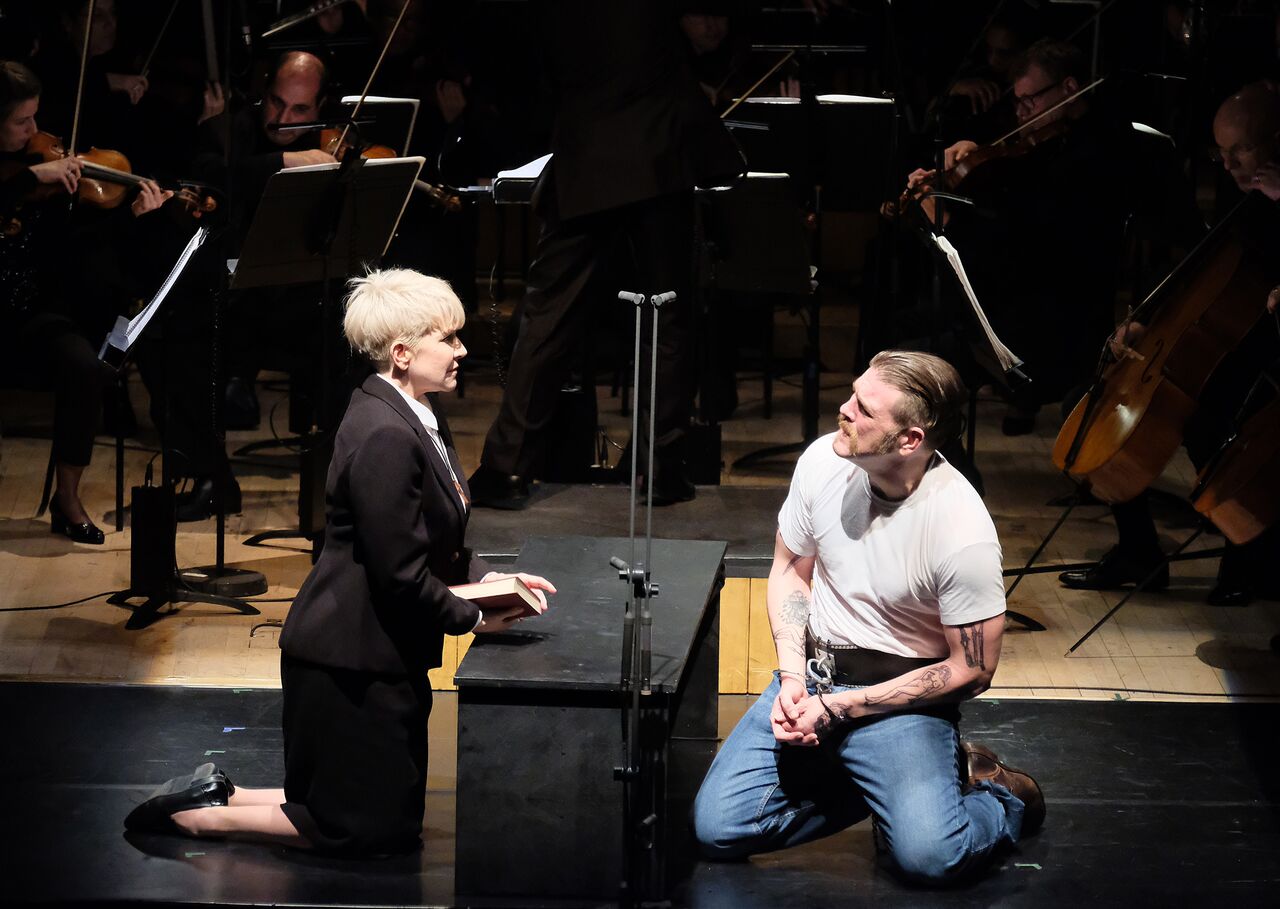 The Louisiana setting of Heggie's opera – the first, of a fast-growing catalogue by the American composer – gives him the key to unlock this forbidding story of an unrepentant double murderer on death row, his friendship with nun Sister Helen (DiDonato, pictured right with Michael Mayes as convict Joseph de Rocher), and his eventual execution by lethal injection. The spiritual "He will gather us around" becomes the musical thread woven right through a work that sits, without apology or compromise, at the junction of opera and music-theatre. It sets the tone for music whose essentially classical, tonal harmonies warp and bend in a bluesy heat-haze, slipping easily from Barber to Bernstein (in Broadway mode) and still further without ever feeling like pastiche.
And that's the excitement here; what Heggie and librettist Terrence McNally have so brilliantly achieved in Dead Man Walking is to create an unaffected, genuinely contemporary, genuinely dramatic operatic telling of a story that has the scope to take it. Characters speak – actually speak – to one another in language whose vernacular ("Have some respect, she's a fucking nun") is the rough, sometimes funny, always familiar communication of everyday, not the odd, affected opera-speak that we regular suspend disbelief over. It's a language that gives Heggie in turn the space both to swell into great, climactic choruses in the finales of both acts, but also the flexibility and agility to zoom in close for a passing conversation between Sister Helen and a traffic cop.
Performances honed in Madrid translated beautifully to the simpler staging here, and the new accompaniment of the BBC Symphony Orchestra under a typically incisive Mark Wigglesworth. DiDonato has lived with and grown with this role since 2002, and it shows. Heggie's grateful vocal writing and McNally's just-this-side-of-sentimentalism show off the best of this generous stage-creature, and if there is still an odd fluttering and an occasional wildness to the very top of the voice, it's still an exhilarating performance. We got no less from Michael Mayes' Joseph de Rocher (pictured above), whose craggy physicality and cringing bravura has all the sharp nooks and rough dramatic fissures of his namesake. Mayes' baritone, by contrast, is molasses-smooth, and thickly poured through his Act Two aria.
An all-star supporting cast that included Susan Bickley, James Creswell and Susan Bullock, as well as a radiant performance from Canadian soprano Measha Brueggergosman as Sister Rose and fine contributions from both the BBC Singers and Finchley Children's Music Group, gave their all, delivering one of the most complete and engrossing performances the Barbican has seen so far this season. As a musical performance it was exemplary, but as a meditation on the human capacity both for horror and forgiveness, for love in the face of senseless brutality, it was – in this of all weeks – a very necessary balm.