Die Fledermaus, RNCM, Manchester review - a champagne cork-popping celebration |

reviews, news & interviews
Die Fledermaus, RNCM, Manchester review - a champagne cork-popping celebration
Die Fledermaus, RNCM, Manchester review - a champagne cork-popping celebration
Strauss In Da Haus as ingeniously updated scenario brings edge to the Bat-story
Wednesday, 14 December 2022
Highpoint 'O Heimat': Olivia Tringham and the RNCM Opera Chorus in Act 2
The Royal Northern College of Music is in the mood for celebration. Its 50 years of existence warrants popping the champagne corks big-time, so for its end-of-year operatic production Die Fledermaus is just what the doctor ordered.
But this ain't no ordinary Fledermaus. Forget the dreamy nostalgia of fin-de-siecle Vienna: the story's ingeniously updated to set it in turn-of-millennium London – New Year's Eve, 1999 – and it's been given a nice bit of edge in the process. It's conducted by David Parry, and his clever English translation is sung, with appropriately updated dialogue by Parry and director Stephen Barlow. Amazingly, all the characters are still there, with their original names, and the essential plot is the same.
Barlow's production tells it with panache, and his new take, along with Yannis Thavoris's design (and lighting design by Jake Wiltshire) is what earns this show its four stars. The re-set begins as back story is acted out during the overture, and a projected title sets the theme: "Posh men behaving badly". After a fancy dress party, Dr Falke got stuck on Sloane Square tube station platform in his Batman costume, abandoned by his supposed mate Eisenstein… revenge must follow. The rich and unloving Eisensteins live in a posh apartment block by the Thames, with a framed blow-up of a Tatler front cover featuring them on the wall ("The Eis have it", we read), and Alfie, the Singing Plumber, is Rosalinde's fancyman. Gabriel E's nasty trick on Falke makes the front page of The Sun ("Posh Doc Shock"), and, as per the original, he's due to report to the police for a brief stop in the cells but is invited by Inspector Frank to spend the Millennium Eve at a party before that. Adele is the maid, with the same excuse for a night on the tiles as ever, and Alfie, pretending to be Eisenstein, gets carted off instead.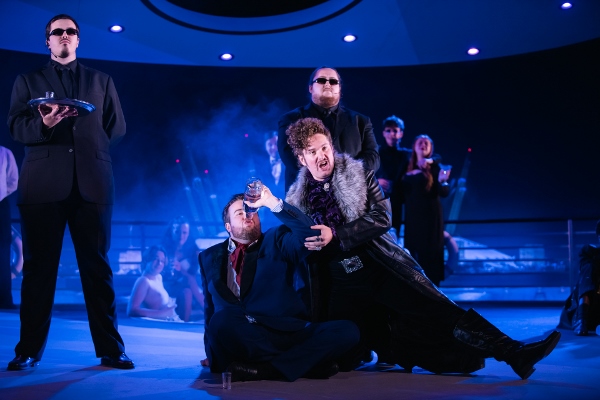 Orlofsky's party is on board a super-yacht opposite the Millennium Dome (where else for a Russian with piles of money?), with disco provided by "DJ Strauss In Da Haus". This party staging, with centre-stage hot tub and therefore several chorus in bikinis, guests arriving by boat, and a beautiful backdrop of the Dome and river, is the production's highspot. Adele and Rosalinde show up in their assumed identities (posh totty and "Miss Budapest"), Eisenstein and Frank pretend to be a "marquis" and "chevalier" as per the normal script – and the Act included, on the night I saw (borrowing a bit of fun from more traditional New Year stagings) a surprise guest who turned out to be none other than Sir John Tomlinson, RNCM president and Manchester alumnus, doing Mussorgsky's "Song of the Flea" as his party piece before it all moved on. The RNCM has three other operatic alumni also singing with the show on other nights: Kathryn Rudge, Alexandra Lowe and Henry Waddington. It's a lovely way to celebrate its history.
The final Act is set in Chelsea police station, as expected: Frosch has become a female police sergeant on the desk (who introduces proceedings by threatening to "arrest the bloody lot of you", including the conductor, in case everyone's having too much fun), and it all ends as it should.
The real stars of this show are the youthful RNCM Opera Chorus, who throw off their inhibitions, and in some cases their clothes, for a riotous party scene on the Orlofsky yacht. Not only do they sing with impressive discipline and power (Kevin Thraves, chorus master), but they also have brilliant and quite complicated choreography (thanks to Zoë Vallée) which comes to the fore in the friss part of Rosalinde's Czardas and is carried off with great enthusiasm.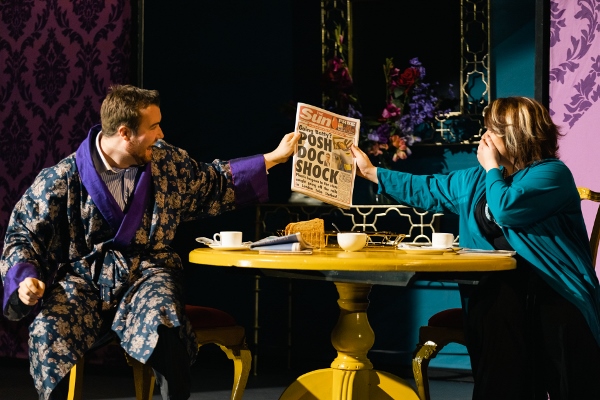 The operetta is double-cast in most main roles, and I've seen only one line-up, so credits here are necessarily selective. But stand-outs for me included Adam Jarman (who performs Falke in both casts), Olivia Tringham as Rosalinde, and Dominic Mattos as Orlofsky (pictured top, with Conrad Chatterton as Eisenstein). Jarman is a good actor and introduced the Brüderlein chorus (which surely has to be the peak of sentimental whimsy in any version of Fledermaus) beautifully. Tringham (pictured, with Chatterton as Eisenstein) is a really accomplished stage artist and comic actress, singing superbly and spot on the beat without ever seeming to have to eyeball the conductor to do so (not all young singers can manage that, especially in a piece as dependent on slick timing as this), and she raps out the dialogue like a showbiz veteran.
Dominic Mattos is very well chosen as Orlofsky, with his high male voice range and panto experience, and helped mightily to make the second Act the triumph it was. Others were all strong vocally, including Yihul Wang as Alfie (who has a very fine tenor and worked well alongside Olivia Tringham in Act One), Katherine Glinka as Adele (with a smashing Laughing Song in the party and a nice New Yorker voice – reminiscent of the way the Viennese play Adele with their own low-life and provincial intonations), and Conrad Chatterton (who grew in assurance as the piece proceeded and has much to offer in the future, I'm sure).
Everyone longs for the perfect Die Fledermaus, especially old sentimentalists like me, and this sharp-edged update doesn't work on that aspect particularly, going for the laughs throughout. But there was one moment which – just for a few seconds – caught just that atmosphere of gentle romance and slightly squiffy goodwill to all, as the chorus swayed to "You and I" (aka Brüderlein) and the backcloth began to move in time with them, making the whole seemingly water-born scene quite magical. That was a stroke of inspiration and made the night unforgettable.
A surprise guest turned out to be none other than Sir John Tomlinson, RNCM president and Manchester alumnus, doing 'Song of the Flea' as his party piece
rating
Explore topics
Share this article