The Fall of the House of Usher, Welsh National Opera |

reviews, news & interviews
The Fall of the House of Usher, Welsh National Opera
The Fall of the House of Usher, Welsh National Opera
Frail genius and high finance come together in an unbalanced pair of crumbling houses
Mark Le Brocq (Doctor) and William Dazeley (Friend) in the yet to fall House of Usher
The Fall of the House of Usher is one of Edgar Allan Poe's mistier tales, and although it has been turned into opera a few times, there are obvious difficulties. Debussy struggled for a decade to materialise a drama out of its haunting, neurotic atmosphere, and in the end failed, I would argue, because he was unable to distance himself enough from the central characters to construct a stage action about them.
He sketched, though, a good deal of fascinating music, and out of this material the musicologist Robert Orledge has put together a performable work that, if not entirely convincing as narrative, is utterly gripping as musical psycho-drama. Premiered at the Bregenz Festival in 2007, it reached Britain last week in a new production by David Pountney; I caught up with it on tour at the Birmingham Hippodrome.
At the heart of Poe's short story (a mere sixteen or so pages) is the tortured figure of Roderick Usher, the latest, and last, scion of an ancient, inbred family now in catastrophic decline. Over-cultivated and clinically hyper-sensitive, Roderick is passionately in love with his cataleptic twin sister Madeline, who flits through the tale like a distant ghost and gets buried alive (like many Poe heroes: there was catalepsy in his own family). She rises from the grave, clanking and bloodstained, crushes her brother to death, and brings the house crashing down, both literally and metaphorically, on top of them both.
Pountney's staging is superb, with brilliant use of film projectionThe story, such as it is, is narrated by an old school friend of Roderick's, who visits at his urgent request. Much of it is description; there's little dialogue and no other characters, apart from a sinister family doctor whom the friend meets on the stairs, and who seems to hint at unspecified evil goings-on. Debussy, in his completed libretto, enlarged this character and made him an agent of the collapse, himself in love with Madeline and her would-be murderer.
But the music remained as fragments, sometimes composed out, often in shorthand, in Debussy's minute, spiderish notation, the harmony frequently unclear, in an idiom that he was pushing towards new horizons as intriguing as those in Jeux and the late piano works. It has to be said that, whatever one may feel about this kind of creative musicology, as Orledge calls it, he has done a remarkable job in working the Usher-like debris into an integrated score that mostly sounds wonderfully like refined late Debussy. Much of the power of what this great composer must have been striving for comes across, with the odd crudity of sound, but also a lot that is rich, beautiful and highly individual. It leaves one wondering what more he might have achieved if he had outlived the war in 1918.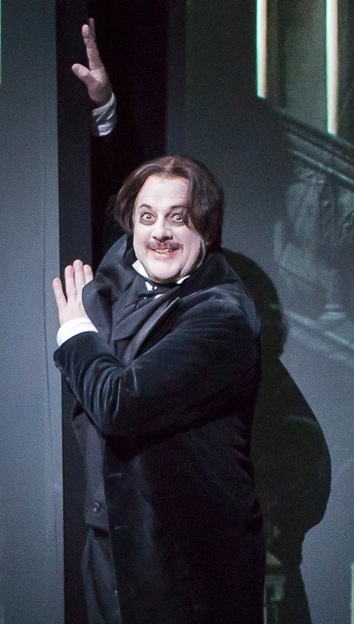 Pountney's and designer Niki Turner's staging is superb, with brilliant use of film projection (David Haneke) to create the unstable environment of Roderick's mind and the dark, intense atmosphere of his house and its surroundings. Also very skilful is the portraiture: Roderick as a cross between Poe himself and some kind of dithering, neurotic Bunthorne, wonderfully well sung in true French style by Robert Hayward (pictured right); the crazed doctor, red hair on end like diabolical horns (Mark Le Brocq, also excellent); and the nameless friend, raincoated and "normal", a solid performance by William Dazeley. Madeline looms large at the end (literally, on film), but has little to do musically. Anna Gorbachyova sings her song about "la plus verte de nos allées" very prettily. Lawrence Foster conducts an intense, finely sustained reading with much exquisite orchestral playing.
This production (along with a good deal else) has been made possible by a fat donation from the Getty family, with the little quid pro quo of an opera by the composer member of that family, Gordon Getty, of the same Poe tale. Getty's Usher House, paired here with the Debussy, is perhaps a small price to pay for so lavish a hand-out (£1.2 million), though there will be understandable grumblings in the steerage section of under-played composers who can't wield such bounty.
The music is anecdotal: paste jewels strung on a loose thread of vocal recitativeWas it worth it? Musically doubtful. Getty's own libretto has the interest, if not the appeal, that it concretises much that is no more than hinted in Poe: the old school friends, the family history, the archives, the astrology: everything is spelt out as in some ghastly symbolist soap opera. Even the friend gets a name: Eddie (no, really: guess who). And the music is anecdotal in the same way: bits and pieces, paste jewels strung on a loose thread of vocal recitative. Orledge might be commissioned to fill it out a little. But he has better things to do.
Pountney nevertheless did it proud, with still more spectacular mobile film settings (from Penrhyn Castle, North Wales), and a well-prepared, not at all skimped, musical performance. Benjamin Bevan is a vague, professorial Usher, with Jason Bridges as Poe himself, Kevin Short as the mysterious Doctor Primus, a sort of Makropulos Magus figure with bushy white Einsteinian hair, and Gorbachyova again as the frail Madeline. Excellent playing under Foster. But it's hard to wish for their labours to be rewarded with repeat performances.