First Persons: Susan Bullock, Gerald Finley and Stephen Higgins on a 'Bluebeard's Castle' with a difference |

reviews, news & interviews
First Persons: Susan Bullock, Gerald Finley and Stephen Higgins on a 'Bluebeard's Castle' with a difference
First Persons: Susan Bullock, Gerald Finley and Stephen Higgins on a 'Bluebeard's Castle' with a difference
How experience of dementia led to a unique take on Bartók's dark masterpiece
Thursday, 04 November 2021
Susan Bullock and Gerald Finley in 'Bluebeard's Castle'
Tonight a version of Bartók's Bluebeard's Castle launches in the intimate surroundings of Stone Nest, a former Welsh chapel in London's West End. Its conductor along with soprano Susan Bullock and baritone Gerald FInley, alternating in the roles of Judith and Bluebeard with Gweneth Ann Rand and Michael Mayes, discuss its special claim on our attention.
Stephen Higgins, conductor and co-founder of Theatre of Sound
Whilst working with my colleague and friend, baritone Gerald Finley, on a production of Bluebeard's Castle that he was singing at the Met, in between rehearsals I was also spending time with my ageing grandmother at her dementia care home, experiencing first-hand the devastation of this condition on her previously acute mind [Stephen and his grandmother pictured below].
Two worlds started to collide and I started to wonder: what if Bartók's opera could be completely reframed? What if it is actually a love story of a couple with a long and happy marriage (like my beloved grandparents), and each of these locked doors symbolised a locked memory in Judith's mind? The original horror story transported to that most modern of horror stories, that of the rapidly growing number of people living with dementia?
The more I thought about it, the more interested I became in trying this idea out. I was also further inspired when seeing my old music teacher from secondary school, Paul Harvey, create his '4 notes' piece with the BBC Philharmonic. Paul is one of the main reasons I ended up in the music world, and to see him again after almost 30 years still making music and laughing despite living with dementia, was incredibly moving. He has always been an inspiration to me and continues to be to this day.
I'm delighted that through my new opera company Theatre of Sound founded by myself and Daisy Evans, we will be performing the opera through this unique lens at the beautifully intimate and evocative Stone Nest venue in Soho, London. Directed by Daisy in a new translation, it will be a co-production with our newly formed company and Opera Ventures, with the most wonderful cast. Gerald Finley, Susan Bullock, Gweneth Ann Rand and Michael Mayes share the principal roles, and the London Sinfonietta accompany in a new chamber version I have arranged and which I will conduct [Pictured below: Mates, Rand, Finley, Evans and Hggins, with Bullock joining on Zoom]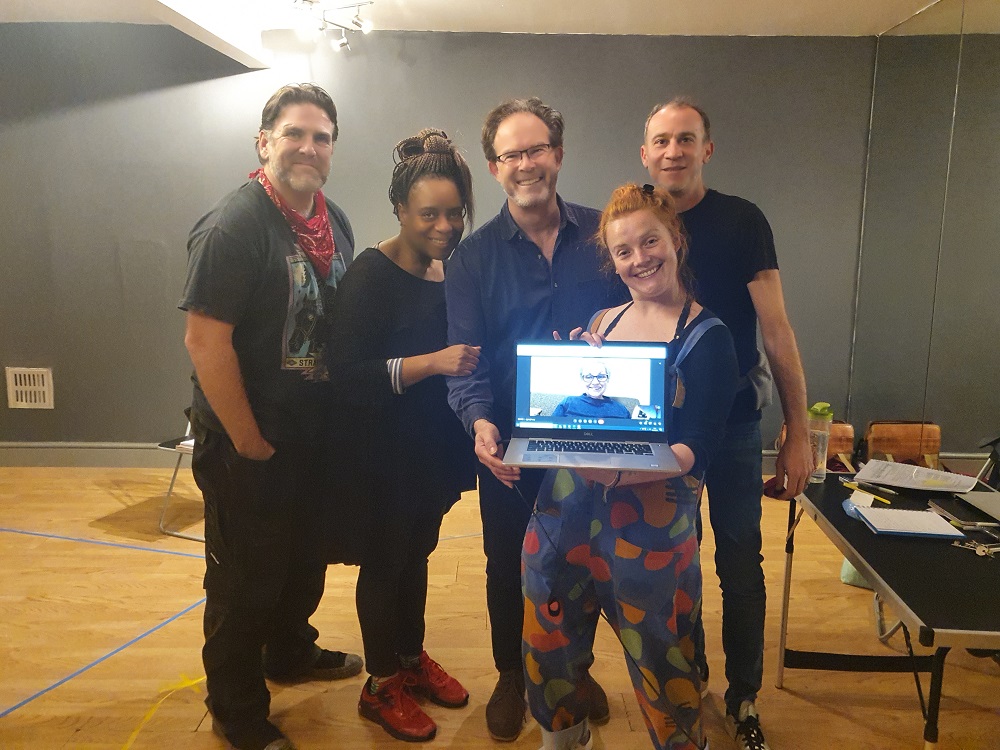 We have re-imagined the story of Bluebeard as a love story, a story of a long and happy marriage, a story of holding on to special moments in a lifetime together, and, above all, a story dealing with one of the biggest issues of today: living with dementia. Daisy and I have always felt there has seemed to be a mismatch between the Gothic horror elements of the story and Bartók's music which is filled with such intense love and devotion. For me and the whole creative team, many moments in the score have come to life in a vivid and exciting way once viewed from this unique perspective, and we hope that this will be the case for audiences.
Susan Bullock, soprano

To take on the role of Judith in Bluebeard's Castle for the first time at this point in my career, is quite unusual but also a fantastic opportunity for me. I've really enjoyed exploring the psychological aspects of Bartók's score and discovering the intimacy of Judith's and Duke Bluebeard's relationship. Judith is a complex woman who is persistent in her quest to discover the truth. This strength and complexity is demonstrated through her wide vocal range, which spans gentle lyricism to an almost hysterical dramatism. I've found it fascinating to delve into her psyche, especially in this unique retelling of the opera, which frames the piece as a love story between a long-married couple living with dementia.
Dementia is sadly very present in all our lives, and many who will be sitting in the audience at Stone Nest next week will have had some experience of family members or friends who have had dementia and will know what caring for them entails. The story of Bluebeard – despite usually being centred around an abusive relationship – really lends itself to this new concept devised by Stephen and Daisy and I think it will be incredibly moving for everyone involved [Bullock and Finley pictured right by Michaela Bodlovic].
The intimacy of this chamber production for six virtuosic musicians from London Sinfonietta is also going to be a wonderful experience for us as singers. We will be able to articulate our emotions to audiences only metres away rather than having a huge number of musicians in the pit. I've also been amazed at how Stephen's orchestration doesn't lose any of the score's impact or power. This intimacy works incredibly well with the dramatic ideas of the story and is an important aspect of what Stephen and Daisy are trying to do in forming Theatre of Sound. They don't want there to be a division between stage and pit and instead want to create an intensity and closeness between performers and audience that is not always possible in larger scale operatic performances. It is going to be a very unique experience for me and hopefully for our audiences too.
Gerald Finley, baritone

The culmination of pairing Bartók's powerful music with the intimacy of this unique retelling - through the lens of dementia within a performance space where we will never be more than three metres away from the audience – is almost overwhelming.
Encountering Bartók's music in its full form is greatly powerful and awe-inspiring within any context but in this much more domestic setting I think people are going to be absolutely compelled by the power of the intimacy. It will resonate I'm sure with so many whose lives have been touched by the impact of dementia.
Bluebeard is one of the best baritone roles that one could hope for and I've enjoyed performing the role on a number of occasions including a production I did for the Metropolitan Opera in New York, the preparation for which was when Theatre of Sound co-founder Stephen Higgins and I first started working on the piece. I am completely dazzled by the ideas involved in this completely unique version as it speaks so directly to how dementia cuts through so many people's lives, and with devastating effects. I am astounded by its relevance and also how accurately it blends with Bartók's music. The score becomes re-ignited in this context. Despite its 'reduction', the chamber arrangement by Stephen for six musicians captures the power and breadth of the sound world.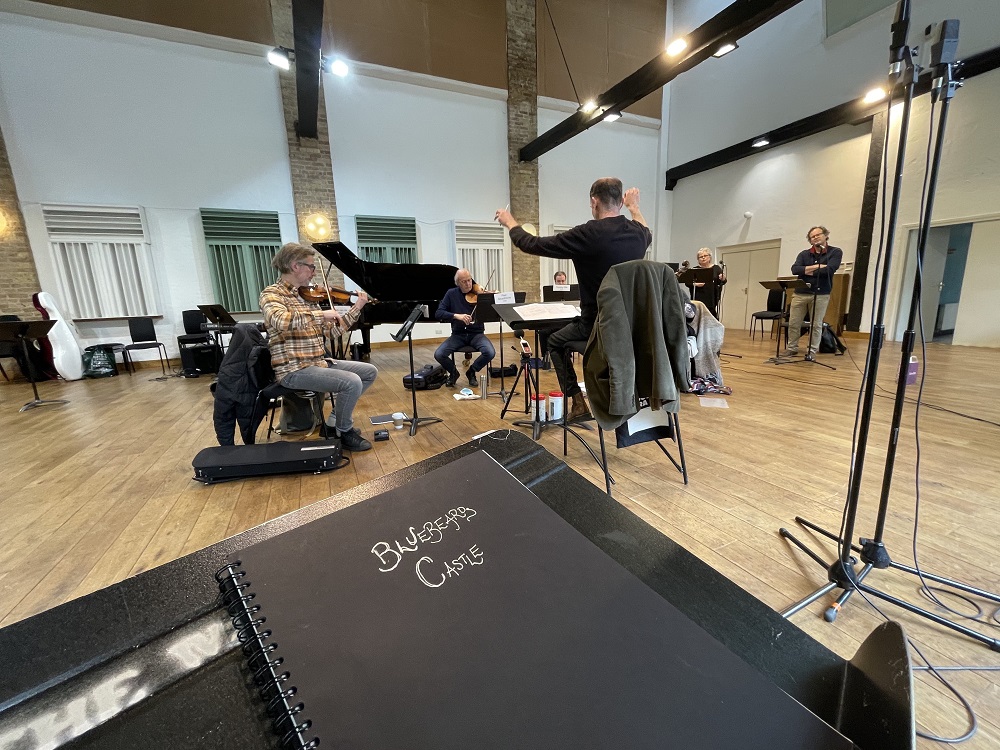 This score in its original form is a vast palette of colour, for a large orchestra of musicians. Stephen has skilfully maintained the highlights and shades of the music, whilst allowing the intimacy to be believable and powerful.
The role of Bluebeard is very elusive. In the first half of the opera he speaks very seldom, and this always been interpreted as a reflection of his deception of Judith. However, in Theatre of Sound's version, his hesitancy and uttering of single words shows it is a struggle for him – out of love and kindness and as a result of Judith's dementia - to ask the correct questions to enable even a simple conversation. Later in the opera, he sings passionately of his love. This is the same whether in this or other versions. It is impressive in the original version but here, seen through the eyes of a couple grappling with the devasting effects of dementia, it is utterly heart-breaking.