Il Tabarro, Suor Angelica, Opera North |

reviews, news & interviews
Il Tabarro, Suor Angelica, Opera North
Il Tabarro, Suor Angelica, Opera North
Something horrifying, something sentimental in two thirds of Puccini's 'Il Trittico'
Sign here: Patricia Bardon and Anne-Sophie Duprels in Suor Angelica
Just two thirds of Puccini's Il Trittico still makes for an involving evening's entertainment. Without Gianni Schicchi there's an awful lot of misery and heartache, though director Michael Barker-Caven does manage to inject some black comedy into this revival of Il Tabarro, originally directed by David Pountney in 2004.
Johan Engels' minimalist set suggests that we're watching a film noir, and the cast deserve much credit for managing not to slip and tumble while negotiating its expressionist contours. Ivan Inverardi's Michele (pictured below right) even resembles a 1940s movie villain, down to the hat and smoking habit. Giselle Allen's Giorgetta has every right to be fed up, seeking consolation in the arms of David Butt Philip's stevedore Luigi. There's a fleeting moment when we feel a shred of pity for the cuckolded husband, but he blows it in just a few words after his downtrodden wife leaves the stage.
The real hero is Puccini's score, the opera's Parisian canal setting the cue for some remarkably limpid, transparent music. Debussy and Ravel are the obvious influences, and there's a nod to Petrushka early on. At one point La Frugola (the excellent Anne-Marie Owens) sings of her beloved cat, prompting a few seconds of realistic orchestral purring. Jac van Steen lets his orchestra off the leash in the fruitier climaxes, the bold colours in sharp contrast to the blended, impressionist textures which predominate. The grisly end is powerfully effective; we wince and grin when the eponymous cloak is pulled away to reveal Luigi's limp corpse. Beautifully lit and snappily directed, this is superb stuff, the opera's 55 minutes whizzing by.
Barker-Caven's mostly sensitive production of Suor Angelica is undermined by a grave misstep in the final minutes. Joining a nunnery has never seemed so unattractive. Most of this lot are engaged in mundane tasks whilst showing supreme indifference to real-life problems, illustrated by their disdain shown towards a hobbling penitent.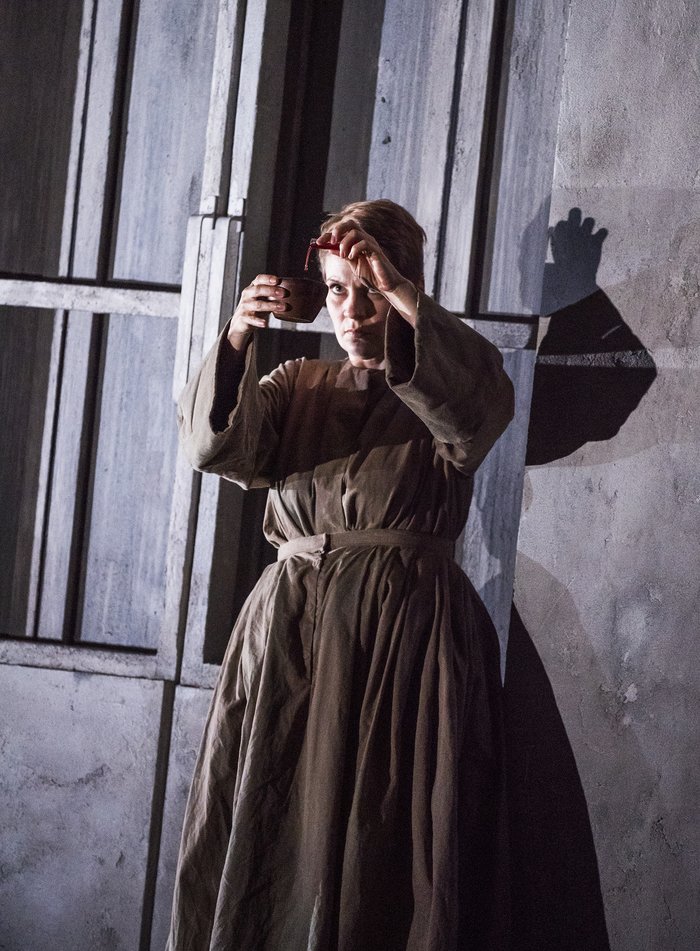 Fiona Kimm's haughty Abbess rules over a community where the simplest of pleasures and desires are frowned upon. Hannah Clark's bleached stage design and austere costumes are stark but gorgeous, a sharp contrast to the score's beguiling colours. Il Tabarro is all murky shadows; Suor Angelica a ravishing exploration of orchestral light, the divisi strings and tuned percussion providing a superb backdrop for Puccini's all-female cast.
Anne-Sophie Duprels's Angelica (pictured left) is a standout, becoming more three-dimensional as her back story is revealed. There's a superb turn from Patricia Bardon as the frosty aunt. Immaculately clad in vibrant yellows, she remains ice cold even when explaining the fate of Angelica's illegitimate son. So much works beautifully – the offstage choral singing, boosted by members of the Opera North Children's and Youth Choruses, is faultless, and van Steen's pacing is ideal. But that closing sequence. Whoops! Angelica's anguish as she realises there's no turning back would be emotionally and musically devasting, were it not kiboshed by a technically startling but totally unnecessary light show. It's as if Barker-Caven's spent too much time watching Kubrick's 2001. I'll say no more. Avert your eyes and just listen.
The simplest of pleasures and desires are frowned upon
rating
Explore topics
Share this article