Iolanthe, English National Opera review - still gorgeous but ever so slightly less funny than before |

reviews, news & interviews
Iolanthe, English National Opera review - still gorgeous but ever so slightly less funny than before
Iolanthe, English National Opera review - still gorgeous but ever so slightly less funny than before
Not all the cast changes are gains in revival of Cal McCrystal's funny and beautiful G&S
Wednesday, 11 October 2023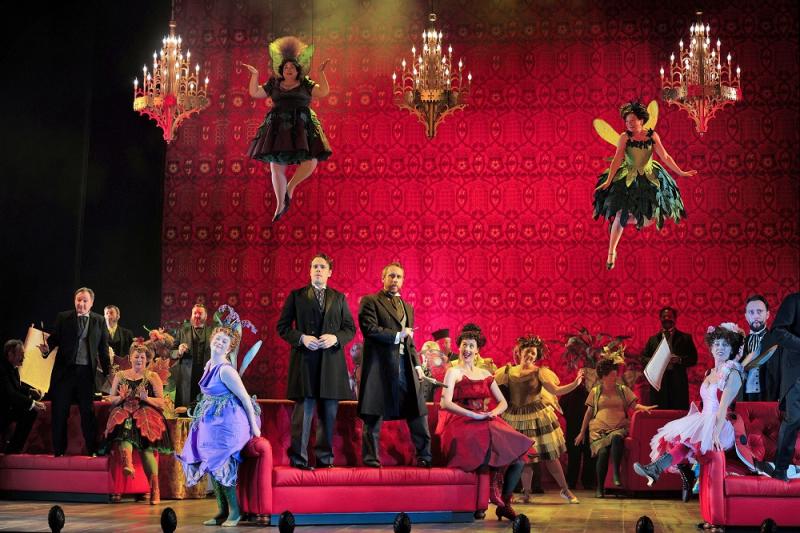 Peers and Peris in Parliament
Parliament may be topsy-turvy, with a motley bunch of Lords the only hope in vetoing outrageous bills, but up the road at the London Coliseum a more disciplined company is steering a luxury liner with perfect craft. Cal McCrystal's best G&S so far, where fairies meet peers with, as the cliché has it, hilarious results, was a winner first time round, with gorgeous designs by Paul Brown taking fairyland, Arcadia and Westminster seriously.
It still packs most of its comic punches, but not all. So let's get the caveats out of the way first. I'd told friends coming to see the ENO show for the first time that the Act Two trio was the funniest thing in a gag-packed evening. It wasn't this time, and I fear that's because the Lord Chancellor's Page, a McCrystal special, wasn't played by the same brilliant pratfaller, Richard Leeming. Page Two, 2023, was Adam Brown, amusing but a bit too much on the "love me, laugh at me" side. His Lord and Master was beautifully sung, as ever, by the age's leading all-round Savoyard John Savournin, but he wasn't quite at the razor-sharp best we saw in his recent Patience Bunthorne – or maybe it's this role, though it includes the finest G&S patter song ever, and that didn't totally land for me last night.
Patterer – and tap-dancer – of the evening, as before, was Marcus Farnsworth, the best fairy-to-the-waist-down shepherd ever, once again making waves with Ellie Laugharne's feisty Phyllis (the two pictured above). I wonder that McCrystal didn't take the opportunity of a revival to halve the business with sheep that overstays its welcome in their Act One duet, which deserves to be heard properly in its second verse – but Phyllis's not quite so wonderful Quartet with two lords and a private in Act Two got lost in deserved gales of laughter at the appearance of Mad Nads with the object of her infatuation (already a fixture), culminating in her hammering vainly at the door of the House of Lords – a very welcome addition. A very definite plus this time, though Barnaby Rea was excellent back in 2018, is Keel Watson's intermittently ferocious Private Willis (Tories beware; Watson pictured below by Craig Fuller with Catherine Wyn-Rogers' Queen of the Fairies).
Lizzie Gee's choreography is again a wonder; I only hope the chorus had fun learning it, for as well as singing with supreme spirit, they executed it to perfection, from the bright and beautiful "Tripping hither, tripping thither" at the start through the Lords' pomp and sneeremony to the winged ending and even the perfect curtain call. The moments of pathos, necessary to a truly great comedy (which Iolanthe surely is), don't fall short: Catherine Wyn-Rogers, a new fairy regent, made her ode to resisting mortal men oddly moving – this is the point where a fresh audience realizes why fire chief Captain Shaw (Clive Mantle) is master of ceremonies – and Samantha Price really hit the emotional mark in her plea to the husband who got her banished, a melody of sublime simplicity set, in its first verse at least, to lovely words (Price and Savournin pictured below).
Comedy and vocal gold came once again from Ben McAteer as the Earl of Mountararat, though he really needed his original more-than-bosom-buddy, Ben Johnson, as Tolloller; young Ruari Bowen has the sweetest tenor voice but not quite, as yet, the presence. But there was always the orchestral loveliness to savour; Chris Hopkins likes to move a lot of it along, but gave the musical purple passages their space. This is a poetic as well as a very funny spectacle; don't miss it if you didn't go first time round.
The Act Two Quartet got lost in deserved gales of laughter at the appearance of Mad Nads, hammering vainly at the door of the House of Lords
rating
Share this article