Kiss Me, Kate, Welsh National Opera |

reviews, news & interviews
Kiss Me, Kate, Welsh National Opera
Kiss Me, Kate, Welsh National Opera
Cole Porter's brushed-down Shakespeare true in its fashion
Friday, 30 September 2016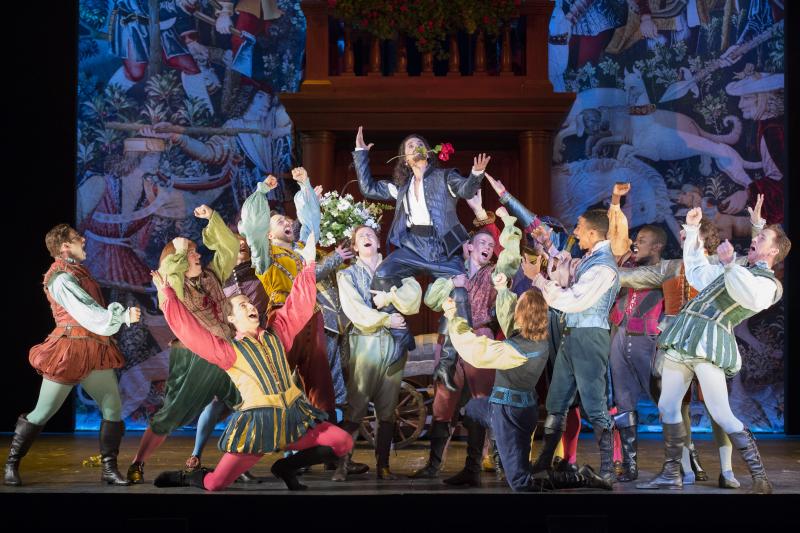 Quirijn de Lang and company playing Shakespeare Broadway-style
There are two ways of reacting to an opera company like WNO staging a musical like Kiss Me, Kate. You can ask yourself whether this is work that an opera house should concern itself with at all. Or you can take Confucius's advice, and just lie back and enjoy it. Of course you could say the same if WNO put on an air display or a cricket tournament.
But at least Cole Porter is sung drama of a kind, which is one definition of opera, and it's also on the whole enjoyable, though that naturally depends on the how as much as the what.
WNO's Kiss Me, Kate is a revival of a co-production originally staged by Opera North and reviewed glowingly on these pages last year by Graham Rickson. It's still a very good show, though I'm cooler about some aspects of it than Graham, probably because I'm cooler about the genre. For me the problem starts not with the music, which is brilliant if stereotyped, but with the book, the one aspect of the piece (apart from the stock orchestration) not by Porter, who wrote his own, very witty lyrics. In Jo Davies's production the play is full-length and uncut (or so it feels), too long by half, not always all that decipherable, and often slow-moving, especially in the actual scenes from The Taming of the Shrew.
Colin Richmond's stunning soft-textured sets and costumes go a long way towards redeeming these scenes. But then his designs for the backstage sequences, though less pretty, are no less atmospheric, technically superb, and marvellously workable, with lightning quick changes and a sure sense of the intricate, multi-layered topography of a play about a play where the one constantly spills into the other. In addition, Davies manoeuvres her characters with immaculate timing and faultless coordination, no seams visible, everything – music, speech, movement – elided to perfection.
And yet, and yet… When all is said and done, even this superior musical hangs more on the brilliance of individual numbers – like acts in a pantomime – than on anything you could call musical drama. Quirijn de Lang is vocally strong as Fred/Petruchio, no Broadway hack but a Mozart Almaviva and Guglielmo; and Jeni Bern, though patchy – or patchily miked – is a fine crossover soprano at her best as Lilli/Kate, likewise a sometime Mozartian, but also able to croon Broadway-style at need.
Yet both are upstaged by singing-dancing minor characters, especially by Landi Oshinowo as Lilli's assistant Hattie, who leads the evening off with gusto in "Another Op'nin', Another Show", then brings the house down alongside the dazzlingly athletic and musically spot-on Max Parker as Fred's assistant Paul in "Too darn hot." Amelia Adams-Pearce (pictured right) overacts irresistibly as the sexy blonde Lois/Bianca, then milks the show's most famous number, "Always True to You in My Fashion", to a point that almost justifies the double encore Porter presumably wrote in. Alan Burkitt does a snappy tap dance, if not a lot else, as Lois's boyfriend, Bill. Finally there's "Brush Up Your Shakespeare", in the unlikely hands of the two gunmen who come to collect the gambling debt Fred hasn't incurred, neatly done by Joseph Shovelton and John Savournin, again with interminable but after all enjoyable encores.
This is more or less the Leeds cast, a fact that distances it somewhat from WNO, though the sparkling chorus (uncredited) and the superb orchestra are presumably "of the house". Conductor James Holmes keeps everything moving and together with unobtrusive expertise. It's good to see a top-notch musical benefitting from the world-class polish of a Welsh opera company. But it's hardly Welsh opera.