Lohengrin, Welsh National Opera |

reviews, news & interviews
Lohengrin, Welsh National Opera
Lohengrin, Welsh National Opera
WNO in their element in wide-stage Wagner marred by vocal problems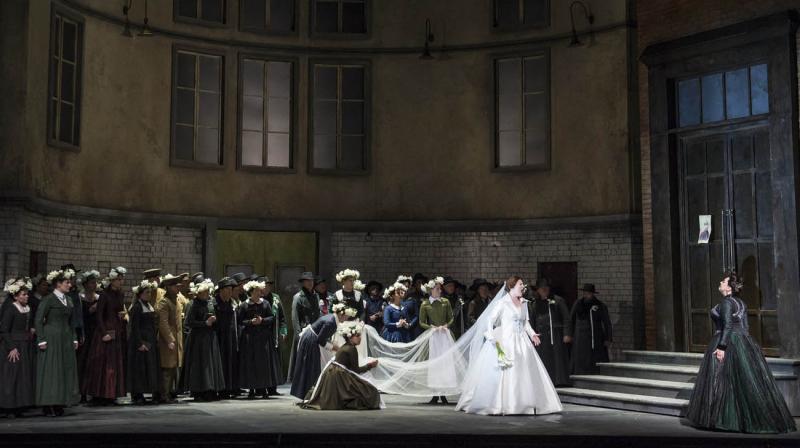 'Lohengrin': emphatically Wagnerian, but not yet a music-drama
What is one to make of Lohengrin, Wagner's last "opera" (as opposed to music drama), in this day and age? Is it a medieval romance, like Weber's Freischütz but with a deus ex machina at the beginning rather than the end; or is it a nineteenth-century domestic melodrama in disguise, with the hero revealed in the bedroom scene as a Papal Nuncio travelling incognito. Why mustn't Elsa ask his name?
Is it, as Lothar Koenigs hints in the WNO programme, some echo of Wagner's doubts about his own (possibly, as he thought, Jewish) parentage? Or is it rather a pre-echo of modern password culture, with Elsa as a sort of anthropomorphized phishing email?
The last time I saw the piece, at Bayreuth two years ago, the huge stage was peopled with multi-coloured chorus-sized rats intended, according to the director, to "disrupt the smooth heraldic surface of the medieval setting." In Cardiff, Antony McDonald disrupts it more straightforwardly by transplanting it to Wagner's own time, with soldiers in khaki and peaked caps, Lohengrin as a vaguely hieratic figure in an embroidered tunic, and Elsa as a proto-Rossettian redhead with a visionary gaze.
This mostly works well, except for Lohengrin's arrival on the swan, which arouses unfortunate memories of King Ludwig II and the grotto at Linderhof, where his mad majesty used to float around in a swan-boat while his musicians played excerpts from the opera on the shore (pictured right by David Massey, Thomas Rowlands as Gottfried and Peter Wedd as Lohengrin). McDonald's swan is already half androgynous-boy-in-a-boat, a couple of acts too soon, and for a ghastly moment one feared this might cast doubt on Lohengrin's sexuality – definitely a gloss too far (no, don't even think about it). The sword fight also strikes an odd note in 1850s Flanders, though German students still did it. But this Lohengrin is no swordsman, and he fells Telramund Wotan-like with a wave of the hand, thereby incidentally breaking the Herald's rule which forbids the use of magic to win fights.
All of which is no more than to say that Lohengrin is a true Romantic opera, scenically absurd and often (not always) psychologically vacuous, but powerful in its way for all that. Musically it's an odd blend of the old- and new-fangled, and not without what Rossini called its mauvais quarts d'heure to punctuate the marvels, which begin with the wonderful prelude, a piece of slow unfolding that Wagner never surpassed. There are still heralds and fanfares, and thumping choruses and processions in four-four time, the sort of thing he would soon officially ban from music drama. But there are also superb stretches of dark introspection and radiant uplift that look forward to The Ring and Parsifal (whose hero, oddly enough for the celibate and woman-free land of the Grail, turns out to be Lohengrin's father).
The first night of this new production was afflicted with vocal troubles. The scheduled Telramund fell ill and was replaced at short notice by Claudio Otelli, a fine, intelligent artist, but a baritone, where the part strictly needs a proper bass. Matthew Best, playing King Henry, went down with laryngitis but battled on with only minor blockages but obvious discomfort. And even the cool, stylish Lohengrin, Peter Wedd, began in his final act narration to feel the effects of being a lyric tenor in what is very nearly a Heldentenor role.
Wedd nevertheless brings off the difficult task of making the lofty – and in this staging priestly – hero as plausible in the bedroom as in the public arena, even if there are moments in this production's third act when one might be watching La Traviata or Jenůfa rather than a medieval epic. He's helped by a strong Elsa in Emma Bell (pictured left by Bill Cooper), piously intense and distracted at the start, then increasingly open and emancipated, with alas disastrous results (this is no feminist tract). But her vocal command never falters: it's a lovely, touching performance. Even better is Susan Bickley's Ortrud, the work's evil genius, bringing ruin to all around her in the most glorious mezzo tones, and commanding the stage, as she must, until struck down, like her husband, by the raised arm of the swan-boy.
Koenigs, as one would expect, is in his element, and paces the long paragraphs with sure style and firm control. The orchestral playing is superlative throughout, but notably so in the final transition, with trumpet fanfares coming at us from all sides in stage boxes and balconies – a fine Bayreuthian touch and, to tell the truth, in a different league of sheer technical brilliance. The chorus, predictably, relishes its enhanced role, as it did three years ago in Die Meistersinger. They love their Wagner. What a shame he eventually wrote them off as "scenery that has learnt to march and sing."