Lost In Thought: A Mindfulness Opera, Mahogany Opera Group, LSO St Luke's |

reviews, news & interviews
Lost In Thought: A Mindfulness Opera, Mahogany Opera Group, LSO St Luke's
Lost In Thought: A Mindfulness Opera, Mahogany Opera Group, LSO St Luke's
Rolf Hind's meditation is certainly lost in something, just not thought
Saturday, 26 September 2015
Come to Lost in Thought as a gentle meditation, an exercise in communal activity, or come just for four hours of peace.
Was it when we all obediently received, then held, contemplated, then savoured, then (and only then) swallowed a single grape? Or was it as we paced solemnly round the room for the sixth time, whirling brightly coloured plastic tubing above our heads to make a whirring sound, that the penny dropped? Actually I'm fairly certain it was being exhorted, for the nth time, to "embody alertness", to feel my "super-alert hands" that did it for me. Don't be fooled by the marketing: Rolf Hind's Lost in Thought is no more an opera than I am a yogi.
You can talk about meaningful silences or the Japanese concept of "Ma" all you like (though you'll sound like a frightful pseud); you can argue a case for reframing expectations, for subverting traditions, for disconcerting a jaded audience. Ultimately, though, when you designate something as an opera you establish that genre as a relevant and useful point of reference, something it simply isn't in this case. Come to Lost in Thought as a gentle – occasionally rather charming – meditation, an exercise in communal activity, or come just for four hours of peace. Don't come for the music, because there isn't much.
At one level Lost In Thought is the ultimate sound-of-one-hand-clapping opera
Billing the work – a co-production between the Barbican and the Mahogany Opera Group – as "the world's first mindfulness opera" is also misleading, if not downright untrue. What is Philip Glass's Einstein on the Beach if not precisely that? A sustained meditation on space and time, drawing the mind away from the everyday with obsessive, incremental movements and hypnotic musical repetition. And what of John Luther Adams's sound installations? Not strictly opera, but works like Inuksuit, in which an outdoor audience walk freely through and around the musicians as waves of sound pass from one side to another, contemplating the collision of music and natural sound, also come pretty close to pure musical mindfulness.
Yes, at one level Lost In Thought is the ultimate sound-of-one-hand-clapping opera – the logical conclusion of a concept. If you strip sensation back to that of our own bodies and immediate environs, music to our own sounds and silences, then naturally the effect is intensifying. But is it more intense than a really good performance of Parsifal or Peter Grimes? No.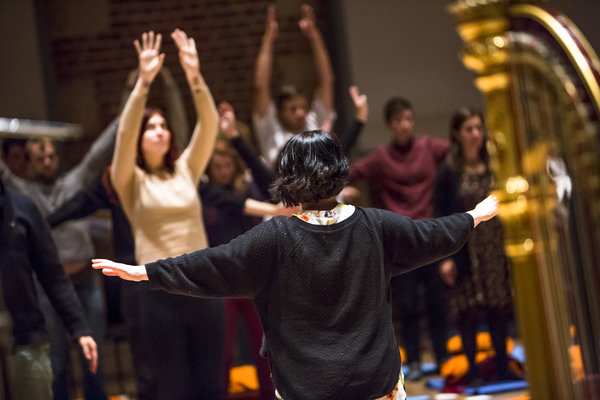 I'd go further than that; the setup of a conventional opera house, with its darkened auditorium and proscenium arch, its rows of seats and expectation of stillness and silence, comes far closer to pure meditation that any amount of mindful stretching, daal-eating and grape-contemplating. Concentrating on a continuously unfolding score, language, sets and singing occupies an entire mind, leaving little space for those distracting thoughts mezzo and mindfulness leader Lore Lixenberg kept urging us to welcome, then release.
Hind's score, what there is of it, consists of a series of attractive musical episodes for eight-piece ensemble. Shapes, textures and moods are paramount, taking it in turns to dominate each sequence of repetition. Instrumental colours are layered gradually up and down, carrying the listeners from sleep to waking or activity to calm, as needed. Rhythmic complexity keeps the ear alert, distancing this music from the Max Richter score an audience at the Wellcome Collection will be sleeping to tomorrow night. Lixenberg is quietly commanding, ensuring her mindful beginners never stray too far from the business of stillness. Yet still it doesn't quite add up to an opera.
I'm not convinced by Lost in Thought. I do, however, have to acknowledge a debt to Rolf Hind and his show. It took a trip to a "mindfulness opera" to make me realise that I've actually been mindful all along. And, like Moliere's prose-speaking Bourgeois Gentilhomme, I couldn't be more delighted with the discovery.
A second performance of Lost in Thought takes place at LSO St Luke's on 27 September