Radamisto, English National Opera |

reviews, news & interviews
Radamisto, English National Opera
Radamisto, English National Opera
A sexy, postmodern take on Handel's Orientalism
'Radamisto': 'The broad-shouldered solidity of Handel's structures can carry a lot of experimentation'
If interior décor could shout, then last night's music might have proved altogether incidental. The curtain rises to reveal a set gift-wrapped – ramparts, city walls and all – in the brightest of hot-pink damasks: a Nicky Haslam acid trip. Ladies and gentlemen, we are now entering operatic Orient 2.0, a sexy, postmodern take on the original you know and love, complete with an oversized menagerie of animals, evil tyrants and exotic princesses.
It's a familiar enough concept for Handel at ENO, wilful exaggeration, calculated anachronisms and all, and as we progress it is the large-scale simplicity of Gideon Davey's set rather than the fussiness of Alden's direction that proves most effective.
The plot, predictably, is convoluted and fairly incidental, setting ambitious Armenian despot Tiridate against elderly king of Thrace, Farasmane. That Tiridate's wife Polissena should be the daughter of Farasmane, and her husband obsessed with sister-in-law Zenobia (wife of Thracian prince Radamisto, Polissena's brother), adds to the incestuous complexity of proceedings, but never materially threatens the inevitable lieto fine.
Shunning a period band in favour of the ENO in-house orchestra, we got off to a swaggering, stylish start under the direction of Laurence Cummings. Sadly the promise of the overture was never subsequently fulfilled, with the orchestra proving the heavy-footed peasant at the ball, making one long for the sway and lilt of Concert d'Astrée or Les Arts Florissants. The gorgeous playing of the oboes, and a star turn from a pair of horns, however, did much to compensate for the wayward strings, with the oboe obbligato for Zenobia's "When O when, will cruel Fortune" a particular delight.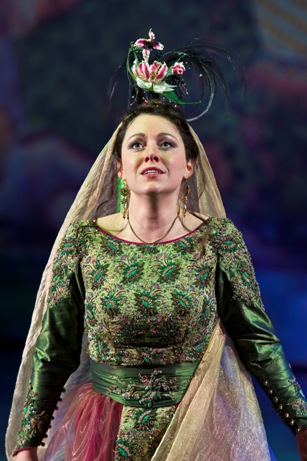 Fielding a young, largely British cast who are vocally everything that the Royal Opera House's international Tamerlano stars failed so spectacularly to be, the evening's singing was superb. Sophie Bevan's creamy soprano (pictured right) promises so much for the future, and delivered stylishly as put-upon Polissena. Set against veteran Christine Rice's Zenobia (beautifully sung as ever, but dramatically rather blank) and Lawrence Zazzo's agile Radamisto, Bevan emerged their equal – no small feat.
Bass Ryan McKinny's Tiridate was all hollow laughs, dodgy facial hair and rich tone, but his urgency and tendency to rush denied the role the full relish it clearly deserves. Rounding out the cast were Henry Waddington's underused Farasmane and Ailish Tynan, unrecognisable as the stout, fez-sporting, brow-mopping Armenian aide Tigrane. The most assured dramatic performance of the evening, she – along with most of the cast – suffered from a tendency to over-egg the da capos, overloading them with stratospheric ornamentation that didn't always quite come off. Combined with Alden's rather hysterical direction (emotive caressing of walls and rolling across the floor featured largely) the effect was unbalanced, risking the integrity of the drama.
Though not quite approaching the dramatic quality of other Handel-Haym collaborations (Giulio Cesare, Rodelinda), Radamisto is a serviceable opera seria with more than its fair share of big tunes, and deserves its day in the sun. Alden and his team have clearly had a ball with it, delighting in excess and exoticism (complete with fire-breathing dragon and cheeky visual reference to Burton/Taylor classic Cleopatra); if they avoid making any real interpretational decisions or coming to any terribly substantial conclusions, then it scarcely seems to matter.