The Rape of Lucretia, Glyndebourne |

reviews, news & interviews
The Rape of Lucretia, Glyndebourne
The Rape of Lucretia, Glyndebourne
Britten chamber opera survives high-sounding libretto thanks to its music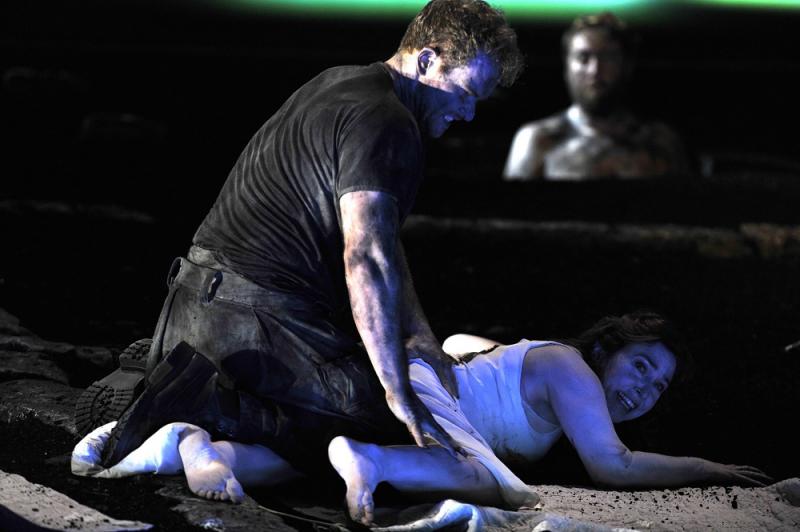 The strongest imaginable cast: Duncan Rock as Tarquinius and Christine Rice as Lucretia
Britten's first chamber opera is very much a Glyndebourne piece; its world premiere in the old festival theatre in July 1946 was also the festival's inaugural post-war production. It brought into being the English Opera Group, and led soon afterwards to the foundation of the Aldeburgh Festival. So it's good, in principle at least, to have it back on the main stage here, after an initial airing on tour in 2013.
I say in principle, because in practice the work and its staging present so many problems that I can't ever recall seeing a production without wincing with irritation. And this production by Fiona Shaw is no great exception.
The problems begin with Ronald Duncan's libretto, surely one of the wordiest and most pretentious ever offered by a serious writer to a great composer. Duncan for some reason saw the remote and minor tragedy of Lucretia's rape by the Etruscan prince Tarquinius as a parable of invincible ignorance – sin committed in ignorance of Jesus Christ; and he installed a Chorus, one female, one male, to preface and interrupt the story in order to sermonise, Eliot-like, on this not obviously helpful topic.
One never feels Britten was hugely interested in women
The device has the effect of turning the central action into a series of tableaux vivants. But worse than that, it patronises the characters disastrously, observing them like the cardboard figures in a peepshow. Alive to this danger, Shaw involves the pair more actively in the drama, even at one point implying some sexual engagement between them parallel to the eponymous rape. But even she can't disguise the other gaucherie of Duncan's text, his penchant for florid and impenetrable verbal conceits, put into the mouths of every character, aristocrat or servant, without the slightest regard for social or intellectual distinctions. When Lucretia's maid urges us to "look how the energetic sun/Drags the sluggard dawn from bed", or a rough Etruscan general enquires obscurely "what makes the Nubian disturb his heavy mountain?" one wonders whether Duncan had ever thought about the way people speak or the sorts of thing they say.
Shaw's production mostly survives these obstacles, taking a broadly naturalistic line between the static homilies. I like very much the chiaroscuro of Michael Levine's simple raked set and Paul Anderson's lighting, often suggestive of a Rembrandt or a Caravaggio. But the chief survivor is the music, not always Britten at his best perhaps, sometimes echoing Grimes in its formulae (not to mention its subject matter), but always exquisitely wrought, and with some intriguing new associations, especially Purcell and, after the rape itself, Bach. Leo Hussain conducts a chamber section of the LPO with real attention to Britten's sharply imagined instrumental detail, and above all to the beautiful combinations he finds between individual instruments and individual voices. Whatever might happen onstage, this is a score – and a performance – that holds the ear.
The same goes for the cast, the strongest imaginable. At its focus, Christine Rice is a finely poised, eloquent Lucretia, warm in colouring, intense in expression. But Kate Royal, as the Female Chorus, is hardly less impressive, and both she and her male counterpart, Allan Clayton (pictured with Royal), succeed in humanising roles that can be unbearably preachy and condescending. The three generals, Duncan Rock (Tarquinius), Matthew Rose (Collatinus) and Michael Sumuel (Junius) bounce around vigorously in their opening exchanges, becoming gradually more differentiated as the action unfolds.
But the scenario, with all its moralising, leaves too little time for characterisation, just as the poetics blot out any serious portraiture in the female roles. Catherine Wyn-Rogers as the old nurse, Bianca, and Louise Alder as Lucia the maid are both excellent. But, amid all the stitching and linen-folding and flower-arranging (like the "embroidery in childhood" in Grimes), one never feels Britten was hugely interested in women, other than as targets for male villainy.
Duncan's libretto is surely one of the wordiest and most pretentious ever offered to a great composer
rating
Explore topics
Share this article