Rusalka, Grange Park Opera |

reviews, news & interviews
Rusalka, Grange Park Opera
Rusalka, Grange Park Opera
Dvořák's bewitching gravity impresses, but the watery spell comes and goes
Anne-Sophie Duprels as the lovelorn water nymph
Its little-mermaid legend is enough to make the angels weep, given the bewitching gravity of Dvořák's masterpiece: a water nymph, caught between the human and supernatural worlds, condemns herself to eternal limbo for the sake of her erring princely lover.
Heartstrings snapped two years ago in Melly Still's Glyndebourne production, due for a revival imminently; here at Grange Park, with another magical lake in sight but this time out of bounds, sympathies are engaged, and the eye drawn to designer-director Anthony McDonald's staging, but more fitfully. You come away smiling rather than wrung out.
That's probably a necessary state of affairs for an admirable company which has stretched itself to the limits this season: if I were a member of the hard-working orchestra, I'd jump at the chance to play Tristan und Isolde, as they're currently doing, as well as Tosca, Rigoletto and this, one of Tristan's most individual offspring, but the labours must take their toll. It may be the time spent on the Wagner under the same excellent conductor, Stephen Barlow, which has lent this silvery score its special incandescence. The painfully beautiful woodwind and harp solos make their mark, the pacing is good, once past an inescapable feeling that the dampness of yesterday evening had seeped into the first act - not entirely inappropriate for the lakeside wistfulness - but the denouement, one of the greatest last duets in opera, doesn't quite rivet the attention as it did at Glyndebourne.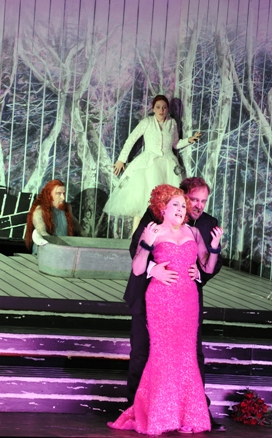 Perhaps this is because, never getting to know who Anne-Sophie Duprels is as a personality, I find her Rusalka doesn't quite add up for me. It's certainly impressive enough to have a strong soprano voice capable of the role's more extreme demands: though sometimes bottled in mid-register, Duprels always opens up to the higher-lying outbursts. But while the heart is ready to break as she staggers across the stage with her bloodied mortal legs, or as she finds herself trapped in the snares of the human world, it never quite follows through. It's above all when we return to the water's edge for a familiar tragic showdown - not for nothing did Tchaikovsky adapt music from an opera on the same subject for his Swan Lake - that I don't get the sense we had from Ana María Martínez's electrifying Glyndebourne Rusalka that the world has cracked open.
I'd expected more, too, from that excellent singing actor Jeffrey Lloyd-Roberts, but he was not in best voice for many of Dvořák's awkwardly written heroic tenor demands and his trademark anguish seemed muted. Oddly, it's only in the creepy-sophisticated palace of Act II that the more sinister fairytale aspects knit together, and very much a definitely etched lynchpin here is the ever-superb Janis Kelly's Foreign Princess (pictured above with Lloyd-Roberts's Prince while Duprels's Rusalka and Clive Bayley as her merman father look on). Rusalka, voiceless in the human world, can't sing to her Prince in this act, so another soprano is needed; but Kelly makes a virtue of necessity as a vamp who knows her sensual powers will override the nymph's other-worldly, more innocent charms, and her stylish phrasing unfolds with a knife thrower's certainty of aim. We can't help but be moved by the intermezzo-like sorrow of Rusalka's fishy father - Clive Bayley on top form, in between King Markes - to whom Dvořák gives the second loveliest aria in the opera.
Here, too, the invention of Lucy Burge's movement finds its best co-ordination with McDonald's music-conscious direction; Grange Park is never going to field a royal guest list of hundreds, so why not use the dancers to suggest a formal-cum-depraved dinner party, netting rose-white Rusalka in blood-red torment (pictured above)? One of the most striking images of the evening is our nymph, finally persuaded into a tin bath to wash away the blood and scales, finding her still element in the water while perfidy brews round the dining table.
Down at the lake, meanwhile, the magic comes and goes. I like the initial idea of the marine-creature depictions on the scrim, paralleled with a dark action replay in Act III - though the waxing skeleton fish that gave me the creeps seemed to have half the pleasantly sozzled Grange Park opera diners in stitches. The tree nymphs are reasonably feral and naughty, and their first appearance in this production when it opened three years ago may have given the cue to Melly Still to go further at Glyndebourne; Caryl Hughes as number one makes an impact with her seductive third-act solo. It's a clever suggestion to pre-empt Rusalka's limbo fate as betrayed maiden - see also the Wilis of Giselle - by introducing an earlier flitting, white-haired siren in ballgown.
McDonald also plays admirably against the grain by suggesting that witch Ježibaba, a seductive silvery enigma in a black dress sporting a red coral necklace, may have also been wronged by a man. She's strikingly sung, though with a rather odd technique, by Emma Carrington (pictured right), who knows how to hold a stage. McDonald does not falter in the imagination of the sinister scene in which she gives Rusalka a questionable mortal identity. Travelling moon and bath, by the way, were sponsored in that imaginative way which the ever-persuasive Wasfi Kani has pioneered down at Grange Park (and as she pointed out, there was an eclipse going on outside the theatre which we couldn't see for the clouds). Though the braying can sometimes be too much, I'm always charmed by the quirks in the grounds and the auditorium, the pre-performance speech of patron John Ashburton (good dog-and-cat joke this year, some compensation for the retirement from the stage of aged black labrador Ellie) and the essential dining amid faded splendour: seafood, of course, de rigueur last night. Everything works at a very high level; it's just that in this Rusalka the final degree of spellbinding magic seemed to be missing.
Rusalka at Grange Park until 4 July