Siegfried, LPO, Jurowski, RFH review - an incandescent journey to the mountain top |

reviews, news & interviews
Siegfried, LPO, Jurowski, RFH review - an incandescent journey to the mountain top
Siegfried, LPO, Jurowski, RFH review - an incandescent journey to the mountain top
Varying degrees of vocal characterisation, but the playing is breathtakingly detailed
Elena Pankratova and Torsten Kerl with Vladimir Jurowki and the London Philharmonic Orchestra
Of Wagner's four Ring operas, Siegfried poses the biggest casting problem. Most heroic tenors with the lungs to last the evening are not going to be ideal incarnations of the stroppy adolescent who learns and fights his way through an often nightmarish fairy-tale landscape. Torsten Kerl, not an agile mover to say the least, certainly wasn't.
But complemented by similarly strong vocal performances of varying degrees of dramatic expressivity, and above all perfectly supported by the iridescent safety net of the
London Philharmonic Orchestra
conducted by Vladimir Jurowski, who show clarity of thought and suppleness of movement in the shaping of every phrase, Kerl lasted - just.
You knew you were in the best conducting hands from the first bars of the eerie opening - crabbed, devious dwarf Mime etched in tonally rootless bassoon thirds, given a colouristic twist by the introduction of the contrabassoon; comic-grotesque malignity from Lee Tsarmaklis's tuba, later the dragon in the forest; silky twists from the violas as they set up the Nibelung motif; and the most taut and elegant gestures from Jurowski, circular in movement as the cor anglas adds its voice (later he inscribed anti-clockwise circles for a phrase of Fafner's louring). His first act was especially nimble and fast in scherzo-mode, punctuated by the slow movement of Wotan's appearance as Wanderer to set Mime three questions, and answer three in Wagner's crafty method of re-telling key points in the plots of the previous two operas. Evgeny Nikitin yielded progressively more faceless results as the god going a-begging: the right bass-baritone sound, but shorn of word-pointing, heft and emotion. The pac-a-mac "disguise", hood up, didn't work; why at no point in rehearsals did someone not tell Jurowski that it looked daft?
Full marks, though, to Adrian Thompson's Mime (pictured above with Kerl's Siegfried), acting for ten - and making up for inadequacies elsewhere - to lull us into thinking that this isn't such a bad old, put-upon dwarf until we realise he's using his foster-son to get at the gold and the ring, and will despatch him afterwards. Thompson's clarion ring, in the other sense, was something we could have done with from Kerl; but that particular tenor technique, carrying the weight up to the top and only faltering in the very last notes of each act, is a specific art. If never dramatically convincing as the boy who knows no fear until he meets a woman, Kerl at least seemed relaxed enough to enjoy some of Wagner's wit and humour - yes, there's plenty in Siegfried - and did such a sterling job playing the cor anglais "wrongly", as a pipe the boy can't bend to imitate birdsong, that I assume he must have been an oboist in a former life (update: it turns out he was a principal in an orchestra). Nice touch, too, to have him handshake his horn "double", the truly youthful and remarkable Nicolas Mooney stepping out from the orchestra.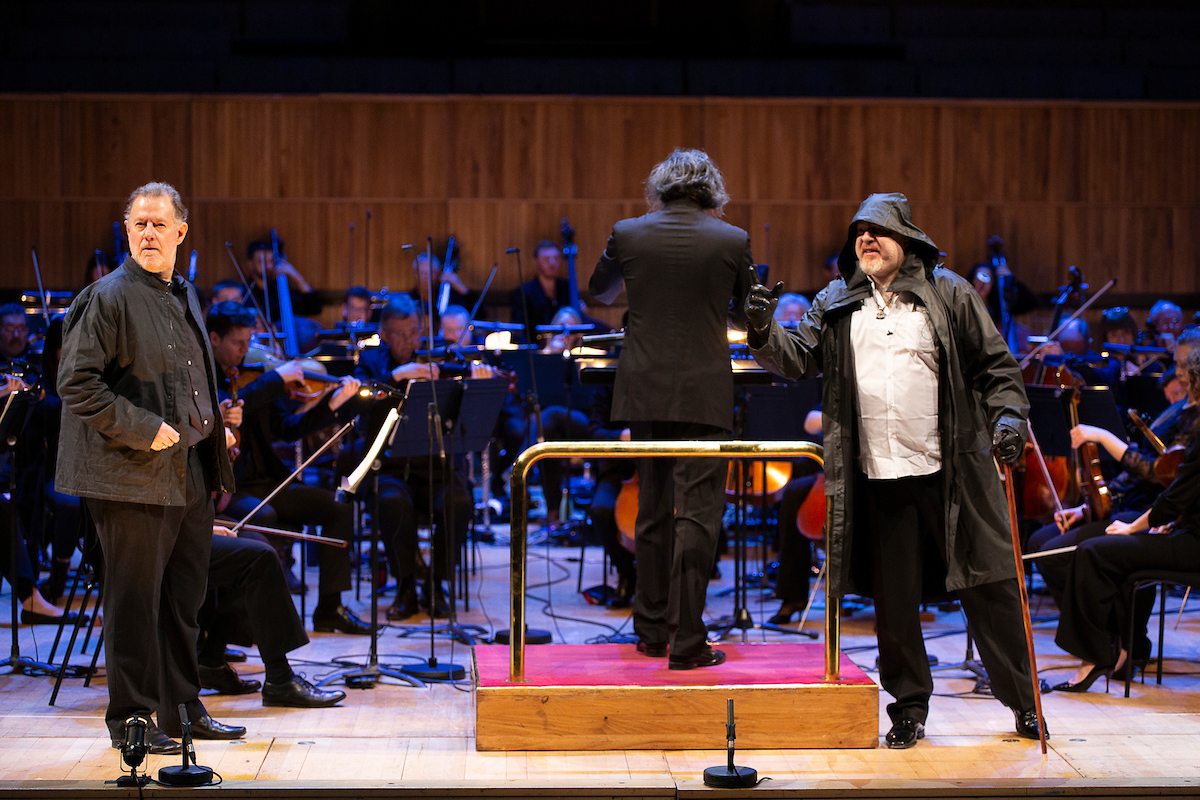 Thompson's only real match for detailed characterisation was Robert Hayward, whose Alberich had been the star of Jurowski's Rheingold, and who oozed malevolence as Mime's brother lurks around waiting to get his ring back. He's also a fine Wotan, as the Opera North concert performances at the Southbank proved; one almost wished he could do a double-act with himself here, since Nikitin was no match for his charisma (the two pictured above). There was a special frisson with the sound of the first female voice of the evening, an unusually full-toned Woodbird from Alina Adamski. Poetic input there, too, from Pierre Martin's economical video projections (the suffering Sieglinde, flying birds, venomous snake-dragon, flames). Anna Larsson (pictured below with Jurowski and the LPO) reprised her statuesque Erda, another sympathetic performance, and the big question as to whether late-arriving Brünnhilde, Elena Pankratova, would surmount her mountain-top role was answered within minutes of her awakening: rock-solid technique, fearless top notes and a performance giving us old-style diva realness.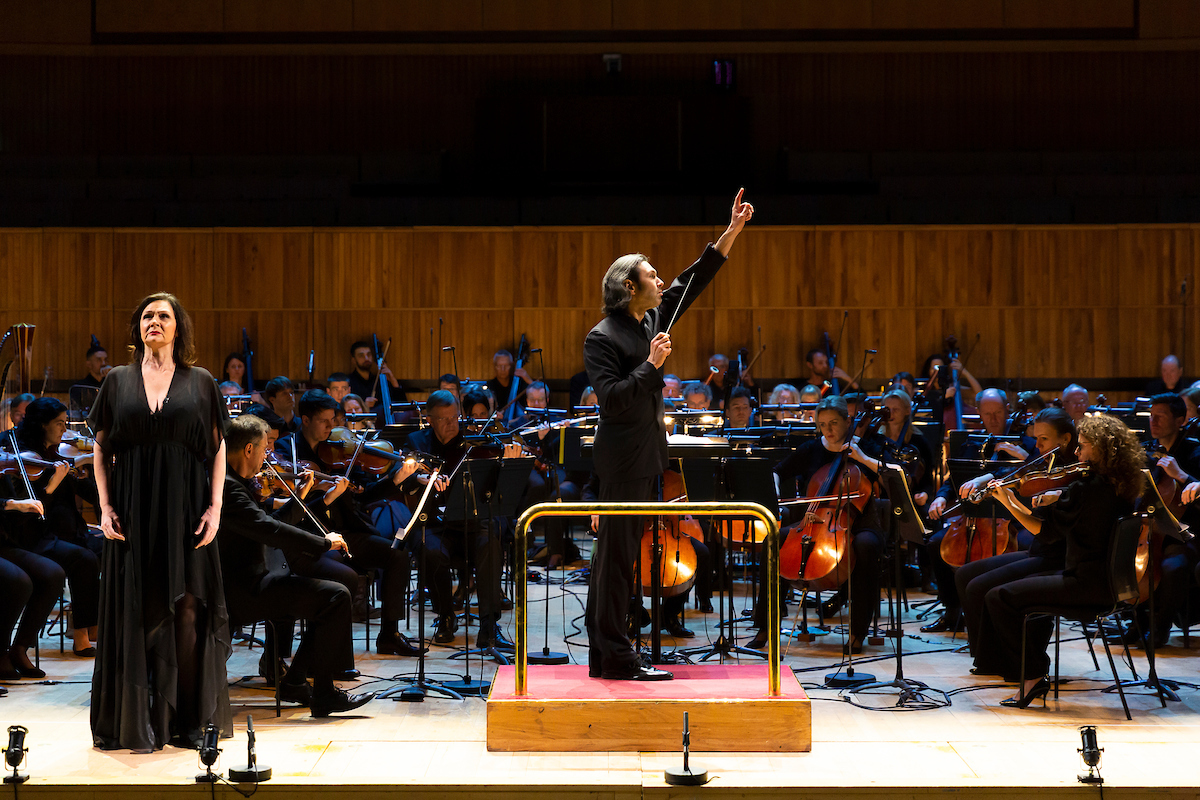 Pankratova must have made a last-minute decision not to end on an optional top C carefully, because the other high notes had all been fearless. And here, at last, Jurowski allowed his orchestra to float his singers along on opulent phrases. So much of Siegfried is careful chamber-music until the third act, and though I don't buy the theory that there's extra confidence in the writing won from the 12-year gap in composing the Ring, during which he also wrote Tristan und Isolde and Die Meistersinger, the thickening-up, the quick parade of leading motifs at the beginning of the act is always impressive. I'd only take issue with one tempo: the one which sends Siegfried through the flames in the great interlude - too fast for the usual frissons. After that, though, we coasted to the end without any of the usual longueurs, thanks to committed singing and what had obviously been the infinitely detailed preparation of the playing. Next year's complete cycle promises to be an orchestral miracle.