theartsdesk in Lyon: A contemporary opera house taking a bold approach |

reviews, news & interviews
theartsdesk in Lyon: A contemporary opera house taking a bold approach
theartsdesk in Lyon: A contemporary opera house taking a bold approach
An opera festival of justice/injustice serves out its sentence in style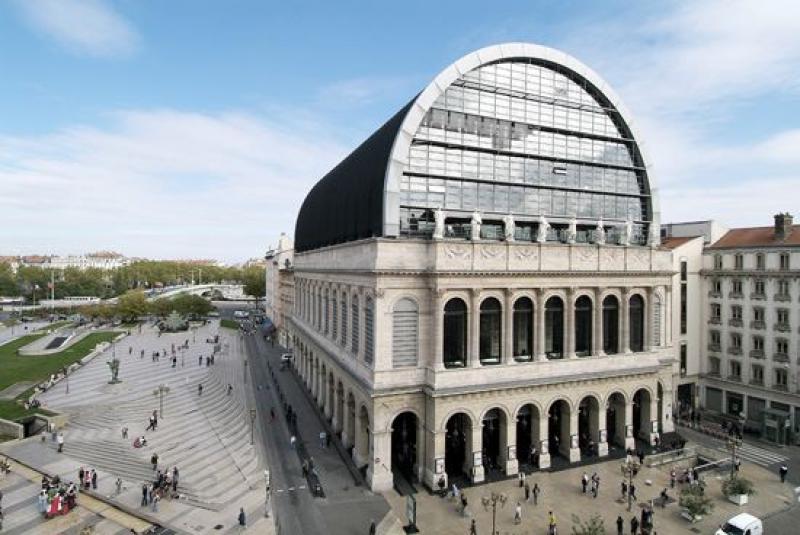 The Opéra National de Lyon is the very model of a modern major opera house
"There are three rivers in Lyons: the Rhône, the Saône and the Beaujolais." Thus goes the popular saying – as apt today for France's gastronomic and wine-quaffing capital as it was back in the 15th century, when the city first became a hub of European political and social life.
The cobbled streets, Roman amphitheatres and ubiquitous vistas of Lyons's hillside Old Town draw their share of tourists, while the celebrated
bouchons
and Michelin-starred restaurants bring in the rest. But what of the city's cultural life?
The opera house is the natural hub, rivalling the magnificent Hôtel de Ville and the Palais St Pierre (home now to the Musée des Beaux-Arts) for dominance on the skyline. But while the latter institutions remain architectural museums of their 17th-century past, the Opéra has reimagined itself as a contemporary home for a living artistic tradition – a blend of history and innovation that's as exhilarating as any production staged within.
Escaich's score for his opera is immensely attractive
Invited to tackle the problem of the outdated and impractical space in the late 1980s, Jean Nouvel came up with the ingenious solution of preserving the neo-classical shell of the building while completely gutting the interior. A crucial part of this project saw the building doubled in height with the addition of a barrel vault at the top, whose curved silhouette has become an immediately recognisable feature of the Lyons cityscape. The ballet and chamber music hall sits right up in the glass dome (worth a visit just to see the spectacular view), but it's the five-tier opera theatre (pictured below) that's the real star. A futuristic fantasy of black lacquer, the space has stripped away all the more pompous fripperies that normally crowd in upon the genre, giving opera as close to a clean slate as it is ever likely to get.
The Opéra National de Lyon hosts an annual mini-festival here each spring, sometimes themed around a composer (as will be the case next year, when the company presents a cycle of Britten operas) and sometimes around an idea. 2013 was the year of "Justice/Injustice" – a concept that takes centre-stage in Beethoven's Fidelio and new opera Claude by Thierry Escaich, but also given rather more oblique reference in Schoenberg's elusive monodrama Erwartung.
Based on Victor Hugo's short story Claude Gueux, Claude, in shades of Les Misérables, tells the story of a man imprisoned for stealing to feed his starving family. His time in Clairveaux prison is blighted by a sadistic Director who separates him from his friend (and, in the opera, lover) Albin. Driven to extremity, Claude murders the Director and is subsequently sent to the guillotine.
It's a bleak little meditation on injustice and the death penalty, and one that has more than a few topical, totalitarian echoes. The libretto by Robert Badinter, ex-Minister of Justice, is emphatic, almost strident, in its moral certainties, but then so is Hugo's original, which lacks the nuance of his full-length work. Take the result as a morality play and there's much to enjoy, but for those demanding something more discursive Claude will inevitably fall short.
Escaich's score is immensely attractive – the first opera from the organist-turned-composer, and his most assured orchestral writing to date. Drama and narrative are the focus here, pushing us on through the action of Hugo's tale without much by way of contemplation. The effect is of carefully and inevitably ratcheted tension, and the release in Claude's final aria is a pay-off worth waiting for. Escaich's interest is in textures, both rhythmic and harmonic, and by layering mechanistic woodwind chunterings against wistful little whole-tone sallies from flutes and chromatic sighs from the upper strings he creates a vivid tonal world for his prisoners. Particularly memorable are the flutter-tongued convulsions of the flutes, beating desperately against the insistent repetitions of the brass just as Claude beats against the bars of his cell.
It's nice to hear a large-scale tonal score not structured around ostinatos for a change, and Escaich's through-composed work makes an elegant job of unifying its textural fragments into a coherent whole. Echoes of Debussy and Stravinsky make their presence felt, and a beautiful folksong arrangement for offstage soprano duet (the only solo female voices in the opera) suggests Bartok.
Led by baritone Jean-Sebastien Bou as Claude (pictured above), the cast acquit themselves well, seemingly enjoying the easy flow of Escaich's vocal writing. The episodes pitting Bou against countertenor Rodrigo Ferreira's Albin work best, allowing the colourful grit in Bou's middle register to grate evocatively against the purity of Ferreira, but there's also excellent work from Remy Mathieu in a supporting role as a guard. This young tenor has an easy, forward tone that seems made for bel canto, and it will be interesting to watch his career at Lyons develop.
Conductor Jérémie Rhorer (pictured above) transforms his ensemble from the tentative performers of Fidelio to a unified force, but his generous lines and musicality are sadly undermined at every turn by Olivier Py's direction. Easy visual clichés abound, but most galling is the sudden appearance of a ballerina in the closing moments. Unprepared and unclear, the symbolism of this awkward gesture all but sabotaged the careful climax of Escaich's music-drama. Yet with a few revisions to the staging, Claude is an opera that deserves to travel. Accessible without being simplistic, contemporary while not aggressive, it's the kind of coherent music-drama that might just get a new generation into the opera house.
New audiences and innovation are certainly at the core of American conceptual artist Gary Hill's Fidelio. Coming to the Edinburgh Festival this summer, this much-anticipated reworking posits a new relationship between traditional opera and multimedia elements, devising a prototype that's currently more about potential than actual product.
Creating a mash-up between Beethoven's opera and Aniara – a post-apocalyptic space-epic by Swedish Nobel laureate Harry Martinson – Hill gives us a Fidelio set in space. In conceptual terms this futuristic no-place allows us to revisit the opera's concepts of justice and political oppression more clearly, but in practice the emphatic specificity of visual details (characters zip around on Segways, sport outlandish metallic designs and spend a lot of time manipulating 3D video projections) rather overpowers the delicate abstractions of ideology.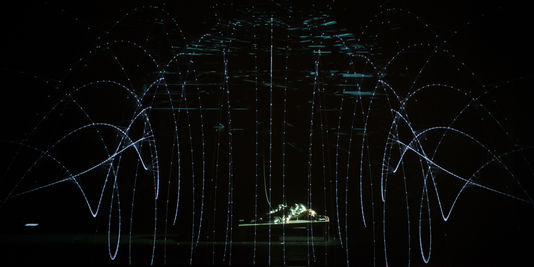 A narrator (Charlotte Ramond) is also interpolated into the action, just to make things clear, but her vacant philosophising sits awkwardly against the earthiness of Beethoven's score. His characters, even the ditsy Marzelline and her thwarted Jacquino, have plausible and recognisable inner lives, exposed so meticulously in the ensembles. Here though these are blurred by the insistent showiness of video projections and visual trickery. Hill's multimedia images are undeniably gorgeous, and offer a persuasive vision of what 21st-century opera could and should look like, but seem ultimately to celebrate and glorify themselves, rather than serve the opera of which they form a part.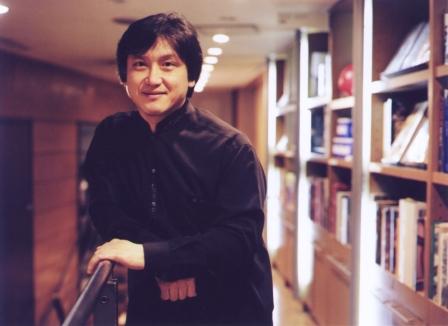 This confusion also seems to infect the music, with conductor Kazushi Ono (pictured left) struggling to unite stage and pit. Michaela Kaune's Leonore never quite gets comfortable, straining at the top and coming substantially adrift in "Komm, Hoffnung, lass den letzten Stern", but Edinburgh audiences needn't worry as Kaune will be replaced by Erika Sunnegårdh for this summer's run of the production. Better work comes from Nikolai Schukoff's Florestan and Wilhelm Schwinghammer's Rocco – both performances as assured dramatically as vocally – and a proper pantomime villain from Pavlo Hunka's Don Pizarro. Karen Vourch's Marzelline shows signs of interesting things to come, but currently struggles to confine a larger voice in a lighter role, occasionally blurting at the top and chafing against the legato demanded by Beethoven's lines.
Although mixed in its success on this occasion, there's something exhilarating about Lyons's approach to opera. A quick glance through next season's brochure says much about the ambition of the company under General Director Serge Dorny. Contemporary experiments – Raskatov's A Dog's Heart (already familiar to English National Opera audiences) and Goebbels's I Went To the House But Did Not Enter – balance the rollicking fun of Rossini and Offenbach, while you'd search a long time for an English company also staging Poulenc's glorious tragedy Dialogues des Carmelites and Copland's The Tender Land in the same season.
It's the kind of programming you fantasise about – brave, but not recklessly so, intelligent but also playful. If Lyons's productions can only prove themselves to be consistent, then France's second opera company will really become the champions their "national" title demands.