theartsdesk Q&A: Soprano Aida Garifullina |

reviews, news & interviews
theartsdesk Q&A: Soprano Aida Garifullina
theartsdesk Q&A: Soprano Aida Garifullina
The Kazan-born prima donna on Prokofiev, Rimsky-Korsakov and Stephen Frears
Aida Garifullina: natural vivacity incarnate
There are certain roles where you're lucky to catch one perfect incarnation in a lifetime. I thought I'd never see a soprano as Natasha in Prokofiev's War and Peace equal to Yelena Prokina, Valery Gergiev's choice for Graham Vick's 1991 production.
When Vick directed a radically different take, also at the
Mariinsky
, in 2014, the Natasha was 25-year-old Aida Garifullina, born in Kazan so like Nureyev and Chaliapin a Russian of Tatar origins. Not only was she as beautiful and as youthful in spirit as the interim incumbent, Anna Netrebko, but like Prokina she seemed to live the intense emotions and growing maturity of the character (
pictured below
: Garifullina as Natasha with Andrei Bondarenko as Prince Andrei).
Since winning the Operalia competition the previous year - launched by Placido Domingo, it has seen among earlier winners Joyce DiDonato, Joseph Calleja and Rolando Villazon – Garifullina's bright star has been in the ascendant. Decca recently released her debut disc, an enterprising mixture dominated by not always familiar Russian repertoire warmly received by Graham Rickson in today's Classical CDs selection, and she portrayed Lily Pons as Delibes' Lakmé in Stephen Frears' film about the world's worst soprano, Florence Foster Jenkins, starring Meryl Streep. Having just sung the heroine opposite Juan Diego Florez in Gounod's Roméo et Juliette, Garifullina is now the darling of the Vienna State Opera. I saw her live in on stage for the first time in another perfect incarnation, that of Rimsky-Korsakov's other-worldly Snow Maiden (Snegurochka) in Dmitri Tcherniakov's production at the Paris Opera. We met on the day of the first round of the French elections in a lively Parisian café, the television screen behind us carrying non-stop coverage of the voting. Garifullina, natural vivacity incarnate, had managed to take further time off from looking after her baby daughter by tennis player Marat Safin.
DAVID NICE I really wanted to ask you about two roles in particular, not just Snegurochka but also Natasha, because the first time I saw you was in the film of the Mariinsky production which Graham Vick lent me. It was a revelation. This must be a dream of a role. You knew the book, I assume, from having read it at school?
AIDA GARIFULLINA Oh, exactly, the book is of course difficult and I don't think it's the right time to read it when you are at school because you are not ready to understand everything, but this is a work which you can return to again and again. It's a question of life experience. Prokofiev's music is magnificent, so I fell in love at once with the opera. It's not easy to sing Natasha but it's worth it.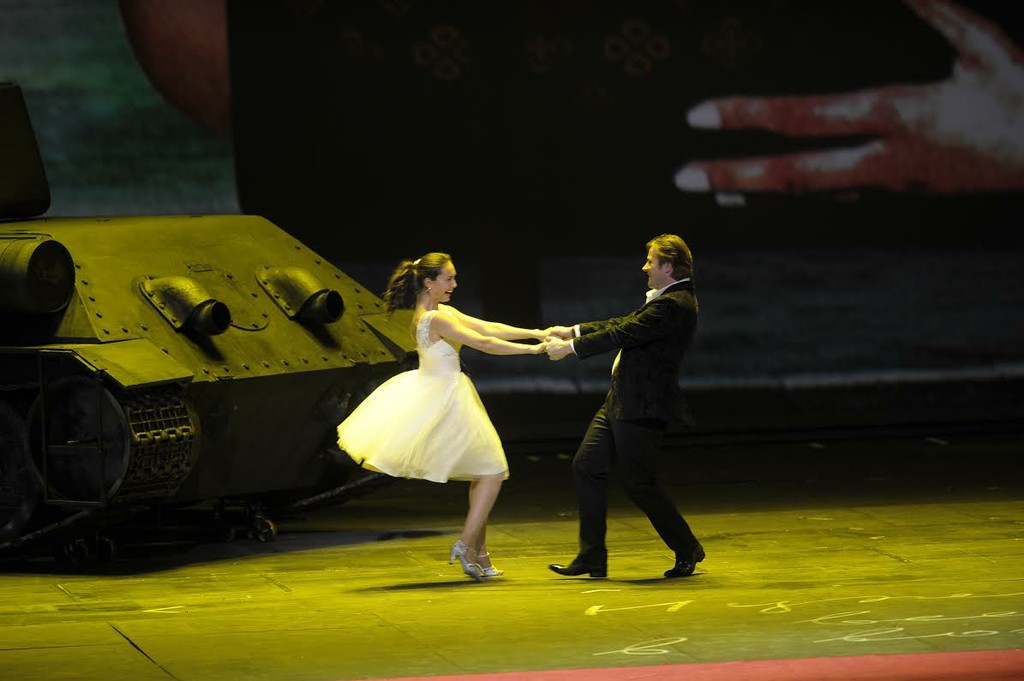 How did you get over the difficulties? By connecting emotionally?
I started to think about the text at the beginning, and I think this helped me to get the right emotions. Then the music came automatically. I'm not talking about vocal technique of course, but in Russian opera the text is very important. More important I think than in Italian operas. In German operas, Wagner, it's always important and difficult. It was a wonderful experience.
Passages like the arioso ["What right have they?", where Natasha expresses her anguish at having to wait a year before marrying Prince Andrey] are very tricky, very high...
Yes, and very chromatic, so difficult, and of course it's a big project and it was a big excitement to sing with Gergiev. It's not difficult to sing with him, he follows you. He never says, you have to look at me and you have to be together with the orchestra. No, he said, "don't look at me, do what you have to do, I will follow you and accompany you". His energy is incredible.
This is sensible, because only you know how you can sing phrases with the breath control. I find it very annoying when I see conductors who force singers to sing at a tempo that is uncomfortable for them.
I have had this experience too. I won't mention the name. It was actually only twice with the same conductor. But most of the time I have luck with conductors.
How was the conducting [of Mikhail Tartarnikov] for Snegurochka?
Oh, wonderful. I like him very much, he's the main conductor in the Mikhailovsky Theatre.
I hadn't seen him conduct before.
For me also it was the first time. I heard about him, we met once when I was giving a concert with Dima Hvorostovsky in St Petersburg, he came backstage and we met for the first time. He's very kind, talented, he also follows the singers, he feels the breath, and it's easy to work with him.
It's interesting that while Natasha appears throughout the first half of War and Peace, she only sings in one scene of the second. You were actually on stage a lot when you weren't singing. Whereas Snow Maiden is tougher, isn't it? I've never seen it before where the soprano was able to sustain the last act, which is suddenly more demanding, isn't it? (PIctured below by Elisa Haberer: Garifullina as Snegurochka in Act 4)
It's heavier, yes. Oh, I hope I can express this well enough in English. I found out a lot of new things after working with Dmitri Tcherniakov. For example, as you said before, you said something is difficult while singing – what was it? – I thought the same. I had teachers who taught me not to close the breath, some technical things, you know, to stay open always, not to sing downwards with the head. So many details. So I was really shocked when I started to work with Tcherniakov, because so many things he wanted from me were against my knowledge of technique, of the body movements while singing.
And in the last act Mizgir [the rich merchant who hounds Snegurochka] throws you around a lot.
Yes, and there's a lot of running. Tcherniakov wanted me in the second part of the opera, we have only one break, so the third and fourth acts - to be very exhausted. I'm slowly dying over these acts. Everything is filmed so you need to feel it, it's not enough to play with the body, it will be fake.
There's also this departure from the dramaturgy, because although the Snow Maiden goes through terrible ordeals, she discovers pure passion, as it's normally portrayed, and then her death is not so terrible – it's sad. But here it's cruel.
But you know, actually, this motion of passion normally helps you to sing, because you are totally open, your breath, you have this power and energy when you need to burst out. But if you're exhausted and tired, everything is then relaxed. You still need to keep this stability within, while not showing it to the audience. And this is what I had to learn. It took me the time, one and a half months, just to find my way. Because I could not say to the stage director all the time, I cannot do this or that. Of course he tried to help me to avoid some of the movements – for example he wanted me to fall down more times than I actually do.
A good director says, try it, and if it really doesn't work for you, we'll find something else.
This was with Dmitri Tcherniakov, and I'm really thankful to him, he really understands and I've got a lot of support from him. He is wonderful, I love his productions. And my parents, who know the original story from the movie of 1964 [based on the original Ostrovsky play]
…which is genuinely magical…
...they had been afraid that a new-style director will change everything, the story, the meaning, but they felt as I do that here Dmitri showed the real story. He put some new things, updating it in our times.
Watch Garifullina sing Snegurochka's first aria in a Rosenblatt Recital
I thought, there has to be magic – which is the wood [the stage after the Prologue is dominated by giant trees, which revolve in a very beautiful scene towards the end], and the people were people who lived in the wood were real, and there was some humour. But I thought it was very cruel on you, and I'm not sure that the character can take it – it makes the last 20 minutes quite difficult.
He made Mizgir more cruel than in the movie, in the story by Ostrovsky, but this movie is more like a fairy-tale, and he wanted to show the human being in the characters from real life, that people can be very nice and clear, very naïve and like a child, like the Snow Maiden. These people exist – there are probably very few in the whole world, but they exist. And really cruel people like Mizgir, purely egotistical people.
I find it fascinating that among the relatively few cuts, there's a moment where Mizgir falls in love at first sight with the Snow Maiden, and the music is supernatural – that had gone.
Tcherniakov doesn't believe that Mizgir fell in love. He doesn't think that any of the people in this production except for the Snow Maiden know what love is. Only she is capable of love. She takes this love for Lel through the opera to the end.
What you said about true emotion making it easy to sing means that the beautiful final duet with Mizgir, which is one of the greatest scenes in the opera, had a different dynamic, because you weren't surrendering, you were resisting. Did you manage to convince yourself it could work that way? It reminded me of The Rite of Spring, you as the Sacrificial Maiden, you're lying dead and they sing this jubilant final hymn.
It's awful, yes, she died and they forgot about her and carried on with their own lives. It's not a big change, in the movie it's almost the same. She melts, and they are saying, of course the death of the Snow Maiden is so sad but now we have the God Yarilo, the sun, it's a big holiday for them. Maybe melting is not so bad…
Were there a lot of differences between working for Graham Vick and working for Tcherniakov? That was quite a radical War and Peace, I was surprised the Russian audience accepted it.
You know, it was so many years ago already, it's difficult to remember…I think I was 25, four years ago.
Was that your first major role at the Mariinsky?
The first role in the Mariinsky was Susanna [in The Marriage of Figaro]. Gergiev came to the performance but he doesn't conduct it. He'd only heard me sing a couple of phrases from "Je veux vivre" [Juliette's waltz song from Gounod's opera] in London, and then he gave me to sing the new production of L'elisir, then Gilda [in Verdi's Rigoletto].
Watch Garifullina sings 'Je veux vivre' at the Vienna State Opera
I was 24 when I sang Gilda, my God, very early. I understand now that it's too early. The voice has to mature. I'll sing it in June in Vienna. With Graham Vick it was different. Tcherniakov has a very concrete idea of how you have to play it. I thought, OK, I don't have the freedom, he wants me to do it exactly. But now I think it's correct, because I am still young, and I needed this experience, and I think it was a good acting school, he's working for dramatical theatre in Moscow. I'm glad that I was patient and I did what was actually better. Graham Vick gave me more freedom, so I was thinking more about singing, and here in this production I was thinking more about acting. I don't think it disturbed my vocal technique. Maybe It gave more emotional motivation. Graham Vick was a very kind person, very careful with me, I was so young, he didn't want to disturb my vocal line, but I'm happy that I did Natasha. [Garifullina pictured below by Simon Fowler for Decca].
Your mother was your teacher?
When I was a little girl. She's a conductor and recognised that I could sing difficult lines when I was three years old, that I learned the text very fast, and the music – I was singing all the time. Songs from Russian movies for the kids, she gave me music lessons and taught me a couple of songs, and I took part in a kind of competition for kids up to the age of ten, there were no winners, there were prizes for all. But for my mother it was the first time that we are on the right path. Of course my mother didn't know we will come to something, to a big career, but she dreamed precisely to see me on the opera stage.
And when did it become clearer that you would be an opera singer?
She always believed it, but not me, I didn't think I could sing on the big stage, I didn't think I had a big enough voice. Once in my home city I came to the opera house and I had an audition, just for me, it was shortly before my Mariinsky debut, so I'd just graduated from the music university in Vienna, I was 23, and I thought I was ready not to sing in Vienna but at least in my home city where people know me. I did this audition, they didn't take me, they didn't even give me a small role, they told me I could be a chamber singer [laughs].
I started in Nuremberg, I met Siegfried Jerusalem in Vienna at a masterclass, my mum found it on the internet, she was searching – my parents wanted me to study in western Europe, it was not important where. They wanted a small town for me, not a big city like Paris or London. That would have been too much for a young girl. And my mother had my little brother so she couldn't go with me, so we chose Nuremberg and Siegfried Jerusalem, I studied two years with him. But the big dream was to study in Vienna. And I found a wonderful teacher, [American soprano] Claudia Visca [Anna Moffo's teacher] and finished my study in Vienna.
I appreciated how candid you were in the booklet note for the CD saying you didn't think you would be a pure coloratura soprano but a light lyric. Was it difficult finding the path, did you find you needed lots of advice?
No, not difficult. I never was a coloratura soprano, never, I don't have a G or an F, I have a darker colour than a coloratura soprano normally has, or so I was told by people I trust. So this question for me was whether the Queen of Shemakha (in Rimsky-Korsakov's The Golden Cockerel] was really for me, and also the Bell Song from Lakmé, which we transposed – but actually I found that there are two versions. In the opera it's in E but there is also a version in D by Delibes, it's written for a mezzo soprano but do you know a mezzo soprano who could sing a high D? I don't. It still sounds very high. But I wanted to take a part in this movie [Florence Foster Jenkins], it was such an opportunity to meet this wonderful cast, Meryl Streep and Hugh Grant (pictured below with Garifullina), and Stephen Frears is so nice to work with, I love him very much.
The part of Lakmé doesn't have much coloratura apart from the Bell Song, so perhaps you could sing the whole role?
Except the aria…maybe I could do this. But I never wanted to be a coloratura, I want one day to become a dramatic soprano, this would be interesting. I love it when a singer has very rich lower register.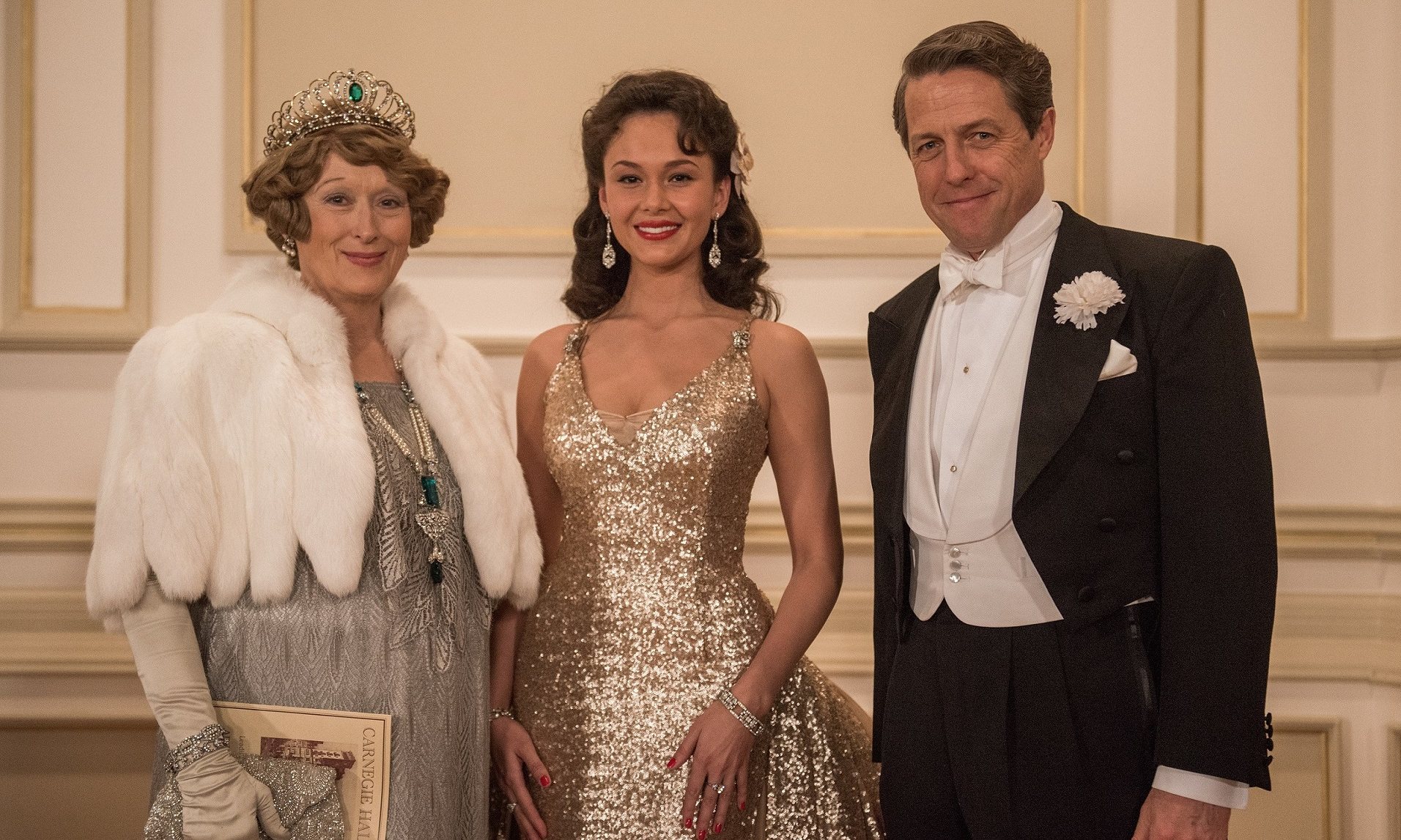 Now it's a question of where you go – is Tatyana in [Tchaikovsky's Eugene] Onegin a possibility?
Not yet. I'm very careful when choosing roles. I think I should concentrate on the roles I have to develop my voice. But an extra which I'd like to sing, and I've had a request already, Maestro Domingo advised me to take this role, is [Massenet's] Manon, and Juan Diego Florez wants to sing it with me after our Romeo et Juliette success in Vienna. And it's a great production in Vienna, quite an old one. This was one of the first productions I heard and saw in Vienna when I was a student and I bought one of those standing places to see it, I still think they are the best.
Who were your idols when you were younger, singers whom you wanted to emulate or still admire now?
Of course, Maria Callas, Anna Moffo, Joan Sutherland – her pianissimo I think is the best I ever heard. Of course if technically then Cecilia Bartoli. I love the recordings of Lily Pons, the voice is so clear. And Domingo, for me he is a big – I don't know if idol is the right word, I don't like this word much, but he's a guru. I call him my teacher because I learned from him so much, how to keep your voice still fresh as you get older.
You need to feel the emotion, it's not enough just to act it with the body, it will be fake
Share this article