Tosca, Opera North review - exciting update, strong on sonic thrills |

reviews, news & interviews
Tosca, Opera North review - exciting update, strong on sonic thrills
Tosca, Opera North review - exciting update, strong on sonic thrills
40th anniversary production of Puccini's 'shabby little shocker'
Monday, 17 September 2018
Bruised and bloodied: Giselle Allen and Rafael Rojas in Opera North's Tosca
Puccini's Tosca isn't a subtle work, and this, Opera North's fourth production since the company's founding in 1978, is occasionally too loud and crude. But it's undeniably powerful.
Edward Dick's 2017
Hansel and Gretel
left me a little nonplussed, but this
Tosca
is miles better, a colourful update which manages to juggle plenty of schlock with sound artistic nous. He's helped by
conductor
Antony Hermus, making his Opera North debut and securing some terrific, full-throated orchestral playing, much of it at the upper end of the dynamic scale.
Nab a seat near the front of the stalls and hold on tight; Hermus knows just how much he and his players can push the sound, understanding exactly what his leads are capable of. All of whom are exceptionally strong, each one a company veteran and sounding thoroughly at home. Designer Tom Scutt's sets are effective, a giant Pantheon-like church dome suspended at various angles and initially illuminated with a heavenly host of tea lights. You can smell the incense. Lee Curran's moody lighting designs help enormously.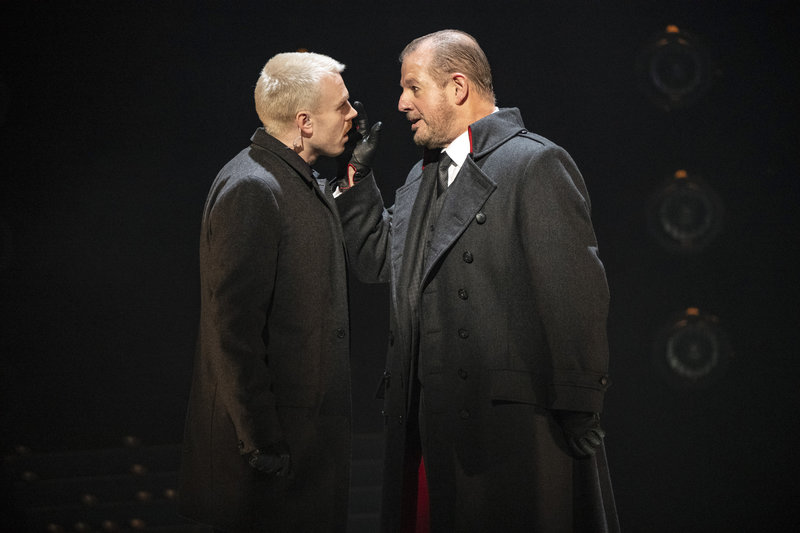 John Savournin's Angelotti is first seen sliding down a rope into the church, scurrying off into a dark recess like a scared mouse. Sacristan Matthew Stiff's banter with Rafael Roja's Cavaradossi is winning, and once Roja encounters Giselle Allen as Tosca we're off. Initially haughty and standoffish, she's a winning stage presence, the occasional edge to her voice making her Tosca all the more human. Importantly, both she and Roja can sing beautifully at high volume. Roja's physicality is impressive, his Cavaradossi changing size in front of our eyes: muscular, swaggering and confident in Act 1 and later, post-torture, a nervy, shrunken wreck.
Scarpia is Robert Hayward, here a menacing oaf. The second act places him in his element, in what resembles a naffly decorated hotel bedroom with too much black leather and shiny brass. Hayward invokes no sympathy whatsoever, a stentorian pantomime villain whose bloody demise is a real cause for relief, and whose post-show curtain call was greeted with a shower of loud boos and hisses. It's that sort of production. Rupert Charlesworth (pictured above right, with Hayward) plays sidekick Spoletta as a pallid, insipid fop, a hollow shell desperate for Scarpia's approval.
Dick's updates aren't as intrusive as one might expect. Angelotti's orange costume suggests that he's escaped from Guantanamo, and webcams and smartphones play their part. Scarpia's thuggish suited heavies are rightly terrifying, one carrying an ominous-looking briefcase. Cavaradossi's offstage torture is witnessed by Tosca via a laptop screen. The balaclava-wearing firing squad are a menacing bunch, the final minutes genuinely alarming. Allen's backwards leap is a heartstopper.
Where things do go awry is at the close of Act 1, with Puccini's dazzling mingling of sacred and profane becoming a Trumpian inauguration ceremony. Sonically it's astonishing – Opera North's chorus have long been one of the company's glories – but the stage feels too crowded, Dick's presumed points about the collusion between political power and organised religion too crudely made. If you find the visuals getting a bit much, you can always close your eyes – as said, this staging never sounds less than magnificent.
Cavaradossi's offstage torture is witnessed by Tosca via a laptop screen
rating
Explore topics
Share this article