Written On Skin, Melos Sinfonia, LSO St Luke's review - an ambitious musical achievement |

reviews, news & interviews
Written On Skin, Melos Sinfonia, LSO St Luke's review - an ambitious musical achievement
Written On Skin, Melos Sinfonia, LSO St Luke's review - an ambitious musical achievement
A taut telling of this timeless musical fable
Lauren Fagan, Ross Ramgobin and Patrick Terry in a tense triangle of emotions
Beautiful though Katie Mitchell's original production of Written on Skin is, George Benjamin and Martin Crimp's opera has always felt more at home in the concert hall. Last year's Barbican performance put Benjamin's meticulous orchestral writing absolutely in the spotlight, but perhaps this "concert-staging" – fully directed, but minimally staged – offers the best solution yet, allowing orchestra and action to share focus in this gripping piece of musical storytelling.
Because that's the power of this rarest of things, a contemporary opera that has already found a firm foothold in the repertoire. It's a story that seizes you in the opening bars and only tightens its grip in the taut 90 minute that follows. It doesn't matter that you know or guess the ending; Crimp's skill is in making inevitability utterly absorbing, while Benjamin's is in shading each episode, each step towards tragedy, in colours as rich and compelling as any in The Boy's illuminated book.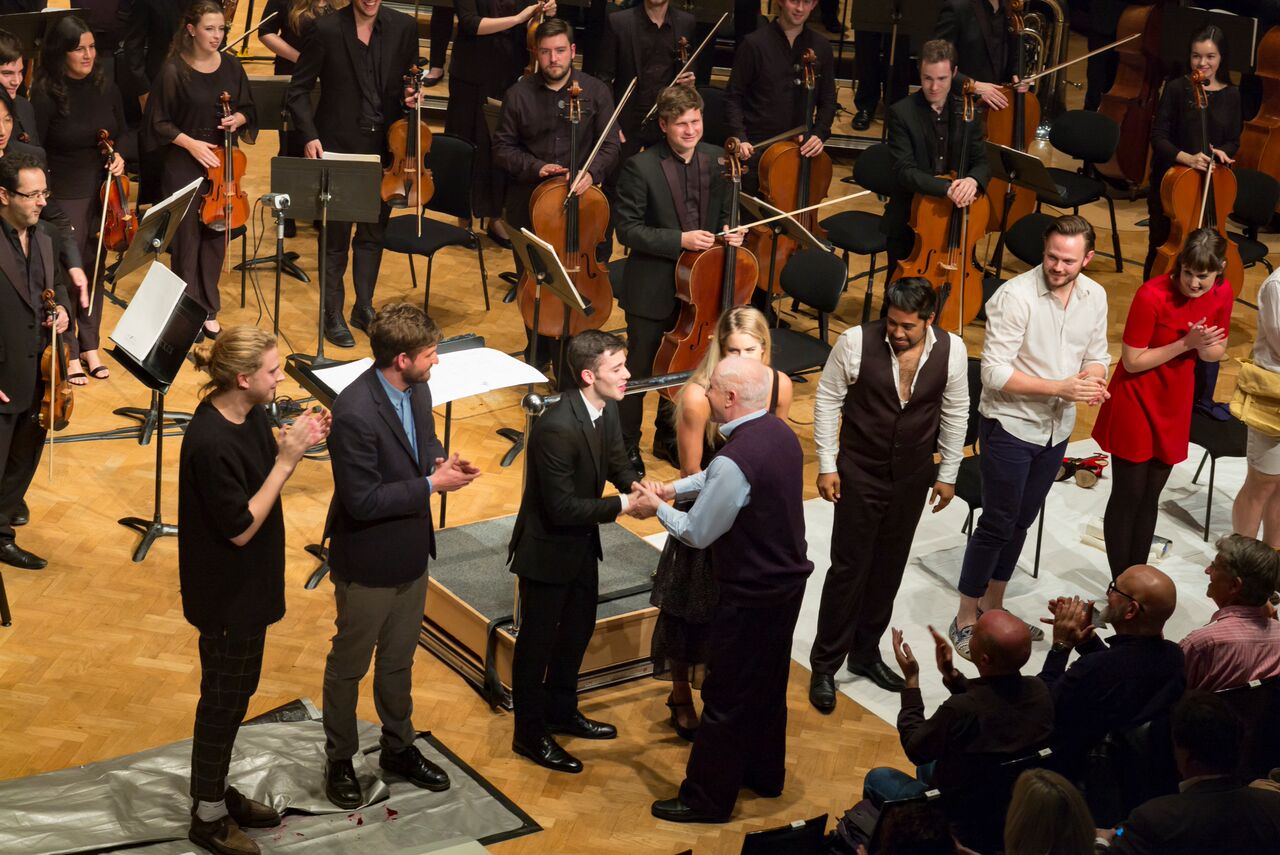 This touring staging (which travels to Cambridge, London and St Petersburg), masterminded by the young conductor Oliver Zeffman (pictured above with Benjamin and the cast the end) and performed by the even younger professional ensemble the Melos Sinfonia, is a mightily ambitious affair. All Benjamin's orchestra – from mandolins to viola da gamba, glass harmonica to elaborate percussion section – is accounted for, making a massive (sometimes just a little too massive) impact in the comparatively compact LSO St Luke's.
But more impressive than the sheer violence of the sonic effects here is the detail of the quieter passages, lovingly shaped by Zeffman and his band. The brittle, elusive tremor of mandolins as the illuminations work their charm on The Protector, the loaded significance of the glass harmonica that haunts and taunts Agnes as she falls under The Boy's spell – all emerge clearly, carefully balanced.
The beauty of Crimp's libretto, whose third-person descriptions can seem mannered in the opera house, is that it fills the gaps where elaborate visuals would otherwise be. At every moment he tells us where each character is, what they are doing, so all Jack Furness's deft staging here has to do is supplement the inner life of each episode. This he does with the help of a responsive and skilful young cast, who throw themselves at the demands of this piece without holding back.
It's Ross Ramgobin's Protector, his smile sharp as a blade, that sets the tone. Without his ferocity, his arrogance we'd lose the note of danger that must sound from the very start. His warm baritone, clearly articulated and projected, deploys Crimp's consonants like pistol shots, and finds plenty of colour to nuance the character's villainy. Dominating the stage-space, Ramgobin becomes the centre, not a point, of this love-triangle.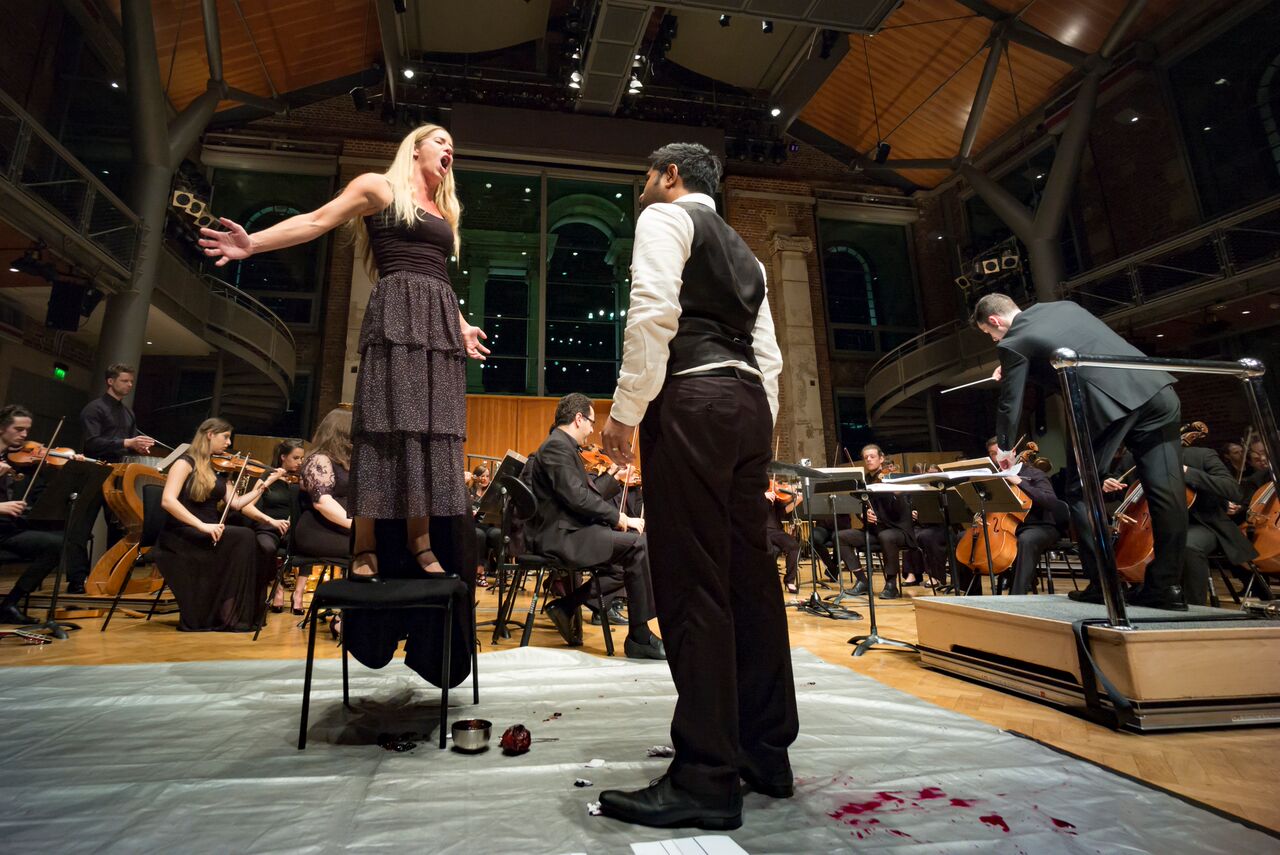 Lauran Fagan's Agnes (pictured above with Ramgobin) is a careful study in ambiguity, playing innocence off instinctive knowledge, agency off pliant passivity. The role's vocal demands are relentless (especially, as here, with no chance of leaving the stage for the opera's entire duration), and if she as yet lacks a full spectrum of textural effects, the control to mirror her character's many moods in song, she still gives us a compelling heroine.
She's hampered by a lack of chemistry with Patrick Terry's Boy (beautifully sung, but a little too ethereal to convince as the catalyst for this sexually charged fable), who must also style out an unfortunate piece of costuming. Nick Pritchard and Bethan Langford offer strong support as the interventionist angels and relatives, rounding out a precociously strong cast.
Zeffman and the Melos Sinfonia, guest artists at LSO St Luke's this season, have definitely made their mark with this show. Ambitious and expert, it won't be long before they're making their mark on larger stages.