2011: Wagner, Ketchup and Barbara Hepworth |

reviews, news & interviews
2011: Wagner, Ketchup and Barbara Hepworth
2011: Wagner, Ketchup and Barbara Hepworth
Triumphant Wagner, Icelandic black comedy and a spectacular new art gallery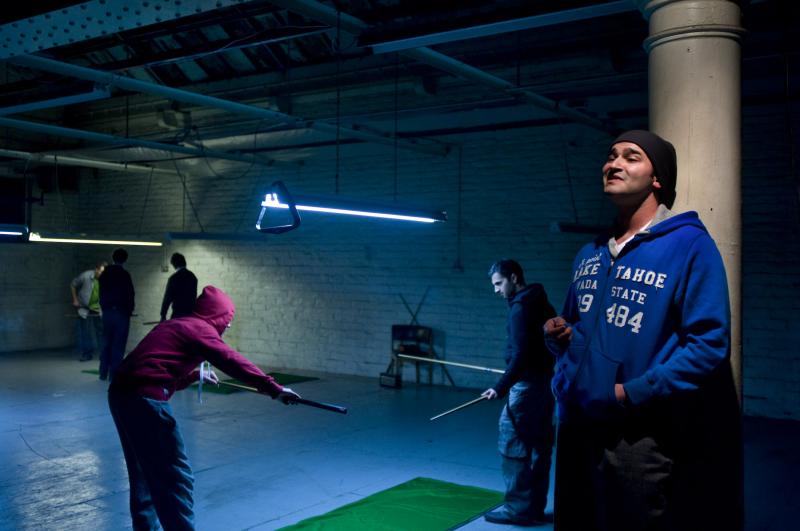 The Mill: City of Dreams - a superb piece of promenade theatre staged in a disused Bradford factory
The most memorable evening I spent in 2011 was as a paying punter, not a critic, listening to incendiary readings of Sibelius's Tapiola and Mahler's sprawling Symphony no 7, given by an augmented Orchestra of Opera North in Leeds Town Hall last March. Conducted by Jac van Steen, the symphony sounded terrific, but couldn't help seeming baggy and long-winded after a chilling performance of Sibelius's unsettling late masterpiece.
I enjoyed Opera North's flamboyant, ketchup-splattered
Carmen
, which director Daniel Kramer transposed to a trashy American trailer park. The company's semi-staged, long-planned production of
Das Rheingold
was a triumph. Unfussy staging, decent singing and Richard Farnes's clear-sighted conducting all came together in a long but entertaining evening.
Nothing made me laugh as much as BBC4's Icelandic sitcom The Night Shift (pictured right). It took a few episodes to warm up but became a funny, occasionally chilling study of workplace bullying, frustrated ambition and the dangers of wide-eyed optimism. Watching comedy with subtitles is a little disconcerting, as you invariably reach the punch line before the characters do, but nothing felt lost in translation. Whether the cash-strapped minority channel will broadcast the two sequels hasn't been confirmed, but fingers remain crossed.
David Chipperfield's new Hepworth Gallery, sited by the River Calder in Wakefield is a brilliant, public art space (pictured left). It's a touch bleak and forbidding from the outside, but the interior is full of life and light. There's even a children's' playground, making this the most family-friendly and accessible gallery I know. And the collection of 20th century British art contains some treasures – works by John Piper, Ben Nicholson and others besides items by Barbara Hepworth. It's also only a 15 minute drive to the spectacular Yorkshire Sculpture Park. Thinking about buildings reminds me of Freedom Studios' evocative site-specific theatre piece, The Mill: City of Dreams, in which the audience were led around a vast disused textile factory in Bradford.
I began watching the Coen Brothers' revamped True Grit in a late showing at a very warm, cosy cinema. Alas, after several frustrating minutes spent trying to decipher Jeff Bridges' Dylanesque mumblings I fell asleep, only waking up as the credits rolled. Later in the year, Duncan Jones's Source Code was sufficiently fast moving and engaging to keep me focussed. The English language dub of Studio Ghibli's Borrowers adaptation, Arietty, charmed, but the greatest pleasure was watching a reissued DVD of The Singing Ringing Tree. The most unsettling of cinematic fairy tales, and still spooky fifty years on.
2011 Highlight: The release, after 45 years, of the Beach Boys' SMiLE Sessions. Get the 2-disc box set and marvel at the young Brian Wilson's musical imagination.
2011 Letdown: Chris Lilley's 12-part comedy series Angry Boys. The Australian comedian's follow-up to the flawless Summer Heights High was too long, contained implausible, crudely drawn characters and just wasn't funny enough.
2012 Recommendation: Jo Davies's production of Carousel for Opera North, opening in May