Angus, Thongs and Even More Snogging, West Yorkshire Playhouse |

reviews, news & interviews
Angus, Thongs and Even More Snogging, West Yorkshire Playhouse
Angus, Thongs and Even More Snogging, West Yorkshire Playhouse
Billy Liar, Bridget Jones and Adrian Mole collide in an energetic adaptation
Thursday, 16 February 2012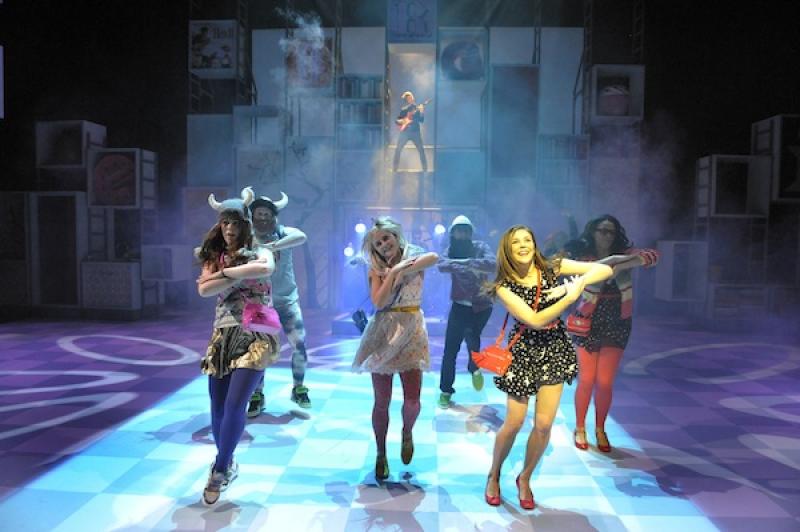 Plenty of kinetic energy on display: the youthful cast of Angus, Thongs and Even More Snogging in action
As an evening out, Angus is about as nutritious as the midget gems dispensed by one of the heroine's confidantes (and offered in heaps to the audience waiting in the foyer). Directed by Ryan McBryde, this stage adaptation of Louise Rennison's chirpy bestsellers just about hangs together, even though the moments where it succeeds most effectively are the points which most explicitly reference other coming-of-age narratives.
Rennison's source material does well in evoking the clumsiness, the sheer awkwardness of adolescence. And the familiar ingredients are all here: a quirky band of close friends, comically inept teachers and excruciatingly embarrassing parents. An oppressive brand of hormonal hyperactivity is evoked by Hannah Clark's set design, like a set of IKEA Billy shelf units on a grand scale, endlessly, inventively rearranged to suggest bedrooms, kitchens and classrooms. Their vastness also serves to dwarf the central characters, to accentuate their immaturity.
Georgia's innocence is nicely conveyed by the lurid Snogometer
There's plenty of kinetic energy on display, with most of the cast shimmying around in multiple roles. No one seems to stand still for more than a few seconds, and while the episodic, diary-entry format suits Rennison's books well, it can make for exhausting viewing. There are just too many manic climaxes and not enough time to pause for breath.
Naomi Petersen's Georgia (pictured right) possesses the right blend of cheek and sweetness, lusting after the slightly older, good-natured Robbie, charismatic lead singer in a local band. Georgia's innocence is nicely conveyed by the lurid Snogometer that sits at one side of the stage, its various levels illuminated as the kisses she experiences carry more weight. The first novel in the sequence was published in 1999 – a distant era when texting, tweeting and happy slapping barely featured in teenage lives, making Georgia's homely simplicity much more believable. Menace is briefly suggested by a trio of teenage boys circling the heroine and her friends near the start, but this edginess never rears its head again. Robbie quits the band to work on an eco farm in Scotland, leaving the field clear for Leon Scott's broadly-drawn comedy Italian to step in.
Inevitably, Georgia ultimately releases that happiness will rest with sweet local boy Dave the Laugh, credibly played by Lewis Rainer. Georgia's having to choose between different suitors and frequent retreats into fantasy suggest an updated, female Billy Liar, a parallel made even stronger by the cast's thick Yorkshire accents. Adrian Mole and Gregory's Girl also come to mind, though the poignancy and emotional honesty of Bill Forsyth's film are never approached. Robbie's uncomfortable explanation of exactly why he has to break up with Georgia is a touching scene, but it feels incongruous and lacks weight when surrounded by so much cheery slapstick.
The two best moments are dramatically inconsequential but very funny – an audition for a school production of Romeo and Juliet with the cast encased in stretchy red lycra, and the final two-minute distillation of the play, Shakespeare's text reduced to the barest minimum, which bursts with cartoonish energy. The adaptation would work so much better with a judicious bit of pruning and a more consistent tone. It's hard not to pick up the feelgood vibes when the audience are ordered to stand up and dance at the play's close. But fans of teenage chick-lit should realise that the books work much better.
Angus, Thongs and Even More Snogging at the West Yorkshire Playhouse until 3 March
Watch the trailer for Angus, Thongs and Even More Snogging
It can make for exhausing viewing. There are just too many manic climaxes
rating
Share this article