Anil Gupta and Richard Pinto: 'We figured Molière would have toyed with it too' |

reviews, news & interviews
Anil Gupta and Richard Pinto: 'We figured Molière would have toyed with it too'
Anil Gupta and Richard Pinto: 'We figured Molière would have toyed with it too'
The co-adaptors of the RSC's new 'Tartuffe' talk about translating a French classic to our times now
Wednesday, 19 September 2018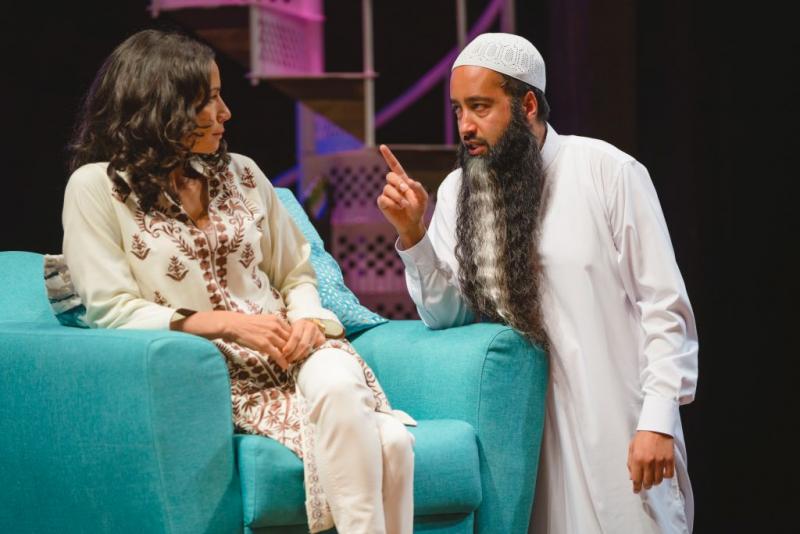 Modern times: Sasha Behar and Asif Khan in 'Tartuffe'
Back in June 2017, in the days when English summertime was a lazy idyll rather than an apocalyptic inferno, RSC artistic director Greg Doran met us at his office in Stratford-upon-Avon and asked whether we wanted to write a new version of Molière's Tartuffe.
For a couple of hack
TV sitcom
writers, Stratford was a culture shock. We're used to grubby Soho offices on streets strewn with chewing gum and diseased pigeons, with dried-out Pret a Manger sandwiches for lunch. Here, at the home of the Bard, there were half-timbered houses, meandering rivers and actual swans
–
a dizzyingly different experience (although we still had Pret sandwiches for lunch). But
Tartuffe
? A classic piece of 17th-century
French
theatre written entirely in rhyming couplets? This was going to need very careful consideration.
Once we'd bitten Greg's hand off, we realised we faced two new challenges: adapting someone else's work and writing for the theatre. The first bit had to be easy. The play's already written, right? Greg's idea was to shift the story to modern-day Birmingham, swapping a middle-class, French-Catholic family for a British-Pakistani Muslim one. Tartuffe, like all great plays, is about many things. Religion, hypocrisy, identity, belonging: all of these themes are in the mix, and they all have a contemporary – and often controversial – resonance within "the Muslim Community" (inverted commas denote lazy stereotyping alert).
In Molière's time, Tartuffe was, famously, banned because its subject matter was so controversial, and if you're going to present Tartuffe to a modern audience, you have to retain something of its original edginess. That's not to say it's all about the shock value. After all, at the heart of the play is a story about a family in crisis, and family is family, whatever your cultural background. So, once you have your new setting, you start doing a bit of research. We quickly discovered that Molière had a couple of advantages over us. One: he was a genius; and two: he was also an actor (not necessarily the same thing – I'm looking at you George Clooney). Being an actor gave him an invaluable insight into creating characters that would be a joy to play, which was great for us. But being a genius made his comic instincts infallible, so it was very hard to argue with him about the text. Let us explain ...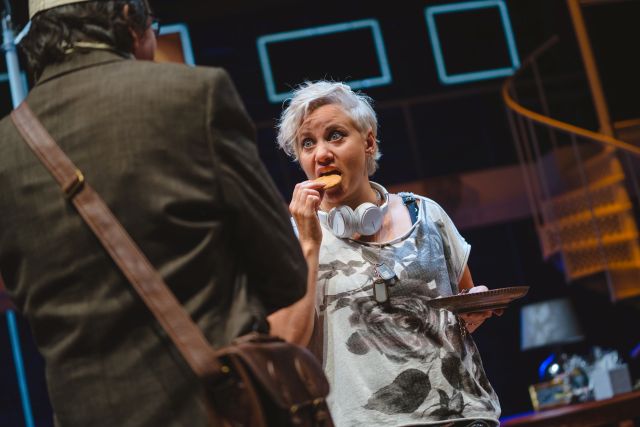 In poring over a writer's work day after day, week after week, you end up getting closer to them. You look at a scene or a gag and you think, "'Is this working? Can we do it better?", and you think about all the alternatives, and you realise none of them work –Molière has already thought about and dismissed them all because they're not as good as the version he ended up with. So a chapeau to Jean-Baptiste. (Pictured above: Michelle Bonnard as the Bosnian-born Darina, in this version of the play)
Having a good working relationship with a dead person is all very well, but how would we get on with all the live people who were actually going to be in it? That brought us to the second new challenge: writing for theatre.The difference you notice immediately is rehearsal time. In TV, a studio sitcom gets a week to rehearse and record each episode, which is pretty tight, and you're trapped in the same place, often the middle of nowhere, sitting around drinking lots of coffee – then queueing for the single portaloo with the broken flush that services the entire crew. It's a bit like staying in a category-C prison, or an all-inclusive holiday resort.
On this production, by contrast, we've had nearly three months of dedicated rehearsal time, most of it in a spartan, sweaty reahearsal room off Clapham High Street (so maybe not that different, after all?) But we've also found theatre to be an incredibly collaborative experience. We were introduced to our hugely talented and wise director, Iqbal Khan, very early in the process. Over the course of several drafts, Iqqy has poked and prodded us gently towards the point where we had a workable play that he could put on its feet. At that point the ridiculously talented cast came on board and immediately threw themselves into the project with awesome levels of passion and commitment. Obviously actors in TV shows are wonderfully committed and passionate, too, but in theatre the cast have the space and time to explore their character's back stories: their subtextual motivations, their unspoken inter-relationships – after all, they have to bring them to life not just once, but every night. (Pictured above: Raj Bajaj as Damee Pervaiz)
And Iqqy also brought to the table a fount of bold and exciting ideas, playing with not only the text but the design, the staging, the choreography, the music; he seems to have an instinctive understanding of the "theatricality" that "the theatre" makes possible. The point is, we had to be dragged there, if not kicking and screaming, then certainly frowning and tutting. And we've ended up with a wildly physical opening, an outbreak of rhyming couplets and even rap sequences (That's right, rap sequences. It's the dominant verse form of our age so we figured Molière would have toyed with it too. And if you don't believe me, ask him.) So now we have a play. And a cast. And a set, and lighting and musicians and a theatre. And hopefully we have retained the brilliance and power of the original whilst bringing it into the 21st century. And not just because there are Brexit jokes.