Cirque du Soleil - OVO, Royal Albert Hall review - fantastical creatures, heart-in-mouth thrills |

reviews, news & interviews
Cirque du Soleil - OVO, Royal Albert Hall review - fantastical creatures, heart-in-mouth thrills
Cirque du Soleil - OVO, Royal Albert Hall review - fantastical creatures, heart-in-mouth thrills
Athleticism, daring feats, grace and visual poetry in Cirque's animal world exravaganza
Thursday, 11 January 2018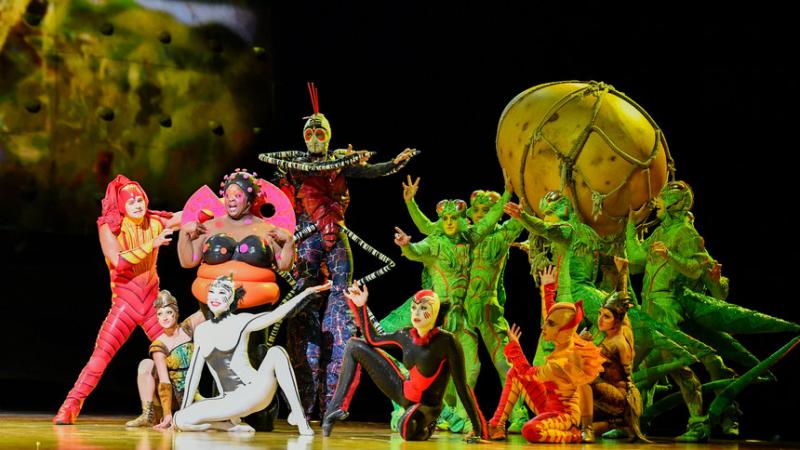 For their eighth debut at the Royal Albert Hall, mesmerising French-Canadian performance art company Cirque du Soleil takes the audience on a journey into the world underfoot.
As if minfied to the size of Wayne Szalinski's children in the 1989 film Honey, I Shrunk The Kids, we see what goes on underneath the canopy of grass. The fantastical creatures here inhabiting the earth's plant life include cutesy, choreographed red ants, foot-juggling slices of kiwi fruit and corn cobs; electric-blue lizards contorting and flexing; butterflies emerging from a chrysalis and soaring on aerial bungees; tumbling and somersaulting techno-geckos and a number of neon bugs performing astounding feats of daring and grace to a samba soundtrack.
With creative direction from their first female director, Brazilian choreographer Deborah Colker, the signature Cirque-style of daredevil tricks, quirky animalistic choreography, otherworldly characters, silent movie slapstick and enchanting world music is infused with a carnival feel and a score by Berna Ceppas that incorporates bossa nova rhythms, rock guitar riffs and electro beats.
It hangs on a very loose narrative – a blue fly, an outsider to this particular patch of grass, arrives bearing the load of a large egg, which he loses to the locals after becoming quickly infatuated with a lascivious ladybird. The egg later re-appears in a banquet-gesture festival of a finale, but it's token.
Although no one seems to care much about the plot. We're here for the heart-in-mouth thrills of high wire acts – acrobats swing and somersault, are thrown and catched, or flipped overhead in a 14m-high trapeze act. Green reptilian creatures scale a climbing wall before falling off the top to land on a trampoline, somersaulting away or running back up the wall.
The company pushes the limits of physical possibility, leaving jaws on the floor – they don't just perform tricks on a tightrope, they add a level of difficulty by having the tightrope slack so that it swings from side to side. But they don't just balance said swinging tightrope, they balance on top a metal pole on a swinging tightrope. Then, they don't just ride a unicycle on said swinging tightrope, they stand on their head, on the unicycle, on the swinging tight rope. Most of everything that everyone does in this show is impossible to believe unless you see it with your own eyes.
There's artistry and elegance in the acts that break up the acrobatic antics; contortionists seem to turn themselves inside out, sitting on their own heads and dissolving their bones to jelly to perform poses so far beyond the splits, there must be a new name for it. A high dose of cheeky slapstic keeps the narrative rolling along, with an element of audience participation in which London's Alexandra Burke was chosen to get up on the stage and take part.
It's the first time I've been in an auditorium where the audience is actively invited to photograph and take videos to share on social media. But there was an interesting lack of noticeable snapping and posting – perhaps because they simply didn't want want to miss a beat of these curious creatures, their astounding athleticism and their uniquely gracefully storytelling.
The company pushes the limits of physical possibility, leaving jaws on the floor
rating
Explore topics
Share this article