Daddy Long Legs, St James Theatre
Daddy Long Legs, St James Theatre
Musical adaptation of Jean Webster's 1912 novel suffocates on its own good taste
Thursday, 08 November 2012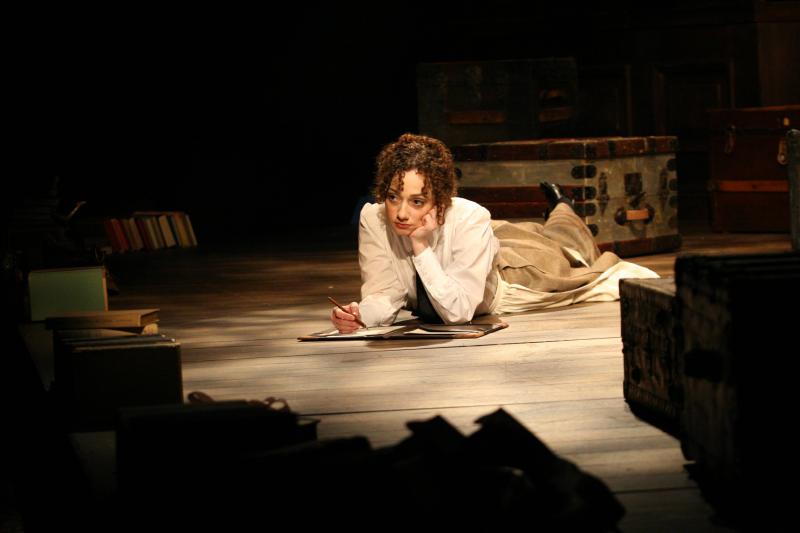 Megan McGinnis (Jerusha Abbott) in 'Daddy Long Legs'
Confession time: I'm a sucker for a romantic reunion. When lost-presumed-dead twins Sebastian and Viola finally rediscover one another alive and well at the end of Twelfth Night, you'll find me in tears. And, yes, the late, great Nora Ephron's New Year's Eve climax in When Harry Met Sally works every time. All of which makes me more than well-matched for the musical-theatre version of the epistolary romance Daddy Long Legs. Dear Reader, I remained dry-eyed.
For their musical version of Jean Webster's 1912, Anne of Green Gables-tinged bestseller, composer/lyricist Paul Gordon and bookwriter/director John Caird have stuck more closely to the original than most. Numerous screen versions starring everyone from Mary Pickford to Leslie Caron via Shirley Temple have variously changed the story, but here we're back to lonely 17-year-old Jerusha who is plucked from a forbidding orphanage and educated at an expensive college courtesy of Jervis, an unknown benefactor with whom, via letters, she falls in love.
Almost all of the 27 musical numbers sound the same
Those monthly letters, formally requested by Jervis who announces from the outset that he will not reply, form the narrative. As Jerusha, spry Megan McGinnis (pictured below right) writes to him (and sings to us) as she is inducted into the world of education and privilege. As the months and years pass, she grows from the exuberant but untutored orphan who knows nothing of her background, to a forthright, intellectually engaged young woman. And for all that time, she yearns to meet the man who has given her such advantages.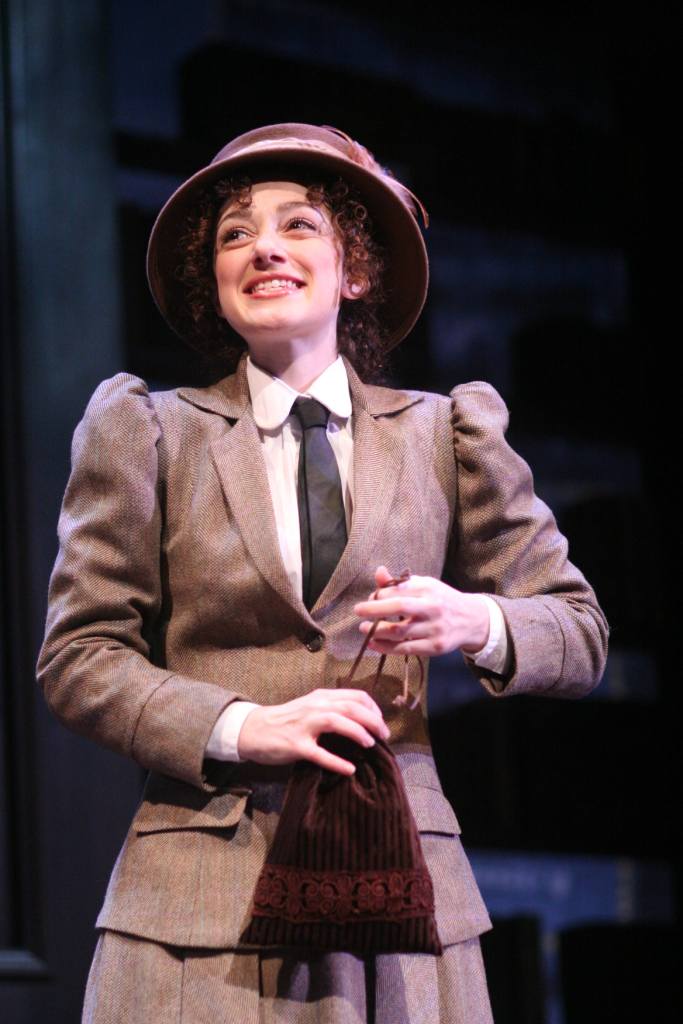 Having only ever glimpsed him once in shadow, she believes him to be elderly and tall, hence the nickname "Daddy Long Legs". And with everything seen from Jerusha's viewpoint, it's the complete lack of contact with him which that gives the novel its tension.
In order to flesh out the staging, however, Caird and Gordon double the perspective. Their version allows us to watch not just Jerusha sitting and flitting about downstage, but repressed, buttoned-down Jervis too, who, receiving and reflecting upon her letters, remains mostly upstage seated at his desk in the predictably book-lined study of David Farley's dutiful set.
His presence appears to be an attempt to parallel Jerusha's emotional growth with that of Jervis. As in Ephron's Sleepless in Seattle it's a balancing act showing the coming together of two isolated people in order to enhance the emotional climax with the long-for, much-delayed final meeting. It also provides another voice, thereby allowing Gordon to write two-part harmony and duets rather than compose what would otherwise be little more than a solo song-cycle. Yet the addition creates as many problems as it solves.
Not only does it kills the tension and surprise of the climax, it pushes Jervis into the spotlight. Unlike Jerusha who has everything from excitement and surprise to hope and disappointment to sing about, he has almost nothing. His character is entirely formal and rigid, so much so that almost all he does is spend years rejecting her (innocent) advances. He has barely anything to do but (very slowly) thaw, which is not only undramatic, it doesn't lend itself to the emotional release of singing.
But even in the few scenes he has with Jerusha when, unbeknownst to her, he visits her in another guise, Robert Adelman Hancock (pictured left) fails to take advantage. He patiently displays each of required emotions as directed, but has little energy and conveys not one moment of imagination, the quality that Jerusha's lyrics consistently praise so very highly.
Much of this might be less noticeable were the score stronger. Gordon's nicely played and sung music for five-piece (violin, cello, guitars and percussion) ripples with accompanying arpeggios beneath gently moving melody attached to, mostly, turn-of-the-century waltz-style rhythms. But almost all of the 27 musical numbers sound the same. You could argue that's evidence of a style, but when that style creates numbers for an open-hearted young girl and an uptight man which are interchangeable, it sounds more like weakness. And if the word "uptight" feels aggressively modern, that's a reflection of the anachronisms of his lyrics. In the intended "take-home" number, we're told that "The Secret of Happiness" is to "enjoy the ride" and to be "in the now", phrases somewhat uncommon in 1910.
Caird's staging – complete with assorted packing cases and trunks as in his productions of everything from Candide to The Seagull and Hamlet – has one trump card in McGinnis. Armed with a light soprano with a sweet, fast vibrato, she shimmers with hope and keeps the entire evening afloat without ever straining for effort. She gives the material limitless charm but, as the woefully underwritten climax sadly illustrates, even she cannot save the show from suffocating itself in its safe good taste.
It's a balancing act showing the coming together of two isolated people in order to enhance the emotional climax
rating
Explore topics
Share this article