Death of a Salesman, Noël Coward Theatre |

reviews, news & interviews
Death of a Salesman, Noël Coward Theatre
Death of a Salesman, Noël Coward Theatre
Stunning performances make Miller's masterpiece burn
Highly charged: Willy (Antony Sher) and Linda (Harriet Walter)
We've not been short of memorable London productions of Arthur Miller's best known works. Ivo van Hove's triple Olivier award-winning A View from the Bridge, which transferred to the Wyndham's Theatre from the Young Vic earlier this year, and the Old Vic's The Crucible, directed last year by Yaël Farber, were two exceptional productions. And now we have the seminal play of the 20th century.
The RSC's
Death of a Salesman
arrives from its short run at Stratford garlanded with plaudits, but it's even better in this West End transfer.
The smaller stage and more intimate auditorium of the Noël Coward Theatre immediately gives a more focused energy to Gregory Doran's production. There's an intensity that just occasionally flagged on the huge thrust stage of the main Stratford theatre. With the exception of Harriet Walter, whose performance at Stratford was already pretty much pitch perfect as the pragmatic but put-upon Linda Loman, the rest of the cast seem to physically inhabit their characters with just that bit more ease and conviction.
Antony Sher's labile and voluble Willy Loman suffers no stiff gear changes, as we saw in the hesitant opening scenes of its earlier incarnation, and Alex Hassell's Biff, whose unsettledness and longing for nature and open spaces echoes the "temporariness" and longings of his father, conveys a greater sense of pent-up, self-mocking rage. When he tells Happy (Sam Marks) that "Maybe I ought to get married," he emits a short, bitter laugh. Finding himself once again sharing a bedroom with his younger brother in their childhood home, this is just one more dream that mocks and eludes him.
There's a depth she brings to a role which gives Linda almost no interior life
Unable to connect with the world or to one another, here are three lost "temporary" men, whose manhood is challenged on one side by the automaton Ben (Guy Paul), Willy's ruthless and money-making-machine older brother, and Charley (Joshua Richards), Willy's easy-going, jocular neighbour who keeps Willy financially afloat but who is continually rebuffed by him, despite Willy's emotional neediness. When Willy's pride reasserts itself in their scenes together, it does so with displays of rattled fist-shaking and challenges to a fight. Sher's exhausted, corpulent 60-year-old acts every year his age. Meanwhile, Charley's son Bernard (Brodie Ross) is held up as the exemplum of the lessons and values Willy failed to instill in his own sons.
Whereas Biff's disillusionment is shaped by genuine insight, Hap echoes that other facet of his father's character – his self-delusion. Within the fluid, dream-like structure of the play, which sees Willy's interior and exterior worlds collapse into each other, the two actors playing Willy's boys become scampering adolescents, showing off their sporting prowess in the backyard, idolising their father like two dopey puppies and eagerly lapping up his self-aggrandisements. And there are laughs too, particularly when Hassell's Biff enacts a series of cheesy sports-hero poses as the spot-lit, all-American football star conjured up by his father's meandering mind.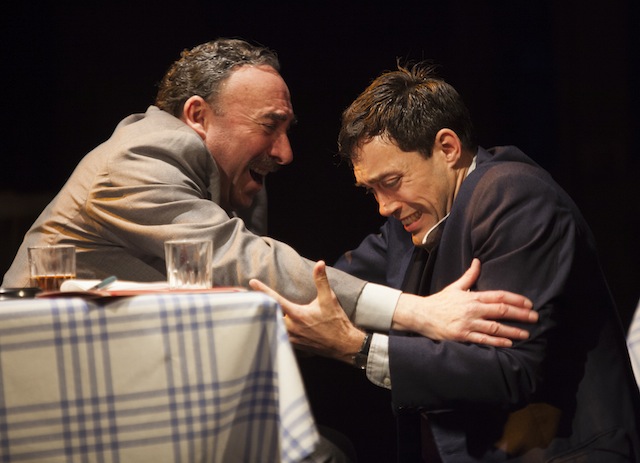 Though not quite its lynchpin, Linda is the play's emotionally still centre. And it's a role that Walter, with her deliciously broad Brooklyn accent, seems to make so much larger than it appears on the page. There's a depth she brings to a part that gives Linda almost no interior life. When Walter manages to pull off the line, "Attention, attention, must be finally paid to such a person" – hardly the easiest to speak – there's a rawness in her commanding delivery. This time Sher matches her in the highly charged, high-emotions stakes. Towards the end, there are plenty of sniffles as Willy and Biff engage in a kind of desperate fight/hug/collapse (pictured above, in an earlier scene).
Given the imaginative staging of A View from the Bridge, which set the action in a kind of sealed-off, minimalist hothouse, the naturalistic setting here (designed by Stephen Brimson Lewis) seems a little humdrum, a little predictable, perhaps a little dated. But here the play's realism is weighted against its stylised expressionism and comes down on the side of the former. It's the lighting, which makes the backdrop tenements translucent with a hint of green during scenes of the imagined past, and the music – lyrical and reminiscent of the vast plains of America in the opening scene (a motif that recurs when we hear how Willy's father, himself a travelling salesman, made and sold flutes in the Midwest) and jazzier in the later New York scenes – which are left to work their magic. Working their magic, too, are of course the stunning central performances.
Whereas Biff's disillusionment is shaped by genuine insight, Hap echoes that other facet of his father's character – his self-delusion
rating
Explore topics
Share this article