Edinburgh Fringe 2023 reviews: Tennessee, Rose / The Ballad of Truman Capote |

reviews, news & interviews
Edinburgh Fringe 2023 reviews: Tennessee, Rose / The Ballad of Truman Capote
Edinburgh Fringe 2023 reviews: Tennessee, Rose / The Ballad of Truman Capote
A playwright's guilt, and a playwright's ego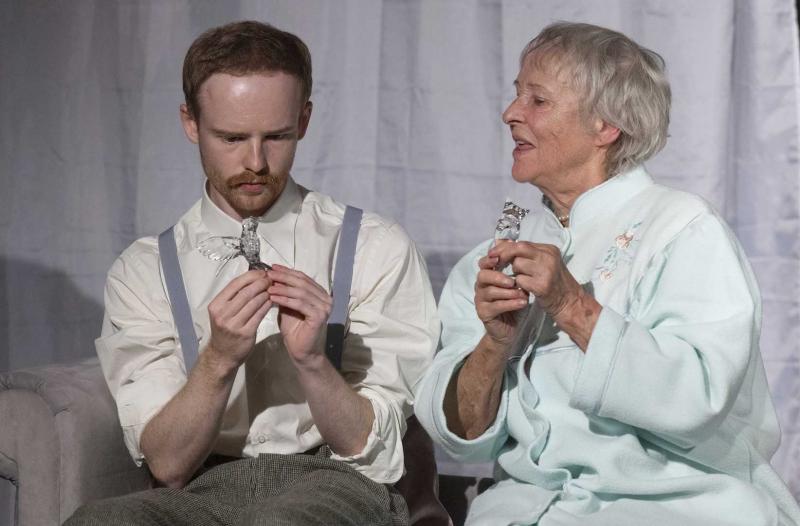 Aron Dochard as Tennessee Williams and Anne Kidd as his sister Rose
Tennessee, Rose, Pleasance Dome ★★★
Clare Cockburn's new play posits the notion that all the women in Tennessee Williams' work were inspired in some way by his older sister, Rose, who spent most of her life in mental institutions after being lobotomised.
Cockburn explores how Tennessee Williams' raw examination of the human spirit and the repeated themes of forbidden love, betrayal and mental fragility in his work came from his own life.
Cockburn works in two timeframes: one where Rose (Anne Kidd) is old, feeble in mind and body, and another, back when she and Tennessee (Aron Dochard) are children, at ease in each other's company, but fearful when their mother (Helen Katamba) hoves into view.
Katamba also plays a kindly nurse, Felicia, who tries to draw adult Rose out of the locked world she's in – a state the American playwright called "tragically becalmed" by medication and the outlandish therapies visited upon the mentally unstable at the time – by helping her make a quilt of the important figures in her life.
Under Patrick Sandford's direction Tennessee, Rose tells an interesting story with tenderness, both for Rose and Tennessee, tortured by his belief that he could have done more to rescue his sister.
The Ballad of Truman Capote, The Space @Niddry St ★★★
Novelist Andrew O'Hagan's debut play (which he also directs) is a one-hander about American novelist Truman Capote, performed by Patrick Moy.
We're in Capote's suite at the Plaza Hotel New York in 1966 as his A-list guests are arriving downstairs for his famed Black and White Ball, and it's aphorism central. "We must have style at all costs," Capote says, and "Sex is an act of loneliness."
As he fields phone calls from people hoping to blag an invitation – it's a definite no for popular novelist Jacqueline Susann from Capote, an out-and-out snob – he pre-loads on martinis and talks about his life and career, and gossips about everyone who is anyone in American public life in his day.
There's much to enjoy here – not least Moy capturing Capote's distinctive voice and mannerisms, and several witty lines – but it's hardly a deep dive into the American's seemingly rich life. Capote flits from one, name-dropping subject to another and, while it's fun ticking off a mental checklist of the famous names we hear, we learn little about Capote's inner world.
It tells an interesting story with tenderness
Explore topics
Share this article