'First read-throughs have magic': Simon Stephens on Heisenberg: The Uncertainty Principle |

reviews, news & interviews
'First read-throughs have magic': Simon Stephens on Heisenberg: The Uncertainty Principle
'First read-throughs have magic': Simon Stephens on Heisenberg: The Uncertainty Principle
The playwright describes the first day of rehearsal of a new play produced by a new company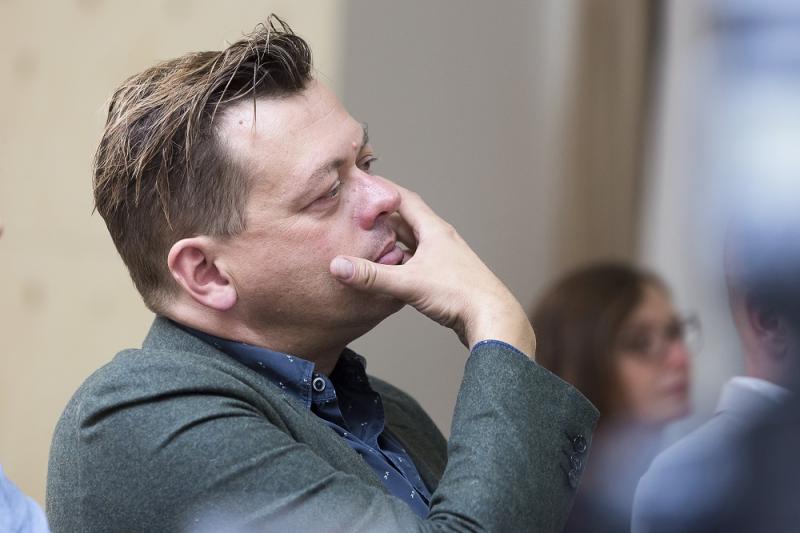 Simon Stephens in rehearsal for Heisenberg: The Uncertainty Principle
All theatre workers have a day that they dread. For actors there is a particular terror about a first preview that can fuel those performances with adrenaline. For playwrights - well, for me at least - it is the first time a play is ever read out loud by a company of actors. This never fails to shred me. I had been working as a playwright for five years, though, before I realised how much directors hate the first day of rehearsal.
The first day of rehearsal is the day many directors feel they most need to prove their validity. They need to inspire and galvanise a company of actors and ac creative team with a clear articulation of their vision. Many of them dread being exposed as frauds when they have to address a room for the first time.
Marianne Elliott (pictured below) has directed four productions of my plays. Her production of Heisenberg: The Uncertainty Principle will be the fifth. Three weeks ago I was at her first day of rehearsals for this play. It struck me that fundamental elements of her work were revealed with clarity on that day.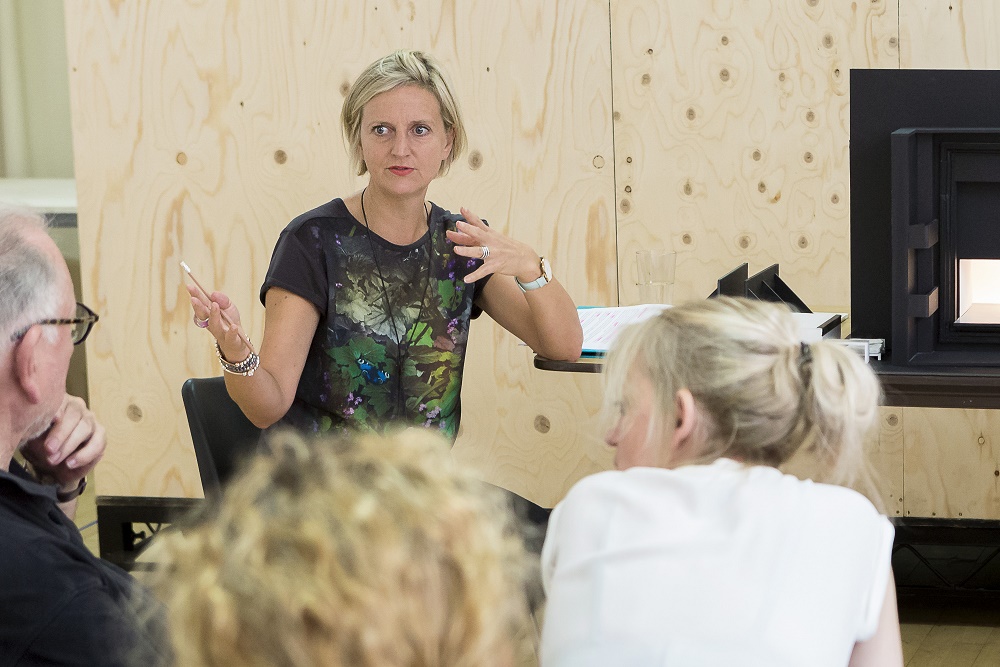 There is a received protocol to these first days that many people who have rehearsed in the theatre may be familiar with but many readers might be new to. Ordinarily the company of actors and the artistic team, which will include the playwright if it is a new play, will gather in the rehearsal room. Gathering with them will be the staff of the producing theatre. If this is a theatre building this staff may be considerable. A first day of rehearsal at the National Theatre might gather together 50 people or more. If it is a production company, as is the case with Heisenberg: The Uncertainty Principle, it will be a smaller staff. But even on that first day there were people I had never met before.
Everybody will edge towards anybody they know. It is like the first day of a new school. You gravitate towards the familiar. Unlike on that first day though, it normally starts at 10 o'clock not 8.30 and there is often free tea and coffee and if you're really lucky doughnuts or biscuits or, my favourite, plastic tubs of chocolate-covered Swiss rolls. There may be a speech. On our first day Chris Harper, the producer of Elliott & Harper Productions, spoke about my play with touching enthusiasm and also introduced the company that he and Marianne have started to the world.
It felt like a privilege to be there. This was not just the start of a new production of one of my plays. It was the start of a whole new theatre company.
Then everybody in the room forms a circle and goes round and says who they are. I try desperately to remember the names of as many people as possible and nearly always fail. And then the people with proper jobs leave the room. And the actors and artistic team are left behind to start work.
And this is when the directors reveal themselves.
For Heisenberg: The Uncertainty Principle there was a particularity. Marianne had decided rather than to speak about the play directly, to introduce the company and creative team to the astonishing set that designer Bunny Christie (pictured below) had made. Bunny had brought in her model box. The model box is exactly as it sounds. A model of the set in a box. I love model boxes. They are like doll's houses. They are like little playgrounds. Through them is revealed the extent of the imaginative work of the design team as they have tried to make real and concrete something I imagined in my head. I find them fascinating and humbling.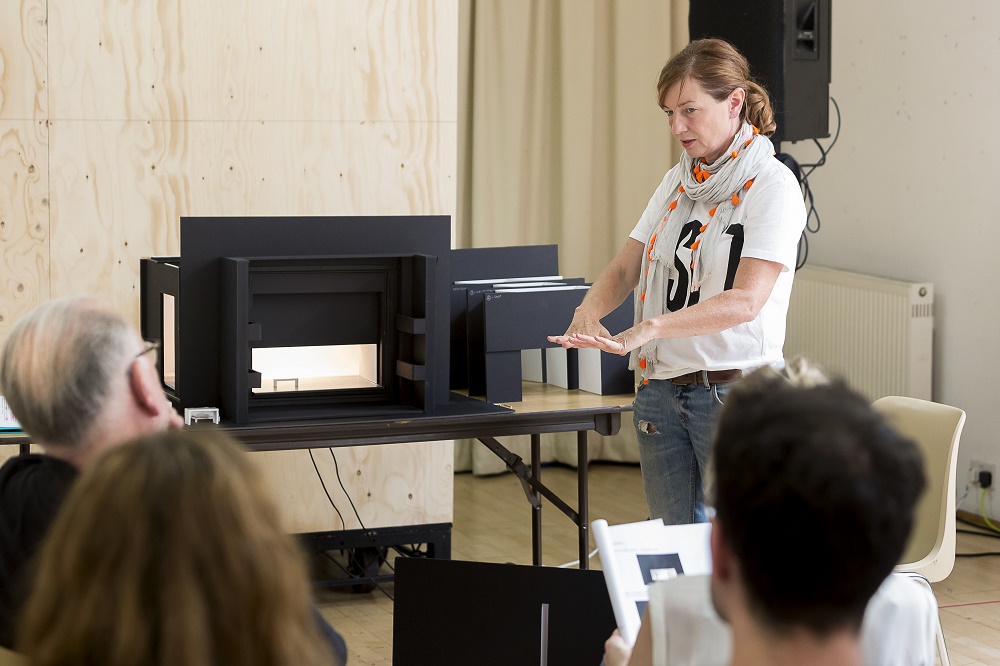 Bunny's design astonished me. It is a concept built around sparseness and the emotional potency of light, She has created, in effect, a light installation with a spacious stage. She has made something exquisite in itself. In doing so she has found a way to allow our actors to play.
And while she did that Marianne spoke about my play. I think Marianne Elliott is an extraordinary director. I think she is one of the best theatre directors in the world. I think this is for a simple reason. The level of detail and rigour of her work is peerless. And it is revealed, as she is revealed, on those first days when she talks about the play she is about to direct.
Playwrights don't know their plays as well as those who release them. They can't. We don't know our plays in the way that we don't know our own accents or our curious physical quirks. They are made unconsciously. We need our collaborators to reveal them and if we are lucky they do so with detail and intelligence.
The way Marianne talked about Heisenberg: The Uncertainty Principle filled my heart. She talked the company through the design shifts of each scene. And in so doing so she revealed how deeply she knew my play. She knew its every shift and every movement, she could draw on every line of dialogue and image and action effortlessly. She spoke of my play as being as much about yearning and loss as it is about love, and she is right. She knew my play more deeply than I knew it myself.
So the model box showing over, we broke for a coffee break and to check our emails and have a pee and finish the doughnuts. And came back, a still smaller group and our actors Ken Cranham and Anne-Marie Duff (pictured above right) read the play together for the first time. First read-throughs have magic. The intuitions of actors, unrehearsed, reveal their timbre. I know of no better stage actors than Ken Cranham and Anne-Marie Duff. When they read my play on that first day they bought themselves fearless to it. In doing so they released the hope and the love that I knew was in the play. And also the sadness and strange tension between optimism and loss that Marianne spoke of. Two characters that may at times feel like they are at the end of their lives find the possibility to begin a journey that is big enough to cross an ocean. With their stillness and their remarkable capacity to listen they quite broke my heart.
Heisenberg: The Uncertainty Principle is a play about people finding the bravery to embark on a remarkable journey. The first day of a theatre company can only ever be described in the same way. People have been brought together by Elliott & Harper Productions to embark on a remarkable journey. The way Marianne introduced and shepherded her actors through that first day left me with the sense that the journey my play was about to embark on may be just as remarkable as the journey their characters take and potentially quite exquisite.
Heisenberg: The Uncertainty Principle at Wyndham's Theatre from 3 October to 6 January
Playwrights don't know their plays as well as those who release them. They can't
Explore topics
Share this article