Groundhog Day, Old Vic review - Tim Minchin's musical returns in full-on style |

reviews, news & interviews
Groundhog Day, Old Vic review - Tim Minchin's musical returns in full-on style
Groundhog Day, Old Vic review - Tim Minchin's musical returns in full-on style
A bravura turn from Andy Karl propels a tricky piece over its self-created speed bumps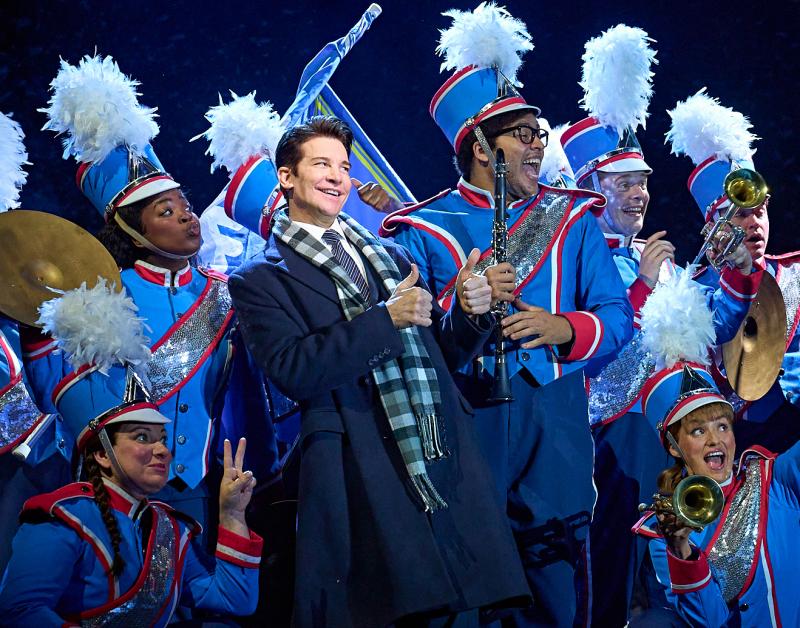 Dynamic: Andy Karl and the company
Groundhog Day, appropriately, is back where it started. The hit film about a TV weatherman's endlessly reiterated day in small-town USA moved to the Old Vic stage in 2016; but then its progress became bumpy, despite the awards showered on it and its lead, Andy Karl, on both sides of the Atlantic. Karl was injured during a Broadway preview and the show's US tour didn't happen.
Leading it again, Karl is still a galvanising force, perpetually in motion and hardly ever offstage. And with Matthew Warchus back in the director's chair, the piece is as full-on, raucous and tricky as before.
Karl's handling of the role of Phil Connors, the Pittsburgh weather forecaster who once a year has to grit his teeth and head for Punxsutawney, is key. Phil is a monster of ego, arrogance and urban snobbery, not to mention a womanising creep. For him, the small Pennsylvania town where an annual weather-forecasting ceremony is performed using a groundhog (also called Phil) is a case of "big mouths, small ideas". Pot, kettle?
The opener is all razzmatazz: a big-band number for pom-pom flourishing cheerleaders and a marching band, with the town's elders in Victorian coats and top hats. It's almost vomitously exuberant. But equally, Phil's scornful dismissal of it is manifestly unkind. An important image heads this section, of a small toy TV van coming to town while being bombarded by elders chucking shovelfuls of snow over it. It's an interesting portent.
Indeed, Phil's world shrinks after the groundhog has been put back into his cage for another year; Phil's cage is a motel room with decor from the early 1950s, scaled to look small and narrow, into which he wakes every morning to the inane jingles on his clock radio.
As his nightmare unfolds and the action starts repeating itself, there is a big speed bump for the piece to surmount: we have to get our heads round Phil, and Phil is a deeply unpleasant man, however smart. He is mean to his producer Rita (Tanisha Spring, pictured below with Karl), rude to the locals, smarmily predatory with any pretty women he encounters. The town, he sings, is "all haystacks and horses where there should be golf courses". The battle Iines are drawn.
Tim Minchin's lyrics are potentially lethal weapons here, though they rush past almost too hurriedly at times for ears unaccustomed to them. More successful at plugging the show's themes are a handful of solos and bursts of dialogue, especially the scene in which Phil, having tried numerous remedies for his condition (including an enema conducted in silhouette behind a screen), gets rapidly sloshed at a bar with two "hayseeds" and bemoans his lot: how would they like being stuck in one place, where every day is the same? Quite.
The process of getting Phil to see this world clearly still has the whole second half to go at this point, and you fear the tedium of his existence will spread to the musical. But, like the film, Danny Rubin's book cleverly rings the changes, using repeated fragments to offer insights into Phil's evolutioni: first, exploiting the superior knowledge of the townspeople his daily visits give him — chatting up women using information they have unknowingly given him on a previous "day", for example, to impress them -- then grasping that his actions have no apparent consequences, which leads to an inventive scene where he and his bar buddies go driving under the influence and judder along some railway tracks. Finally, he decides he is a god.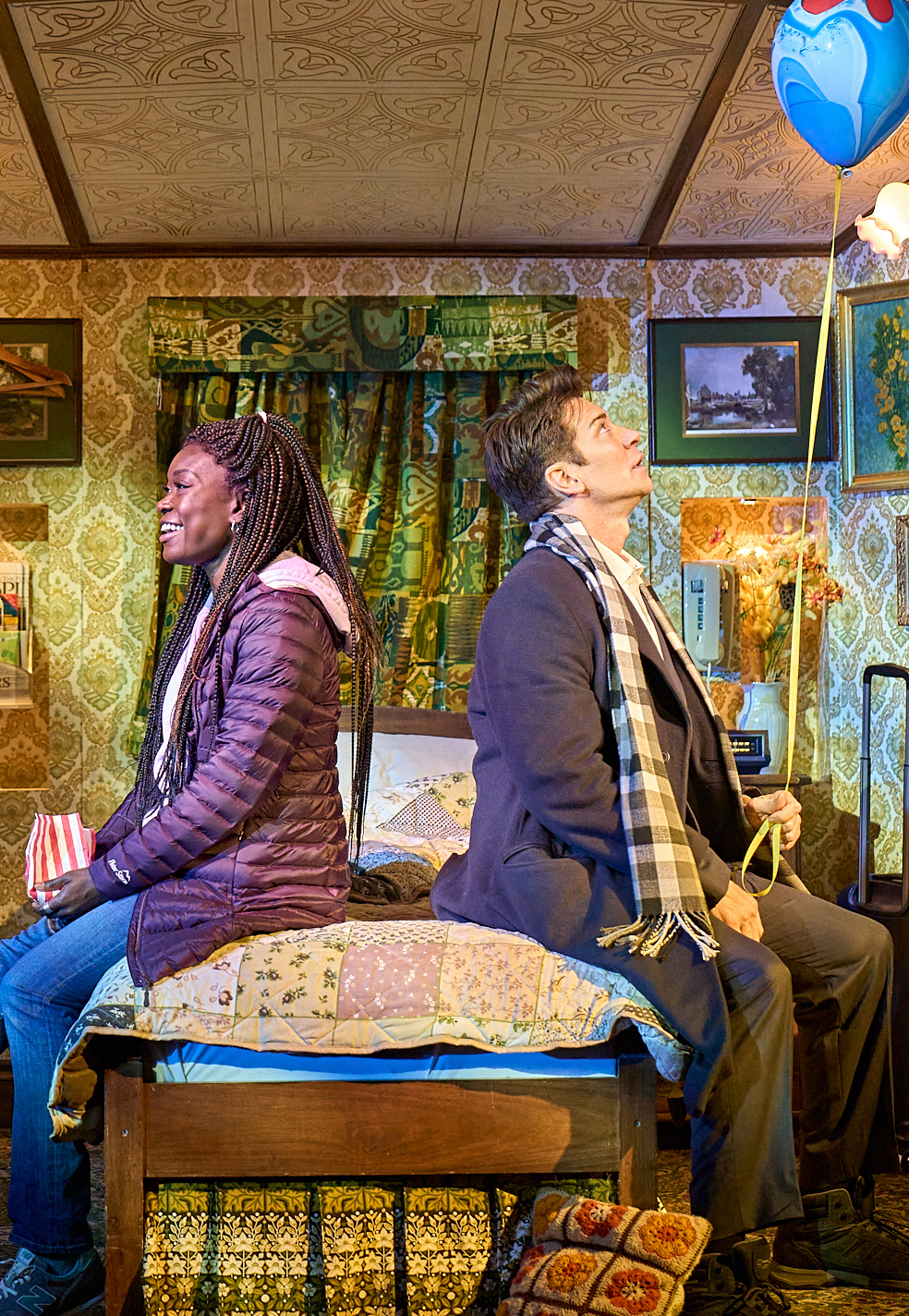 Rita has her own character to develop, which is tricky given that strictly speaking we only see her over a 24-hour period. But as the first part moves on, you realise she is an able opponent, a woman who does not want to end up with a "condescending clown". Nancy (Eve Norris), a cowboy-hatted cheerleader, adds to the debate with a lovely solo about the perils of being pretty, with the contentious line that it's "better to be leered at than not desired at all".
As the scales start tipping Phil towards self-awareness and an understanding that being kind is its own reward, the show opens out and reveals a more positive core. (This despite Phil going on a rampage with a gun one day, committing suicide in the shower with a toaster on another. And sleeping with 80% of the town's women — and some of the men, "when I was bored".)
Throughout, Karl shows his strengths, not just as a sound singer and athletic performer, but as a careful actor who can convince us of Phil's complexity and his ability to change. It's a bravura performance, bolstered by a strong set of supporting roles. Especially affecting is Andrew Langtree's Ned Ryerson, a sad, stoical insurance salesman who was at high school with Phil. The piece could perhaps do with more quiet solos to balance out the mayhem of the staging.
It looks glorious, though, with little lit-up houses around three sides of the stage, and filigree screens that whiz in as backdrops for scenes in the bar and diner. Phil's motel-room cubicle is perfectly pitched as a home-crafting nightmare, all crochet and faded quilting. There are brilliant comic touches, too, such as the man in a groundhog suit who regularly wanders in and proves nifty behind a drum kit, and the repeated ruses for swapping another actor unnoticed into Karl's role, so he can pop up where you least expect him, at maximum velocity. Everything here happens at maximum velocity, as if pausing would risk the works gumming up. It's faintly exhausting, but oddly uplifting too, and by the finale the razzmatazz feels wholly earned.
Groundhog Day at the Old Vic until August 19