Howard Barker Double Bill, Arcola Theatre |

reviews, news & interviews
Howard Barker Double Bill, Arcola Theatre
Howard Barker Double Bill, Arcola Theatre
Two dark, indeed very dark, comedies gain in potency through association
Wednesday, 02 December 2015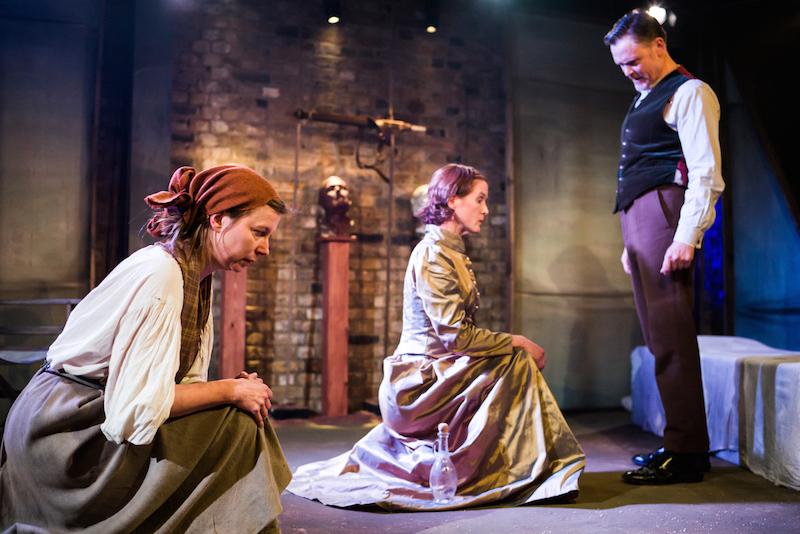 Assassin in silks: Catherine Cusack as Judith, with Kristin Hutchinson and Liam Smith in Howard Barker's 'Judith: A Parting from the Body'
Two plays for the price of one. What's not to like? Particularly when they resonate so strongly with each other on a hard, uncompromising theme. Broadly, that theme is love and war, sex and death, but more specifically, both plays home in on the truth games played by a man and a woman at critical moments of intimacy.
Howard Barker is a hard, uncompromising playwright, and that may partly explain why his plays (some 60 published since 1970) aren't more often revived. Rising director Robyn Winfield-Smith is on a mission to put that right, and it was apparently her idea to pair these discreet one-acters written six years apart. More controversially, it was also her own idea to stage one of them, The Twelfth Battle of Isonzo, almost entirely in the dark.
That is dark as in completely dark, a disorienting blackness. This isn't indicated in the text, which the Arcola obligingly prints in the programme, but it's a logical decision given that both characters in this two-hander are supposedly blind (supposedly, because at points the dialogue is so dense with subterfuge that you begin to doubt even this basic premise). In removing the spectator's power of sight, and relaying the play in 3D audio through personal headsets, Winfield-Smith plunges us into the aurally heightened world of the protagonists, alert to every breath, rustle and creak. It's a bold experiment – if somewhat tiring for the play's final quarter-hour or so – that largely achieves its goal while sacrificing other aspects of the play. It certainly makes it very sexy.
The darkness also dodges a potential casting crisis, that of finding an actor convincing as a 100-year-old man to play against his future bride, a girl of 17 (the excellent Emily Loomes, pictured right, in a brief glimpse of half-light). As a disembodied voice, Nicholas Le Prevost is marvellously present as Isonzo, a centenarian brittle as an autumn leaf but nonetheless determined to present himself to his lover as brimful with rising sap. He's demanding too: the precise colour of the girl's underwear becomes a subject of heated discussion (he favours shell pink or ivory, hates red). One of the funniest lines in the play, as well as the bleakest, is when the exasperated old man explodes with the words "But. Do. The. Pants. Match. The. Bra?" Clearly neither of them knows one way or the other, but a bedroom farce this most definitely is not. Think Beckett with added lingerie.
Other comic moments are lost in the dark, alas: the text suggests a good deal of physical business that completely passes us by. The production takes steps to deal with some of these omissions by voicing the stage directions, but this feels like an afterthought. Another disappointment, easier to fix, is the loss of textual clarity in the sound design. Having Nicholas Le Prevost seem to deliver his lines just behind your left shoulder or fall to the floor at your feet is all very clever but it's just as important that we hear all the words, unimpeded by added resonance.
Barker calibrates this moral unravelling with consummate skill
Judith: A Parting from the Body meanwhile is a three-hander that, seen in London before, gains fresh resonances here, both by dint of being part of a pair and in relation to recent world events. Conventionally staged (i.e. we can see!), it's nonetheless startling in its retelling of the apocryphal story of Judith, an Israelite widow intent on vengeance, and Holofernes, the feared and murderous Assyrian general.
Rosanna Vize's designs update the encounter to the First World War, which works surprisingly well in terms of sexual mores. Liam Smith's Holofernes presents a practised indifference to the softer sex, but gradually reveals chinks in his armour. Catherine Cusack's Judith, infiltrating the enemy's lair by offering herself as a prostitute, is prudish about removing her clothes, to the frustration of her accomplice, Kristin Hutchinson's earthy Servant. Later, though, after the deed is done, she turns sexual termagant, performing unspeakable acts on the headless corpse. Violence begets more violence, yes, indeed.
Barker calibrates this moral unravelling with consummate skill, and his threading of dark, laugh-out-loud comedy throughout the taut dramatic weave makes this a tour de force. Even the swearing is virtuosic. A superb evening, for those with a strong stomach.
The darkness dodges a potential casting crisis, that of finding an actor convincing as a 100-year-old
rating
Share this article