Orpheus Descending, Menier Chocolate Factory review - Tennessee Williams scorcher needs more firepower |

reviews, news & interviews
Orpheus Descending, Menier Chocolate Factory review - Tennessee Williams scorcher needs more firepower
Orpheus Descending, Menier Chocolate Factory review - Tennessee Williams scorcher needs more firepower
Troubled but tantalising Williams play doesn't entirely land this time around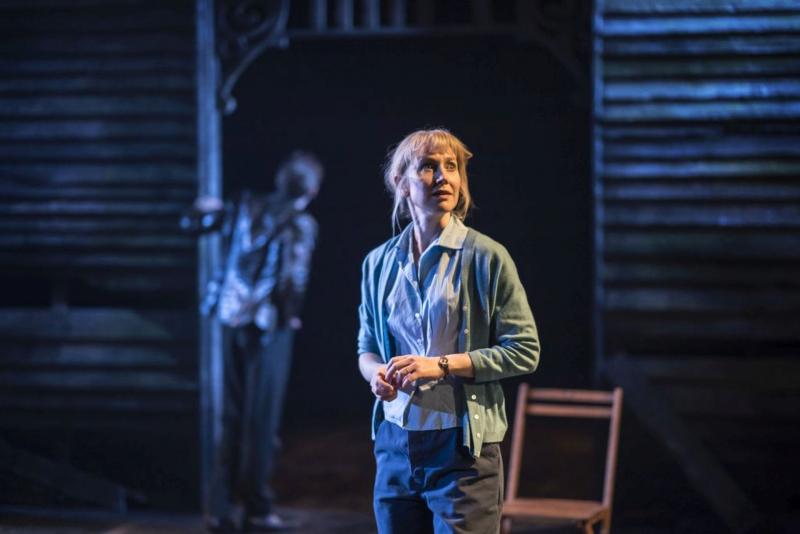 Living in Hadestown: Hattie Morahan in 'Orpheus Descending'
Where would Tennessee Williams's onetime flop be without the British theatre to rehabilitate it on an ongoing basis?
Arriving at the
Menier Chocolate Factory
in a co-production with
Theatre Clwyd
, where Tamara Harvey's production has already been seen, this marks the third London outing for this lesser-known title in as many decades:
Orpheus,
too, has played elsewhere around the country (Manchester in 2012 for one) even while languishing largely unperformed Stateside.
What, then, does Harvey add to our understanding of a work that Peter Hall rescued from obscurity in 1988 in the expressionist staging of one's dreams (well, more aptly, nightmares, given its toxic landscape)? To be sure, one comes away with a renewed appreciation of Williams's unparalled ability to locate poetry in the human condition, notwithstanding the very real horror of being alive. But one can't help but feel that the fundamental savagery of the piece – its refusal, shall we say, to be tamed – on this occasion lies out of reach, even if its component parts do now and again chime with the wounded if inexhaustible spirit of their creator.
Pride of place must surely go to the American actor Seth Numrich (pictured above), a prize-winning Chance Wayne in Sweet Bird of Youth at the Old Vic in 2013 who revisits the Williams canon as the play's Orpheus equivalent, Val Xavier: one of this dramatist's golden boys who exist only to fall cataclysmically from grace. Entering the dry goods store that he will soon whip into a lather of excitement, Numrich couldn't be better as the snakeskin-wearing, poetically-minded troubadour joined at the hip to a guitar bedecked with autographs from such idols of his as Leadbelly, Fats Waller and Bessie Smith – three icons lost on an inward-looking, racist community that knows precisely nothing about nourishing the soul.
Small wonder, then, that the itinerant Val catches the eye of Lady Torrance (Hattie Morahan), a woman long-trapped in a hateful marriage to the bigoted Jabe (a fearsome Mark Meadows), who did in Lady's Italian immigrant father some years before. (In the unforgiving language of the community, Lady's father goes by the brutal moniker, "the wop".) Lady needs both sexual and psychic release and gradually finds both in the embrace of Val: two restless, blighted souls who cannot help but come to grief amidst the gossipy confines of a town where artists go blind (Carol Royle struggles with that emphatically symbolic role) and a resident conjureman appears to see all and know all but is powerless to intervene.
The southern grand guignol comes thick and fast in this much-reworked play, which began life in 1940 as Battle of Angels only to resurface 17 years later on Broadway in its current title, where Orpheus thereupon did a quick fade. (Hall's production, with Vanessa Redgrave in a career-best performance, returned it to New York in 1989.) And how I wish Harvey had expanded upon some of her conceits, rather than settling for apparent half-measures which extend to a slatted wooden set from Jonathan Fensom that stints on this fine designer's visually evocative norm; it's dispiritingly spartan. Valentine Hanson's scene-setting man of mystery appears now and again to recite the stage directions to no particular effect. Nor is there much consistency to the direct address that several characters make to the audience, as if to enfold us within the thickening morass. (Hall all those years ago went further down the same route, to chilling effect.)
A large cast does battle with the accents to a degree not encountered much of late, where a British theatre increasingly steeped in all things American tends these days to have the sounds down pat. Emerging largely victorious is Jemima Rooper (pictured above) in the defining if tricky part of Carol Cutrere, the self-described (and barefoot) "exhibitionist" who insists that she and Val have a history that he, of course, cannot recall. A Cassandra-like figure marked out by difference amidst climes that value only conformity, Rooper grabs the edgy, untidy spirit of the play and runs with it, and one can't help but wish that the staging as a whole exhibited similar daring.
Playing complementary halves of a doomed whole, Morahan and Numrich seem a lot nearer in age than this coupling usually is, and it's nice to see the ever-febrile lead from the Young Vic's defining A Doll's House playing someone as hardbitten and scrappy as Morahan's Lady is here. More similar in affect to Helen Mirren (who took this role at the Donmar in 2000) than to the famously mercurial Redgrave, Morahan catches the reawakening of a woman determined not to be defeated again. But that sense of a world hellbent on devouring kindness and generosity whole emerges only fleetingly (the ending should be a lot scarier than it is), and rather like the legless bird tellingly invoked by Val, one is left waiting patiently for this play's full fury to take wing.
It's nice to see the ever-febrile lead from the Young Vic's defining A Doll's House playing someone as hardbitten and scrappy as Hattie Morahan's Lady is here
rating
Share this article