The Painter, Arcola Theatre |

reviews, news & interviews
The Painter, Arcola Theatre
The Painter, Arcola Theatre
Toby Jones is the main draw but Turner's women are the ones who steal the show
Toby Jones as JMW Turner in 'The Painter' at the Arcola Theatre
Joseph Mallord William Turner - Billy to his intimates, such as he had - is the notional centre of The Painter, a snapshot of the great British landscape artist as a young iceberg. Toby Jones is the main draw in this world premiere of Rebecca Lenkiewicz's new play, and he emanates quiet charisma and sardonic wit. But it's the women in his life who get the better scenes and who steal the show.
Success came early to Turner. In 1799, when the play begins, he was still in his mid-twenties but had been exhibiting watercolours at the Royal Academy for nearly a decade – possibly buying his paints from the Colourworks Reeves factory in Dalston, north-east London, a building which, in a very neat marketing manoeuvre, is also the Arcola Theatre's brand-new premises; a high-ceilinged, unfinished but striking bare-brick space.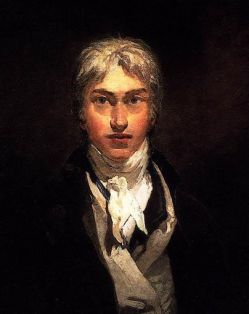 There was more going on that year. Turner had just moved into a new studio with his devoted father whom the play and performances induce you to take for a kindly, devoted manservant until late in the game. His mother, Mary, meanwhile, was drifting into madness. In 1799 she entered Saint Luke's Hospital, but would die in Bedlam.
This was also the probable year of Turner's best-known self-portrait (pictured above), deliberately channelled in the publicity shot (pictured left) of Jones for the Arcola's production. But painted Turner is handsome, romantic - intense, to be sure, but also a little suave and patrician. Jones's Turner is unshaven, rumpled, scowling, a bit of rough. When he opens his gob, he's pure East End barrow boy. "I thought Turner was posh!" sighed a woman behind me.
Turner's father, we learn, was from the lower orders: a wig-maker who lost his trade when wigs fell from fashion, one reason no doubt for his devoted support of his son as a new meal ticket. There are also references to a world in turmoil ("Town was mad again") from the Napoleonic Wars, and Turner is cramming Dutch, perhaps on account of his lifelong passion for Holland's art. Rebecca Lenkiewicz's play is full of such elliptical detail. But - with only seven characters - it's very much a chamber piece.
As a rule, Turner didn't do portraits. In the play, he calls it "face painting". He didn't do people much, come to that. "Your heart's a hole, Billy," his mother says. The short, fragmented scenes make it hard to engage with the character, particularly in the first half (under the aegis of the Arcola Theatre's artistic director Mehmet Ergen, the scene changes in this almost-in-the-round production aren't always as swiftly and smoothly managed as they could be).
From time to time Turner holds forth to the members of the Royal Academy on his theories of art, full of contempt for the no-talent nobs, his mind never quite on the task in hand. Then, at the end, he turns to address the audience on his breathtakingly ahead-of-its-time Hannibal Crossing the Alps (1810-1812, now in the Tate Britain and pictured right): "The sun is God and it's a battle. Or dark against light... And... the light has to win."
This should be Turner's big, redeeming, barnstorming speech: a transcendent vision of sublimity, the victory of hope over despair. But at first you assume it's just another of his boring lectures. And far from being the intended coup de théâtre, you can barely make out the slide projection of the painting on the back wall.
So look to the women to pick up the slack. The play has three of them. Turner's mother, Mary (Amanda Boxer) lost her wits when she lost her adored daughter; her son treats her ambivalently and she returns the favour. Jenny Cole, an Irish prostitute (Denise Gough), poses for him and they form an intimate, curiously Platonic relationship which he ultimately betrays.
Sarah Danby (Niamh Cusack), a widowed actress clinging onto respectability, tries to domesticate Turner and unsurprisingly finds him a lost cause. They are all - especially the first two - given stonking, emotional scenes. In a production bursting overall with talent and ideas, all that's needed is for Turner's elusive being, as mazey as his explosions of painterly light, to be brought more clearly into focus.
Share this article