Pantomime 2021 round-up 1: a great Dame and two debuts |

reviews, news & interviews
Pantomime 2021 round-up 1: a great Dame and two debuts
Pantomime 2021 round-up 1: a great Dame and two debuts
Clive Rowe dons the frocks, while Rob Rinder and Anton Du Beke slap their thighs
Tuesday, 14 December 2021
Clive Rowe plays Dame Trot, ably assisted by Daisy the Cow
It's always good news when Clive Rowe decides to don the frocks to play the Dame, and this year he has also taken over directing duties (with Tony Whittle), with a script written by Will Brenton. It's a straightforward retelling of the tale, pun-heavy – although I did miss the sauce that Rowe has brought to proceedings under previous writer Susie McKenna, and couldn't fathom why the Dame's love interest, Councillor Higginbottom (Whittle) was dressed as a Freddie Mercury tribute act.
A giant has stolen Hackney-on-the Verge's musical harp and magic ring, leaving its people impoverished, Dame Trot sends Jack (Rochelle Sherona) to sell their beloved cow Daisy and when he climbs the beanstalk to regain the harp, aided by sweetheart Jill Higginbottom (Ellie Ruiz Rodriguez) and his brother Simple Simon (another Hackney stalwart, Kat B), the baddie Funella Fleshcreep (Zoe Curlett, giving a strong performance) tries to thwart him.
There's some oomph missing, and the script lacks the knowing humour and street smarts one usually associates with this theatre, but this is entertaining family fun nonetheless.
Snow White and the Seven Dwarfs, Bristol Hippodrome ★★★★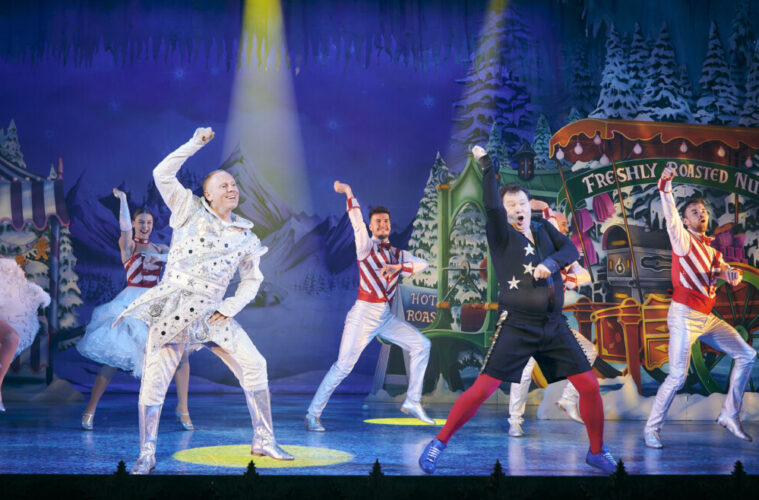 Local favourite Andy Ford is terrific as Muddles, bumbling servant to the evil Queen Dragonella (Lesley Joseph, always good value as the baddie) and the unknowing aide in her plot to kill Snow White (Charlotte Haines) after Prince Harry (Dale Mathurin) falls in love with her.
In a show less about the lovers than the laughs, Ford keeps the gag quotient high, and delivers his party piece of telling a story of a date gone wrong (complete with fart gags) with snatches of songs supplying the narrative – "Oops, I did it again" to "It only takes a minute, girl."
Television judge and former Strictly Come Dancing contestant Rob Rinder (pictured above, right, with Andy Ford, by Mark Dawson) makes an assured panto debut; he sings and dances with conviction, and shows he's a good sport where the comedy is concerned.
Alan McHugh's script (directed by Andrew Ryan) is filled with local references and word play, and he puts a neat twist on the poisoned apple scene. There are well worked set pieces including "12 Days of Christmas", plenty of pop songs to sing along to and opportunities for audience interaction.
Simon Wilkinson's lighting and Joe Hood's musical direction add much to a high-value production, and the evening rounds off with a fantastically glittery finale. Great fun.
Cinderella, Richmond Theatre ★★★★

This is a vehicle for panto debutant Anton Du Beke (pictured left) and the Strictly Come Dancing dancer turned judge shows himself a worthy star attraction. As the lovelorn Buttons, he charms and has great comic timing (even while delivering the groaners), while the specially written top-hat-and-tails routine (it's a dream) is a bonus.
Rosemary Ashe, as the Fairy Godmother is, however, his equal in driving the narrative of this amiable family-friendly panto (with just a bit of sauce for the grown-ups), and she draws out every bit of comedy in the role. "I was in the original Phantom!" she wails as the stage badinage threatens to take away her decorum.
Panto stalwarts David Dale and Bobby Delaney as the Ugly Sisters (or Beatrice and Eugenie as they're called here) are terrific, and threaten to steal the show in every scene they're in. The lovers Cinderella (Oonagh Cox) and Prince Charming (Edward Chitticks) are, well, charming, while Jonny Weston camps it up as Dandani as if channelling Hinge and Bracket.
Alan McHugh's script, directed by Stewart Nicholls, rattles along nicely in this slick and showy production.