Project Dictator, New Diorama Theatre review - anarchic satire |

reviews, news & interviews
Project Dictator, New Diorama Theatre review - anarchic satire
Project Dictator, New Diorama Theatre review - anarchic satire
Loud madcap comedy morphs into mime and flops when it should fly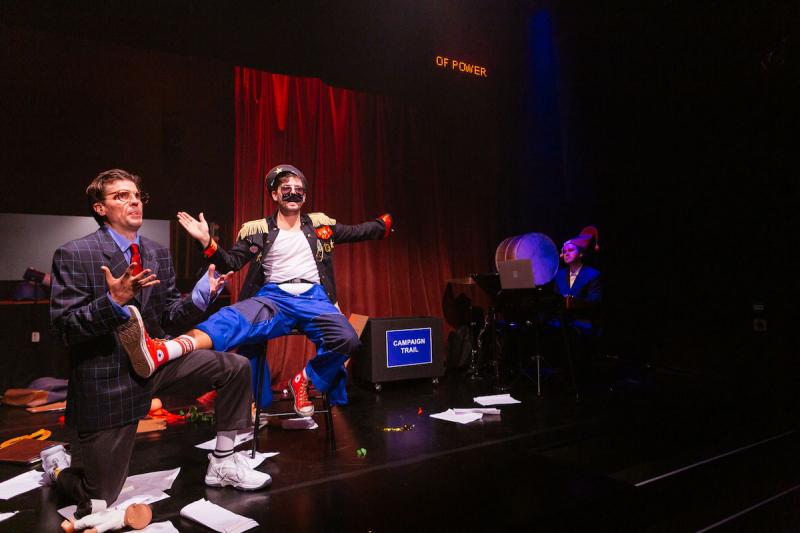 Matt Wells takes a knee, and Julian Spooner's foot
When Rhum + Clay conceived this show, the idea of a comic becoming a political leader might have prompted thoughts of Boris Johnson's carefully cultivated buffoonery on "Have I Got News For You" and elsewhere. Since then, a certain Volodymyr Zelenskyy has given politician-comedians a rather better name. Comedy, as is so often the case, is in thrall to timing.
Such thoughts may be inevitable as Matt Wells' attempts to create a show detailing his philosophy of political leadership are repeatedly subverted by his stage assistant, Julian Spooner, who wants politics to be "fun" (main picture) . He isn't backwards at coming forwards when inviting our support and an always flimsy fourth wall is demolished for good.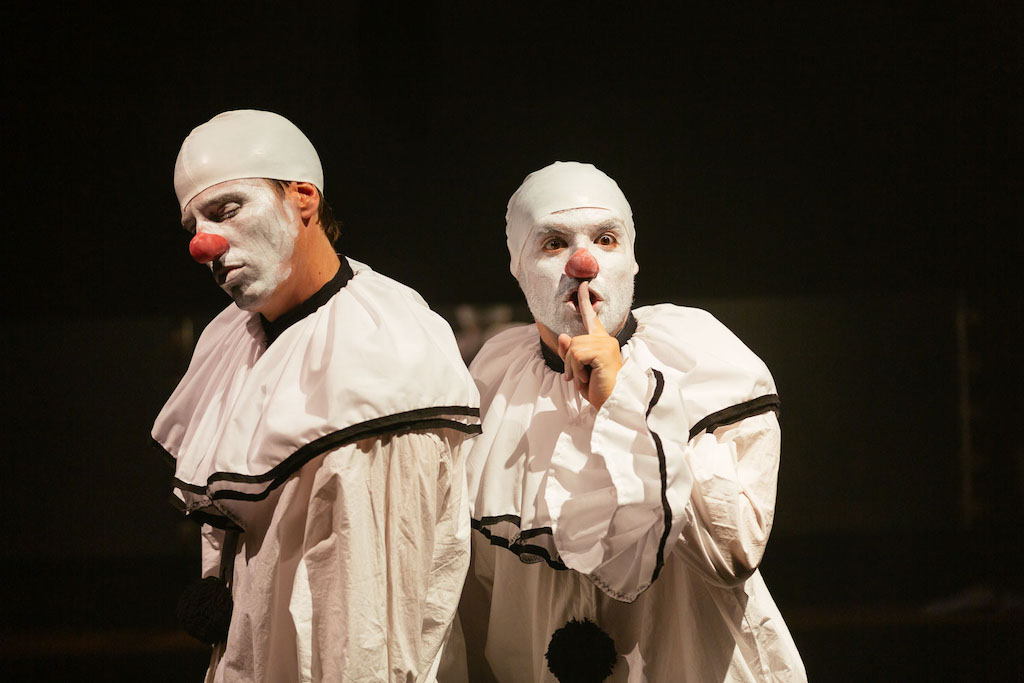 Soon, the upstart is turning into a martinet and, worse, the dictator of the title, alternately cajoling and bullying us and humiliating his erstwhile boss. There's plenty here that satirises the upward trajectory of the ruthless populist – the suppression of the press, the creation of alternative realities through force of will, the military iconography.
It's all done at a tremendous pace with megaphones and convincing stage violence – I was reminded strongly of Rik Mayall and Ade Edmondson's 80's double act, "The Dangerous Brothers" – and it can be exhausting just trying to keep up with the madcappery on show. There's also a distinctly French feel to this physical theatre and it's no surprise to read that Rhum + Clay trace their roots to the École Jacques Lecoq in Paris.
And then things get very French indeed.
A curtain descends and, through Simeon Miller's beautifully executed lighting design, we see our duo clear the stage of the detritus of the last 45 minutes chaos, apply face paint and become Pierrot clowns, silent but directed by a sinister voice monitoring a surveillance camera. Hitherto compliant musician, Khaled Kurbeh, appears to be part of the incarceration team and the whole thing takes on an Abu Ghraib vibe. Are we supposed to laugh?
This epilogue (it's more than that, if less than a second half) doesn't connect to the first half in any discernible way – mime and a quiet passivity has inexplicably replaced the whirling dervishes we have come to know and one is reminded less of Rik and Ade and more of Samuel Beckett. A variety of instructions are followed and repeated before our now sad clowns "die".
It's all a little disjointed and unsatisfactory, no idea fully explored, the shift in gear too abrupt and too random. Though the show is done without an interval and comes in at 75 minutes, it feels longer, the relentless fourth wall demolition of the first half sapping the energy required to deal with the alienation introduced in the second. It's not often that you'll read a review that calls for an interval, but this show could do with signposting its change of atmosphere more explicitly.
It's as if the British concept of pantomime as a collaborative exercise in joyous subversion has been hitched to the European tradition of pantomime as a recognised genre of high art formalism. Like most pantomime horses, the two ends don't really fit together and the show stumbles when it should gallop.