Rosenbaum's Rescue, Park Theatre review - curiously solid Jewish drama |

reviews, news & interviews
Rosenbaum's Rescue, Park Theatre review - curiously solid Jewish drama
Rosenbaum's Rescue, Park Theatre review - curiously solid Jewish drama
Revelations that should feel toxic seem tepid
Wednesday, 16 January 2019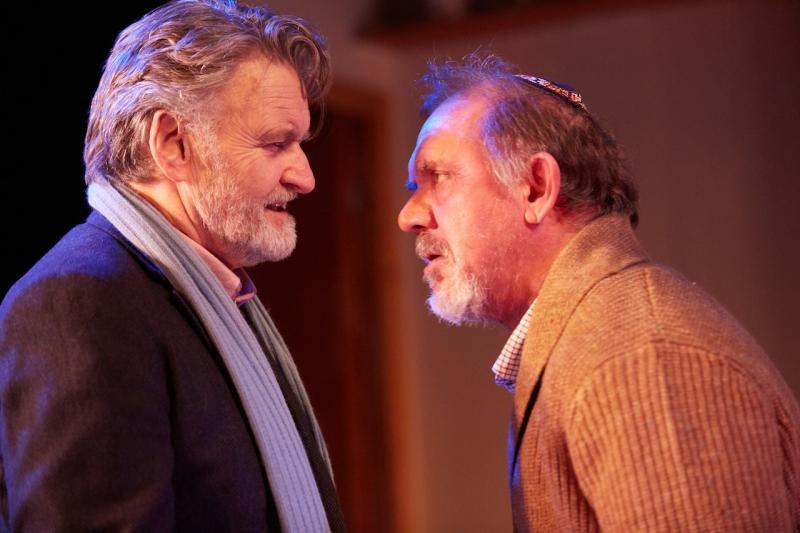 Lars triggers a whole domino set of questions: Neil McCaul and David Bamber play childhood friends
Theatrical alchemy is eternally slippery.
On paper
Rosenbaum's Rescue
at the
Park Theatre
looks like an excellent proposition – a
play
that switches between 1943, when
seven and a half thousand Jews
were rescued from the German occupation of Denmark, and 2001, when two old friends dissect their conflicting memories. Yet A Bodin Saphir's drama - which combines family secrets lurking like landmines with debates about the fallibility of history - is a curiously solid affair, in which revelations that should be toxic feel little more than tepid.
Is this to do with the pacing of the production, a lack of chemistry between the actors, or a fatal flaw in the script itself? It's not always easy to tell, but the evening has a formulaic feel from the start. David Bamber and Julia Swift play Abraham and Sara, a middle-aged married couple who are about to entertain Neil McCaul's Lars and his daughter Eva (Dorothea Myer-Bennett). They are marking the Shoah, but when facts-obsessed atheist, Lars, arrives, he triggers a whole domino-set of questions that threatens to flatten every preconception they have about who they are.
Kate Fahy's production places us in a middle-class Danish living room, in which Bamber and Swift are rushing around as they prepare for the arrival of McCaul's Lars. Their marriage oscillates between cosy and prickly – she's goading him to mend a burst pipe as he achieves little more than stealing snacks she has prepared for the evening – both are clearly tense about what Lars's arrival will bring.
The evening's series of revelations is triggered neatly – much too neatly – by Lars's arrival with a model wooden boat as a gift. Bodin Saphir's play is drawn from personal experience – he writes fascinatingly in the programme about overhearing "snatched half conversations" when he was a child as his grandparents talked about the "miracle" escape of thousands of Jews across the sea to Sweden.
Any playwright's challenge – not least if they are drawing on personal experience – is to achieve a valid compression of years of complex thought and emotion. One of the problems with the evening is that this very real and painful chapter in history is conveyed through dramatic devices that are so well-crafted you can see every nut and bolt holding the narrative together.
Maybe the fact that this sticks out so much is an issue of pacing, though the performances – led by the Olivier-winning Bamber – are never less than warmly convincing. The lurking animosity between Lars and Abe is clearly signalled from the start, then a rather stilted discussion about a painting allows for a discourse on the unreliability of history. Questions hover about why Lars' father Henrik felt closer to Abe than Lars; we discover that Lars and Sara have once had an affair; while the presence of Lars's neuroscientist-turned-novelist daughter adds neatly to the fact/fiction debate. An illegitimate child, a coming-out, and a conveniently-to-hand box of decades-old documents later, and the whole uncomfortable debate about German complicity in the miracle escape is out in the open.
To be fair, the solid quality of the performances rings through – and after the interval the evening certainly picks up pace. Dorothea Myer-Bennett's Eva (pictured above) is an intelligently humorous presence, McCaul's Lars conveys an appropriately restless energy, while Bamber and Swift subtly convey the degree to which exasperation and love mingle in the later years of marriage.
And there is a brilliant moment right at the end in which a revelation that, in an Ibsen, would bring the whole edifice crashing down is laughed off as obvious. It's ironically in this moment of satirising a tried-and-tested dramatic device that the work becomes strongest – if Bodin Saphir develops that knowing playfulness hopefully we'll have much to look forward to in his next theatrical offering.
Rosenbaum's Rescue at Park Theatre till 9 February
You can see every nut and bolt holding the narrative together
rating
Explore topics
Share this article