These Shining Lives, Park Theatre |

reviews, news & interviews
These Shining Lives, Park Theatre
These Shining Lives, Park Theatre
London's new theatre makes a thrilling debut, albeit with a play a little less shiny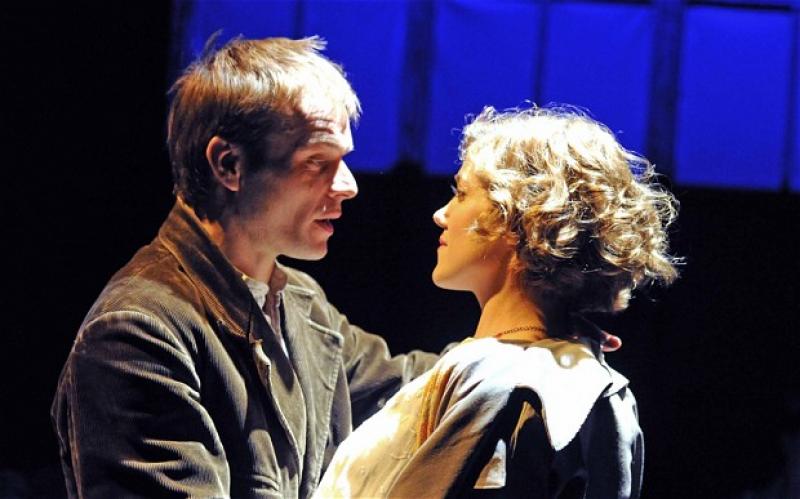 Irradiated: Alec Newman and Charity Wakefield in 'These Shining Lives'
North London has a splendid new theatre, The Park, whose £2.5 million existence – without a penny of government subsidy – is something of a miracle given our cash-strapped times. The building itself is also a bit of a marvel, tucked into a Tardis-like space (originally a blacksmith's) in the heart of Finsbury Park. With two stages – a 200-seat main theatre and a 90-seat studio – and a strong community ethos, The Park has heaps of promise.
Hats off to artistic director Jez Bond and his team.
The opening play, however, doesn't quite offer the dramatic fireworks one might have expected, or hoped, for the occasion. The fault isn't so much in the production as in the play itself. American playwright Melanie Marnich's account of a tragic, significant moment in her country's labour history is engaging, but also hampered by a sort of mannered modesty of ambition.
It's 1922, in Chicago. The times are anything but roaring for the working class. When wife and mother of two Catherine Donohue (Charity Wakefield) gets a job in a local factory, her welder husband Tom (Alec Newman) may not like it, but they both know it makes financial sense. For Catherine, the opportunity to experience employment, to earn in her own right, is thrillingly liberating.
Unfortunately, the job is at the Radium Dial Company, painting the dials on watches that will give them their glow. The unfortunate phrase Catherine and her co-workers use to describe their routine, licking their brushes each time they apply a numeral, is lip, dip, paint.
Marnich paints an affectionate picture of the friendship that develops between Catherine and her friends – bolshy Charlotte (Honeysuckle Weeks, pictured right), group gossip Frances (Melanie Bond) and dippy Pearl (Nathalie Carrington) – as they feel the empowerment and pleasure of their own few dollars and each other's company. Of course what their bosses know, but they do not, is that their work on these timepieces is effectively winding down time for them.
Despite our own awareness of their predicament, the play does exercise some grip – and outrage – as these poor women start to glow in the dark, their bodies decaying from within. But as it progresses, the dramatic limitations become apparent. Rather than Catherine's artificial narration, we need to feel the world around her, of Prohibition, the Depression when it arrives, the working community of which Tom is the only other representative. In its absence, the drama of Catherine's fight for justice becomes laboured – more History Channel than A View from the Bridge.
It's nicely acted. Wakefield and Newman convey the impact upon their sweetly loving couple very well, while Weeks, well known for her role in TV's Foyle's War, reveals a soft centre to her cool-eyed, acerbic Charlotte. More significantly, given the occasion, director Loveday Ingram, designer Tim Shortall and lighting designer Rob Casey show off the intimate, thrust stage to good effect – the staging minimal, the actors bustling past us, with telling images (a shower of clock faces, factory walls, a glorious night sky) cast upon the panelling at the back. I particularly appreciated the daring, in the terrible moment that the women learn the extent of their fate, of having the actresses seated with their backs to the audience. There's nothing like being up close, yet still denied.
rating
Explore topics
Share this article