Three Birds, Bush Theatre |

reviews, news & interviews
Three Birds, Bush Theatre
Three Birds, Bush Theatre
The truth of Janice Okoh's mix of horror and urban fairy tale is hard to swallow
Home alone: Susan Wokoma, Michaela Coel and Jahvel Hall in 'Three Birds'
The best horror stories take place in mundane surroundings. The envelope of the ordinary gives a context of credibility to the practically incredible. In Janice Okoh's new play, which won the 2011 Bruntwood prize at the Royal Exchange theatre in Manchester, and was seen there earlier this year, everyday life at first seems, well, entirely everyday, but soon things get worse. Much worse. In fact, almost unbelievably bad. Horror indeed.
But first the ordinary: we are in Lewisham, south-east London, and the set is a groundfloor council flat. It's tidy, and home to three siblings: 16-year-old Tiana, 13-year-old Tionne and nine-year-old Tanika. It soon emerges that their mother is missing, and that they are coping quite well with her loss. Tiana goes to college every day, holds everything together and she plans to become a beautician; Tionne stays at home, and buys various bits of equipment from Amazon; Tanika goes to primary school.
The shocking horror turns the stage into a charnel house
So far so good. But what is the troubled Tionne really up to? He appears to be embalming a freshly killed chicken, but why? And what does Dr Feelgood, a thirtysomething drug dealer, want from these kids? As the mouthy Tanika's antics provide plenty of laughs and light relief, her older sister Tiana conveys the sense of a serious family secret. She is also responsible for the webs of fantasy that cheer up the kids: although they are trying to avoid being put into care by Social Services, they enjoy dreams of wealth and freedom.
If only they can stay together. As Dr Feelgood becomes more insistent, they are forced to let him in, and the truth about their absent mother gradually emerges. Then Ms Jenkins, Tanika's teacher, knocks on the door - she is worried about the home life of her young pupil. Her intervention prompts the shocking horror which turns the stage into a charnel house whose stench throws us back in time to Jacobean drama, with echoes of the Frankenstein myth and urban lost kids thrown in.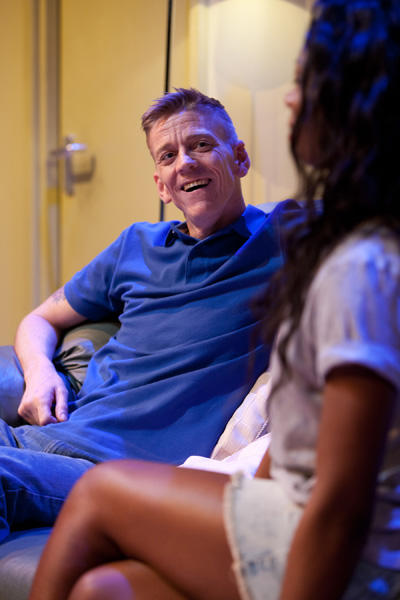 Okoh's writing is rich in metaphor, with the fleshy horrors symbolic of hidden domestic secrets and suggestive of the strange religious beliefs that are sometimes discovered in grim families. There is an air of ritual, from halal to witchcraft, with the shade of Edgar Allan Poe occasionally peeking from behind the curtain. Most disturbingly, there's an uncomfortable implication that the race of the kids might somehow explain their weird obsessions. Amid the ghoulish revelations squat various vague images of witchcraft and voodoo.
At the same time, this is an enjoyably comic evening, with only the final half hour of the 90-minute show almost unrelentingly ghastly. The truth, when it seeps out, stinks to high heaven. Director Sarah Frankcom keeps us guessing and gets good performances from her cast: at first, it is hard to believe in the childish natures of Susan Wokoma as Tanika, Michaela Coel as Tiana and Jahvel Hall as Tionne, but gradually they win you over. As Dr Feelgood, Lee Oakes (pictured above) is satisfyingly creepy while Claire Brown's Ms Jenkins convincingly parrots the language of politically correct education.
So although the central premise of Three Birds is hard to stomach, the piece's humour makes its grim medicine easier to swallow. But be warned: the final revelations are truly horrible.
Okoh's writing is rich in metaphor, with its fleshy horrors symbolic of hidden domestic secrets
rating
Explore topics
Share this article