The Unfriend, Criterion Theatre review - dark comedy is (largely) audience-unfriendly |

reviews, news & interviews
The Unfriend, Criterion Theatre review - dark comedy is (largely) audience-unfriendly
The Unfriend, Criterion Theatre review - dark comedy is (largely) audience-unfriendly
Steven Moffat and Mark Gatiss's collaboration somehow forgets about the laughs
Saturday, 21 January 2023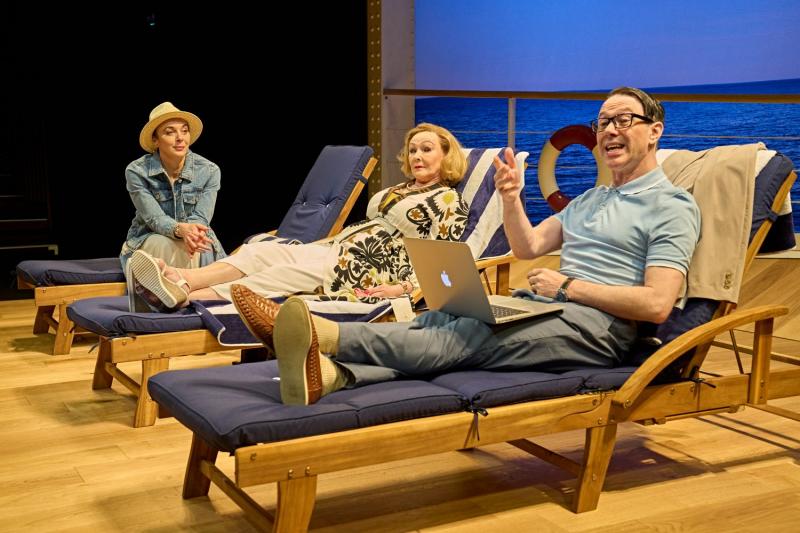 Love-in: Amanda Abbington, Frances Barber and Reece Shearsmith in 'The Unfriend'
We all have that friend. The person you met on holiday and couldn't shake off. You added each other on Facebook, but they posted so much you've quietly unfollowed them. You can't quite bring yourself to unfriend them, though.
In
The Unfriend
, a
new play
at the Criterion Theatre after a Chichester premiere,
Sherlock
writer Steven Moffat asks: what if that friend was a murderer? And what if you had invited them to stay in your house?
This is a true story – so true, in fact, that Moffat didn't even change the name of the actual friend, Peter, to whom it happened. The play's Peter (Reece Shearsmith) and his wife Debbie (Amanda Abbington) meet Elsa Jean Krakowski (Frances Barber) on a cruise; she insists they look her up if they're ever in Denver. She also insists on taking Debbie's email, which is how, some time later, she ends up in their house in England. In the meantime, Debbie has Googled Elsa and discovered she has murdered six people. But they can't kick her out now, can they? That would be rude!
As a set-up, the scenario is almost fool proof. But Moffat somehow manages to execute it so badly you find yourself wishing for a seventh victim, just for some excitement. The tropes are on their last legs. Peter and Debbie's two children, Rosie (Maddie Holliday) and Alex (Gabriel Howell), are cardboard cut-outs of moody teenagers. Their sudden conversion to the cult of Elsa isn't particularly believable, even in the madcap world Moffat has created. And if Elsa's fatphobia is meant to be repulsive, why are we encouraged to laugh along with her?
The cast constitute a bit of a love-in: Shearsmith worked with director Mark Gatiss on League of Gentlemen; Abbington played Mary Watson in Sherlock; and Frances Barber was an eyepatched recurring villain during Moffat's time helming Doctor Who. They are all excellent, and earn one whole star between them. The other is for Robert Jones' set, ordered so perfectly at the beginning that chaos simply has to burst onto it.
It's a pleasure to watch Shearsmith and Abbington's elastic faces contort themselves into ever-more strained expressions. A silent conversation across the stage while Shearsmith hovers outside the door to the downstairs loo is the highlight of the play. Michael Simkins, as the neighbour who is so boring Peter doesn't bother to remember his name, has an impressively long period of really technically difficult acting, which I shan't spoil as it's the last beat of the show.
Barber's Elsa (pictured above) is delightfully overbearing, turning every situation in her favour with oily ease. The conversation about Donald Trump at the top of the play is overdone, but it does provide a handy point of comparison. Elsa worms her way into Debbie and Peter's lives so well that Peter predicts "give it a year and we'll be voting for her". She implores them to ignore the facts in favour of their "lived experience" – isn't it more important that their children adore her?
Moffat and Gatiss have worked together for years, but The Unfriend finds both men at far from their best. In a transcript of a conversation between them, included in the programme, Gatiss brings up Donald Sinden's eagle eye for physical comedy, how he could adjust a movement "by millimetres" and make it funny. But Moffat writes with empathy for neither the audience nor his characters. Which, you might argue, is the point of comedy – but the best comedy has warmth at its heart, a twinkle in its eye. No such luck here.
The conversation about Donald Trump at the top of the play is overdone, but it does provide a handy point of comparison
rating
Share this article