Vassa Zheleznova, Southwark Playhouse |

reviews, news & interviews
Vassa Zheleznova, Southwark Playhouse
Vassa Zheleznova, Southwark Playhouse
Rarely performed Gorky play re-emerges as a relentless dirge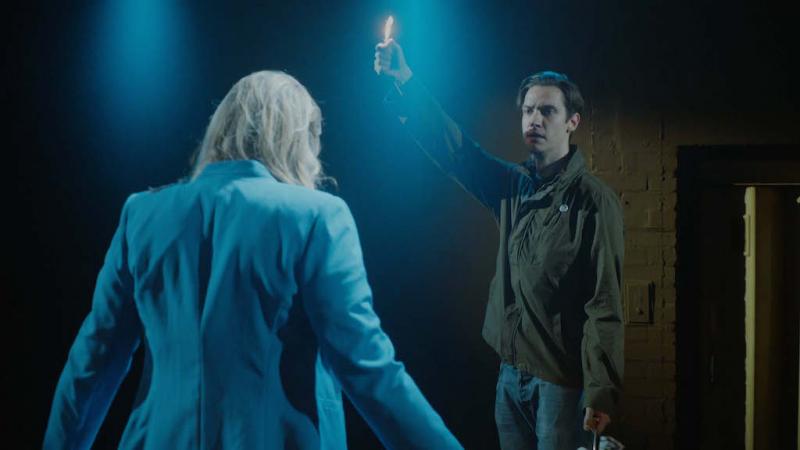 Mother of all nightmares: Sian Polhill-Thomas as Vassa Zheleznova terrorises Christopher Hughes as Melnikov
In the town of Nizhny Novgorod where Maxim Gorky was born, it was said that "the houses are made of stone, the people of iron". Vassa Zheleznova, the titular matriarch of this rarely performed play, is one such person. She is a businesswoman of steely will and juggernaut energy whose tragedy is to see her family destroyed by the same bourgeois values that she has fought so fiercely to preserve.
At least, that's how the playwright conceived it when he revised his 1909 text, under Stalinist pressure, in 1935. But now Emily Juniper has come up with a new version for theatre company The Faction that transposes the action to Merseyside during the 1991 dockers' strike. The threat to Vassa's business empire is no longer the pan-national convulsion that was the Russian Revolution, but the irritation of a few picket lines manned by angry Scousers – hardly equivalent. This version also adds a new threat to the stability of the Zheleznov family in the form of an impending tabloid scandal that not even Vassa's resourcefulness in the blackmail department can bat away.
The political scaling-down of the story partly explains the soap-opera tone of Rachel Valentine-Smith's production. This is a Liverpudlian Dynasty, without the frocks. It's also a 90-minute dirge that doesn't let up, so that when, 15 minutes before the end, its central character complains of chest pains, you may find it hard to resist an urge to punch the air.
The Faction has built its reputation on taking a highly physical approach to the classics it revisits. But there is little evidence of that here, save in a strong opening scene where a phalanx of striking dockers braced against a dank Mersey dawn respond to the whoosh of something or someone moving past them at speed. Was it perhaps Vassa Zheleznova in a motor boat? Or was it the sound of their vanishing hopes of a decent pension? Like the unspecified sound that invades Chekhov's cherry orchard, exactly what it is doesn't matter. More such symbolism would have helped this production no end.
Vassa may consider her Manolos to be essential power wear, but the racket they make on wooden boards is counterproductive
Max Pappenheim's continuous soundscape gives a sense of place to Southwark's stuffy, low-ceilinged second space. Lapping water and distant foghorns help us imagine Vassa's dockside office HQ where Sian Polhill-Thomas's Vassa paces, binoculars in hand, surveying her realm. It's less helpful when operatic muzak runs intrusively beneath long stretches of dialogue: it's already hard enough to hear the actors' words. Clarity and projection are a challenge for some of the cast, particularly those struggling with the Liverpool accent. And high-heeled shoes on wooden boards only make things worse. Vassa may consider her Manolos to be essential power wear, but the racket they make is counterproductive.
Polhill-Thomas otherwise makes a sturdy if un-nuanced termagant. As a CEO, as a boss, as dastardly manipulator, as a mother, what you see is what you get: steel on steel. Her two daughters don't get cuddles, just a string of expensive schools and endless handouts for ice creams. And Vassa's dealings with the men in her life – her washed-up old rocker husband, her alcoholic brother, her daughter's weak boyfriend, and a guy she chats to on Face Time who might or might not be one of the above – are pure vitriol. That this matriarchal monster may have been the inspiration for Brecht's Mother Courage does not in itself warrant the tedium of seeing this production through to the end.
Some of the supporting cast put up a good fight, however. Amelia Donkor makes an impassioned eco-warrior daughter-in-law, while Nicole Hartley is a believably messed-up elder daughter, at once shallowly sophisticated and all at sea.
This play with its multiple characters and motives cries out for a synopsis in the programme. As it is, the early scenes are thrown away because the audience hasn't a clue who anyone is. And why keep the original names when the story has moved from Russia to Britain? Gorky has not been well served.