What Graeae did next |

reviews, news & interviews
What Graeae did next
What Graeae did next
The company director for deaf and disabled performers introduces their collaboration with a Brazilian circus troupe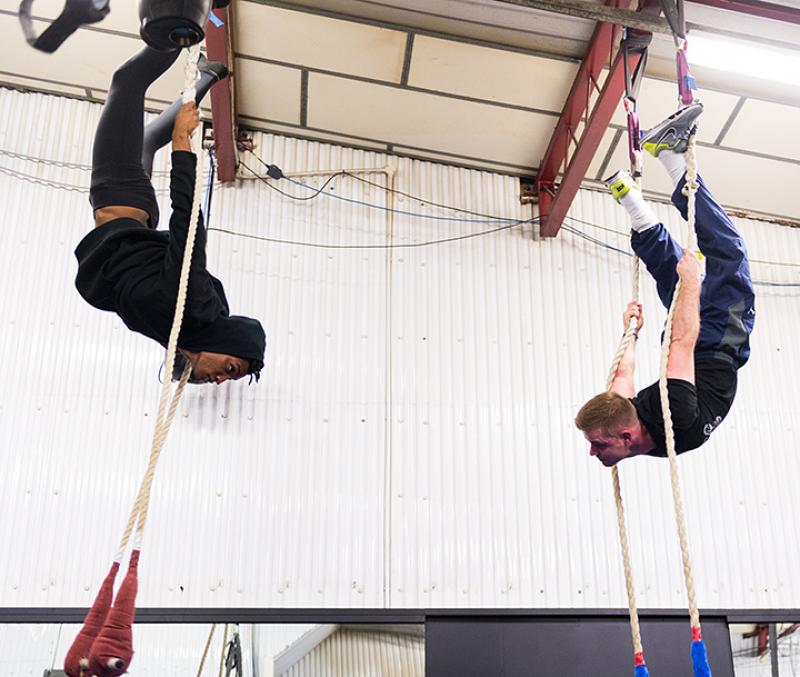 Hanging around: Marcus Silva and Stephen Bunce
As an 11-year-old, I used to love writing my address as My Bedroom, 50 Ridsdale Rd, Sherwood Rise, Nottingham, England, Great Britain, The World, The Universe.
We belong to ourselves, but our sense of belonging is also about people and places and our sense of who we are in the world. It became our starting point for the collaboration with Circo Crescer e Viver. Graeae's Reasons to be Cheerful was part of Unlimited Festival in Rio and I was also there to share the experience of co-directing the London 2012 Paralympic Games Opening Ceremony. I had the opportunity to meet Junior Perim and Vinicius Daumas, Crescer e Viver directors, where I urged them to start training deaf and disabled people to be aerialists and skill people so that hopefully they will be ready for the Rio Games ceremonies in 2016.
As a result, Graeae was invited to bring six of our artists, who trained with us and Circus Space for the 2012 Opening Ceremony, over to Rio to share learning and skills. It was an extraordinarily intense time where we found we belonged with each other, not only as deaf and disabled people, but as artists wanting to take to the air to tell stories (pictured right, Sean Gitten. Photo by Juliana Chalita).
Crescer e Viver shares the same ethos and values as Graeae: we fiercely believe that the arts are a human right. We started the training by sharing personal stories about being discriminated against, marginalised and dismissed. It is these experiences that bind us together and create a bond of trust.
While we were out there we celebrated International Day of Disabled People. It was wonderful to be celebrating the day through a true international exchange with deaf and disabled artists from the UK and Brazil. Every single day was a gem of discovery as all the artists pushed themselves beyond their personal best. The Brazilian trainers had never worked with disabled people before and were nervous but Tina Carter, who worked closely with me as a choreographer on the ceremony, has a wealth of experience. She explained that it is the artist who has to explore what it is their body can do and with the support of the trainer work out how best to adapt movements, improve technique and be challenged really to push the boundaries of what can be achieved.
There were some truly amazing moments during this time together. One that has stayed with me is an artist who was convinced that he could not participate because he is a paraplegic. However, all the boys got together exploring "childhood games" and playing with the silks as a collective, supporting his involvement and then suddenly he was up and away climbing to the top of the silks. I remember his face beaming down at us, so happy to be part of it all.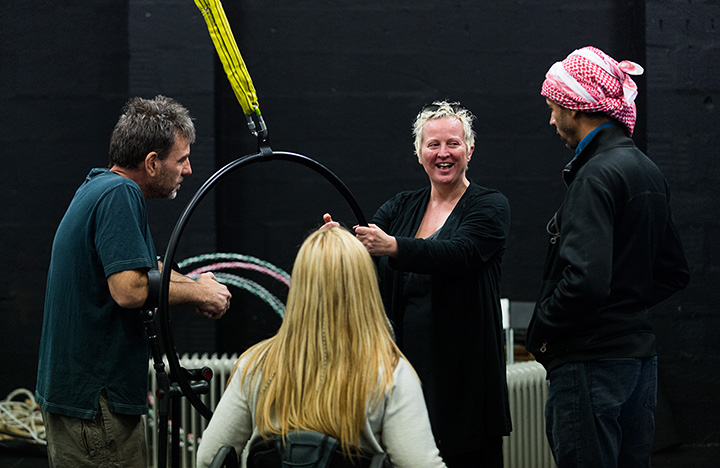 The culmination of the first stage of this cultural exchange will be performing Belonging as part of CircusFest 2014 at Roundhouse. The Brazilian artists will come over to the UK for another intense session of training and rehearsal to put the show together. We'll be working with hoops, silks and trapeze as well as working across four languages: English, Portuguese, British Sign Language and Brazilian Sign Language (pictured above left, Jenny Sealey rehearses with cast members).
This is not the first time Graeae has had circus skills in our work - The Limbless Knight at GDIF 2013 had sway poles and hoop performers - but it is the first time we have ever been part of Roundhouse CircusFest and festivals in Rio and São Paulo (where the show will go on to be performed). And it is the first time I have done a theatrical circus show in a tent. Graeae is not out of its comfort zone but their director (me) is feeling somewhat daunted by the task at hand. However, with our ensemble on board - Tina, designer Sofie Layton, composer Lewis Gibson and LX designer Ian Scott - I think it will be glorious!
We fiercely believe that the arts are a human right
Share this article