The Affair series 5, Sky Atlantic review - a new cast member adds intrigue |

reviews, news & interviews
The Affair series 5, Sky Atlantic review - a new cast member adds intrigue
The Affair series 5, Sky Atlantic review - a new cast member adds intrigue
Final season starts strongly with the addition of Anna Paquin
Wednesday, 28 August 2019
Maura Tierney and Dominic West as divorced couple Helen and Noah Solloway
There was a time when a new series of The Affair (Sky Atlantic) would cause the heart to quicken; now, not so much. Actually that sounds like the course of most extramarital affairs – an initial rush to spend time with the object of your affection, only for the desire to dwindle over time. Yet the opening episode (of 11) of the fifth and final series promised that this would be an interesting hook-up as there's an intriguing new thread with the introduction of the adult version of a character we last saw as a child in a previous series.
In the opening episode things were in a state of flux in the Solloway/Lockhart imbroglio. Helen (Maura Tierney) was burying her second husband, Vik, while the children she shares with Noah (Dominic West) – he of the affair way back in series one – still hate him. He has a new girlfriend, obviously, as men like Noah cannot live alone, unnoticed or unadored.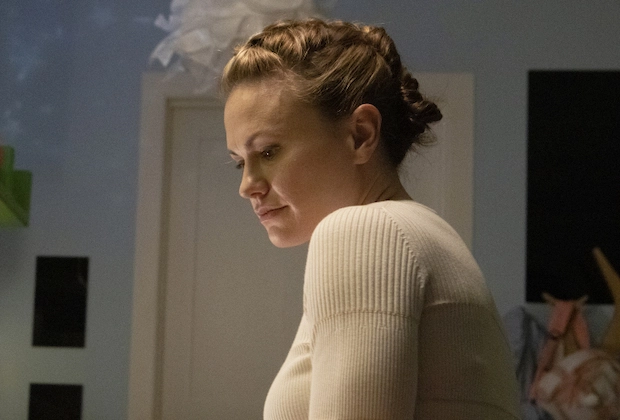 The drama, well scripted and beautifully acted as ever, continues to play around with time frames as we saw flashbacks to Vik's terminal cancer. Noah and Helen's perspectives were given; there was no nobility in Helen's suffering, while Noah was trying to repair some of the damage he had wrought on his family.
In between we leapt a few decades into the future and here we were introduced to the adult Joanie Lockhart (Anna Paquin, pictured above, joining the cast) whose mother, Alison (Ruth Wilson), was the The Other Woman, and later died in tragic circumstances.
Joanie is not a happy woman; mother of two young children she's not overly involved with, having routine get-it-over-with sex with her husband, fretting about her daughter being aware she's adopted and, she says, missing her father. That's a lot of unravelling to do over the next 10 episodes.
While The Affair – an interesting mix of romantic, family and psycholoigcal drama – has moved into soap territory, it still holds our interest. Its great strength has been its honest portrayal of love, lust and human weakness. Nobody is completely a hero or villain and, as we saw Joanie embark on her mission to understand her mother's death, I suspect we'll be reminded of that again.
The drama, well scripted and beautifully acted as ever, continues to play around with time frames
rating
Explore topics
Share this article